In November, I published an article on "Upcoming Catalysts for a 50% jump" for Remark Media (NASDAQ:MARK).
That worked out well, as 15 days later, the stock spiked from $3.60 to $5.50, thanks to several of those catalysts. In the first quarter of 2014, MARK has oscillated between $4.80 and $6.40, and is poised to break out of that range in the next 90 days.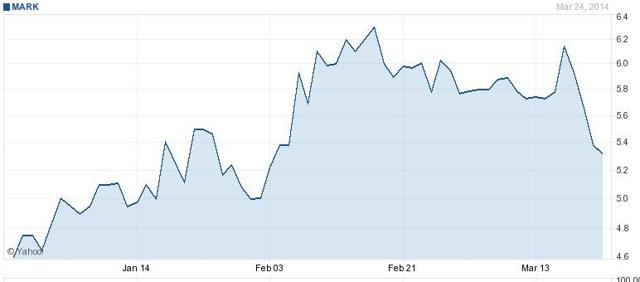 After a recent trip to Las Vegas to talk with company management, I'm more optimistic than ever about the future prospects of Remark for the following reasons:
Upcoming catalysts:
#1: New funding within 90 days: Remark has funding through July 2014. Given the CEO has already made 3 investments via his DigiPac group, it's reasonable to assume, and it was indicated to me in our meetings, that he's in it for the long haul. Also, as the stock price continues to rise, all boats are lifted, both the public and private investors. There isn't much float to the stock, so additional press/conversations with the investment community seem likely to both improve liquidity and raise the price. The last tranche was at the end of January, for what we now know was funding of the TaxExtension.comand Bombo acquisitions. Based on the prior timing, I'd expect an announcement in May about another round, and the stock has jumped after every prior announcement.
#2: Manny Paquiao is fighting again April 12 (just announced v. Timothy Bradley) which should result in another online PPV broadcast powered by Remark. Last time, a press release went out 5 days ahead of time, seemingly due to the last minute nature of the deal - this time I'd expect to see one in the next week. Last fight, and I haven't seen this mentioned anywhere other than briefly in an the Bombo press release from Remark, Remark "successfully reached more than five times the US domestic viewership for the event in our target markets of Greater China and South Korea". Interestingly, that fight had 500K PPV buys in America implying well over 2.5M online viewers. Expectations for this upcoming fight are for near double the US PPV audience (900K-1MK PPV buys), so there should be a much higher interest level for the Asian markets. A successful broadcast of over 5M viewers would open up additional opportunities for Remark to play in this space. There seems to be much more news coverage this time around for this fight, with the "revenge" aspect getting lots of play.
#3: Heavy hitter board members, press opportunities upcoming for management: - As you'll note from the press releases about TaxExtension.com and Bombo, and the discussion of online viewing numbers above,management has been very non-promotional. Frankly, this sentence from the release: "China's first Boxing Channel distributed on PPTV's streaming video platform." could easily be the basis for all sorts of online hype, but management has chosen to continue its slow and steady build. Jason Strauss, who founded a nightlife empire, has just joined the board. From the 8-K - Mr. Strauss is a founding partner of the Tao Group, a global hospitality and lifestyle company offering consumers a premium nightlife experience with their various events and venues. The company's most notable brands include: Marquee Nightclub & Dayclub (Cosmopolitan Resort Las Vegas andStar Casino & Hotel Sydney Australia), TAO (Venetian Casino and Resort Las Vegas), LAVO Restaurant & Nightclub (Palazzo Casino and Resort Las Vegas and NYC), TAO and TAO Downtown (NYSEARCA:NYC), and Avenue .
In my conversations with management, they've indicated that they'll continue to take a slow and steady approach to building the business, but another capital raise at a $50-60M market cap will drive attention. In addition, the Bombo aquisition was expected to close in 45 days, which would also merit additional press coverage.
#4 Tax season - While the market is familiar with Remark's ownership of IRS.com and FileLater.com (as part of Banks.com), TaxExtension.com's acquisition continues to expand the brand in this space.
This will be the 2nd season that IRS.com and Banks.com are under Remark's management. Presumably, the inevitable transition issues that occur with any acquisition are behind them and Remark's Q1 & Q2 year over year revenue numbers will show improvement. IRS.com once sold for $11M, and gets tremendous type-in as well as SEO traffic [Compete.com shows over 1M unique visits last tax season]. There's an opportunity for press recognition of this. The previous holding company for Banks.com, BNNX trended up virtually every tax season as investors awareness of the company was raised.
Bonus catalyst: Sharecare - with a recent round of $15M in financing, Remark's previous 10.8% stake is now 8.9%. With over $91M in financing, and Jeff Arnold, a CEO who's shown a knack for monetizing previous companies such as WebMD, and HowStuffWorks (sold to Discovery for $250M), this is the crown jewel in Remark's portfolio. If it were to go public, or even have a valuation published, it would become apparent that this stake is likely equal to Remark's entire market cap. Additionally, and this is not widely recognized by the market, Shing Tao , Remark's CEO is on the Sharecare board and presumably has a good appreciation as to the untapped value of Remark's stake in Sharecare as evidenced by his continuing to invest in Remark.
Bonus catalyst #2: International upside:
Remark owns the rights to HowStuffWorks content in both Brazil and China. While it's always amazed me how Discovery paid $250M for How Stuff Works, and didn't buy the rights to two of the biggest content markets on the planet - they didn't, and Remark owns them and now has plans to build them out. Frankly, a trade for Discovery's stake in Remark would also be nice, to reduce some of the dilution from issuing additional shares.
MARK has a small float - with the biggest trading day recently being 80K on 3/21. The stock went down 50 cents, with the majority of that trading being selling. Given any of the catalysts listed above, incremental buying of just 100K shares would like move the stock up past the $7 point.
Disclosure: I am long MARK. I wrote this article myself, and it expresses my own opinions. I am not receiving compensation for it (other than from Seeking Alpha). I have no business relationship with any company whose stock is mentioned in this article.
Editor's Note: This article covers one or more stocks trading at less than $1 per share and/or with less than a $100 million market cap. Please be aware of the risks associated with these stocks.