The proliferation of social media has clearly influenced the lives of billions. The operative question for investors to ask though is if these companies are prudent investments. Pundits' opinions on the future of this industry are quite polarized. Many argue that the industry is overvalued, while others opine that this is a burgeoning trend that will be a cornerstone of society with near-limitless potential. The truth most-likely lies somewhere in the middle of those two extremes, thus buying companies in this industry without extensive research would prove disastrous. Twitter (NYSE:TWTR) is a company that demands much closer scrutiny.
Twitter has been an extremely volatile stock since its IPO in November. Twitter opened for trading to the public at around $45 a share and sunk initially before quickly rising to above $70. The stock has been steadily decreasing since late December and currently sits around $48 a share.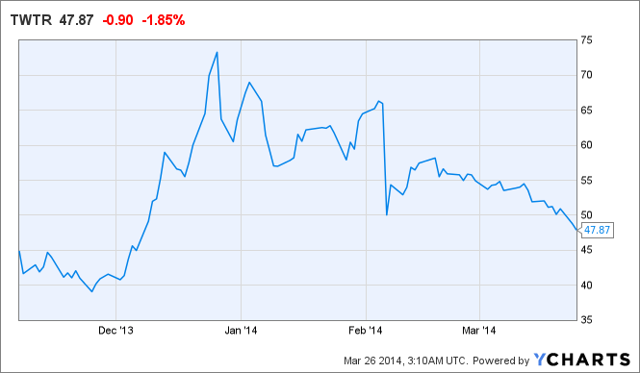 Decreasing User Engagement
The most recent quarterly report has galvanized concern for many Twitter investors. The most alarming figure that triggered anxiety was the decreasing timeline views per monthly average user. Over the past year timeline views per MAU has declined 6% and 2% in the U.S. and the rest of the world respectively. Although ad revenue per timeline view increased 76% to $1.49 over the year, the abating timeline views will mitigate growth. Further, the U.S. provides the lion's share of revenue, $492 million vs. $172 million for the rest of the world. With an ad revenue per timeline view of $3.80 compared to $.60 for the rest of the world, the fact that the largest decline was in the U.S. is a red flag.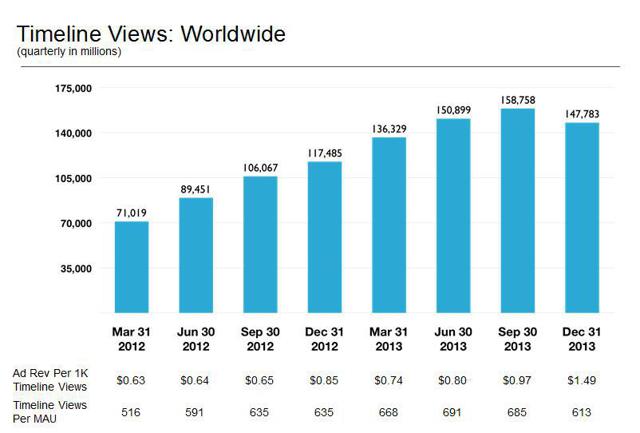 (Source 10-K)
In the 10-K Twitter discusses their reliance on increasing user engagement, but as we just saw, it fell:
"To the extent our user growth slows, we will be increasingly dependent on our ability to increase levels of user engagement and ad engagement."
In order to offset the declining timeline views and grow, Twitter would need robust user growth. However, the 30% growth over 2013 signals a slowing user growth and was below expectations. Monthly average users only increased from 184.9 million in Q4 of 2012 to 240.9 million in Q4 of 2013. Twitter acknowledged this slowing growth in its most recent 10-K:
"Although our revenue has grown rapidly, increasing from $28.3 million in 2010 to $664.9 million in 2013, we expect that our revenue will slow in the future as a result of a variety of factors including the global slowdown in the growth rate of the user base."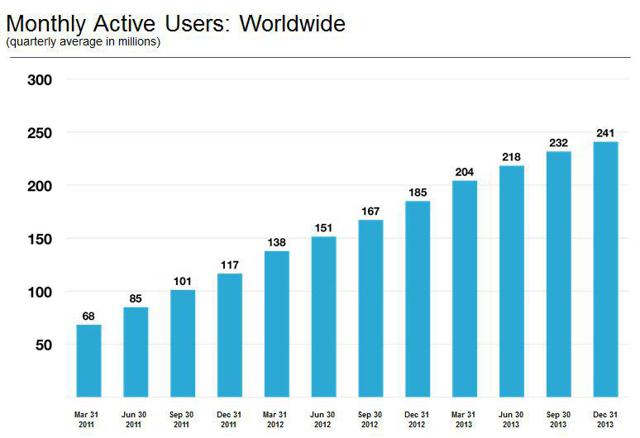 (Source 10-K)
Twitter cites its necessity to increase user engagement to compensate in the event of slowing user growth. It also adduces its reliance on increasing user growth in order to make up for decreased user engagement. By combining these two statements of the 10-K, an alarming syllogism is formed.
Shift to Mobile a Concern
Advertising represents 89% of the revenue for Twitter and this revenue is increasingly coming from mobile. "Over 75% of our advertising revenue was generated from mobile devices." There are three forms of advertising: promoted tweets, promoted accounts, and promoted trends. Twitter concedes that promoted trends and promoted accounts receive much less prominence on the mobile application vs. the desktop. Shifting away from 2/3 of its monetizing capabilities could temper growth.
Overvaluation as Compared to Peers
With all of the negative information presented above, it would be shrewd for an investor to contemplate if Twitter presented a value opportunity as compared to its peers. Determining a metric that is common to all in the industry and will give a reliable indication is difficult. The best metric that can provide an indication of value in this industry is price to sales. Upon reviewing the peer statistics, it is apparent that Twitter lags in this regard as well. Twitter has a price to sales of 26.11 compared to FB's 20.26, LNKD's 14.46, and Google's 6.49. (Remember the lower the number, the better value).
Share Lock-up Expiring
The most compelling reason to be weary of investing in Twitter is attributed to the upcoming share lock-up expirations that will occur on May 6th. At the IPO, only a mere 80 million shares were floated to the public. 10 million shares became unlocked on February 15th, but a staggering amount in comparison will soon be unlocked. As of May 6th, 474.7 million shares will be able to enter the market. Although many insiders will not unload their shares, expect some to. The flood of shares onto the market will depress Twitter's price in the same fashion that happened to Facebook (NASDAQ:FB). Facebook hit an all-time low after its share lock-up expired. Facebook was able to absorb the additional shares, but with below expected growth, it is unlikely that Twitter will follow suit.
Conclusion
Twitter is a crucial aspect in the lives of many. It provides an instant delivery of news as well as an outlet for a user to vent about their life. Although it is unlikely for Twitter to fall out of favor quickly and suffer a fate similar to Myspace, the amalgamation of faltering metrics with an oncoming flood of shares should keep investors away.
Disclosure: I am long FB. I wrote this article myself, and it expresses my own opinions. I am not receiving compensation for it (other than from Seeking Alpha). I have no business relationship with any company whose stock is mentioned in this article.