Company Description:
Vivus (NASDAQ:VVUS) is a Mountain View, CA based biopharma company whose lead product Qsymia was approved by the FDA in July 2012 for the treatment of obesity. Qsymia consists of low doses of active ingredients from two previously approved drugs, phentermine and extended release topiramte.
Given the previous history of anti-obesity agent phen-fen and the subsequent FDA withdrawal, Vivus was required to conduct three large Phase III trials enrolling more than 4,500 patients which demonstrated weight loss efficacy and safety. Qsymia was launched in the fall of 2012 through mail-order pharmacies with a REMS program and a DEA Schedule IV designation. The FDA subsequently approved a modification of the REMS program and Qsymia became available in certified retail pharmacies.
Vivus second product is Avanafil, which is a PDE5 inhibitor approved for erectile dysfunction by the FDA on April 27, 2012. Vivus has outlicensed the product which is marketed under the name Stendra in the US by Auxilium and Spedra by Menarini in Europe.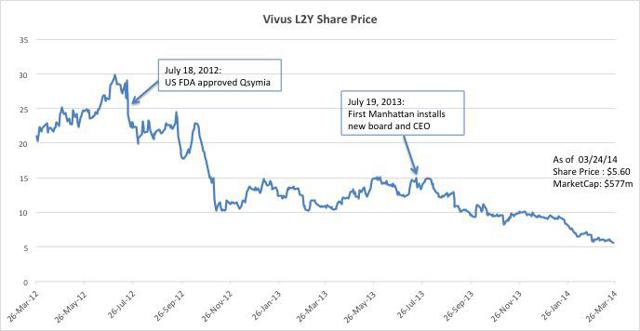 After a disappointing Qsymia launch, 9.9% Vivus shareholder First Manhattan went activist on the company and on July 18, 2013 after a bitter proxy battle gained a six-person majority on a newly reconstituted board and the right to bring in a new CEO. First Manhattan's central complaint was that "The sitting board and CEO committed the fatal flaw of failing to secure a pre-launch large pharma commercial partner for Qsymia. Securing a commercial partner is a decision that did not require much "business savvy." In fact, it just required a bit of common sense since no small company has ever successfully launched a blockbuster drug into the primary care market. Both of our obesity competitors, Arena and Orexigen, got it right on the commercial partnership, but Vivus' sitting board and CEO got it wrong."
Investment Thesis:
Stock is trading at historic lows in the aftermath of a disastrous Qsymia launch and the absence of any tangible progress on the partnership front. Short interest remains high at close to 30 million shares which is approximately 30% of the float.
Qsymia product profile remains intact. A recent survey by Cowen & Co (1) showed that it is viewed by specialists as the most efficacious product vs Belviq. According to the survey both Qsymia or Belviq will be widely used, but Qsymia most likely to be tried first. Belviq is viewed as the safest/best tolerated weight-loss drug but many specialists are concerned about SSRI interaction in obese patients.
Getting access to reimbursement has been a slow grind despite a high level of unmet medical need. In addition to cost, a lack of physician and patient awareness is likely to be responsible for the current limited use. These issues can be resolved with the right go to market strategy which given the call point into a mix of PCPs and specialists requires are large commercial infrastructure.
New management will be hard pressed to find a commercial partner to drive penetration and sales (for the above stated reasons). This has been stated repeatedly and was a central argument during last year's proxy fight. Recent trends in script growth show Belviq momentum accelerating and hitting the highest weekly NRx levels after Eisai doubled its Belviq salesforce to 400 reps.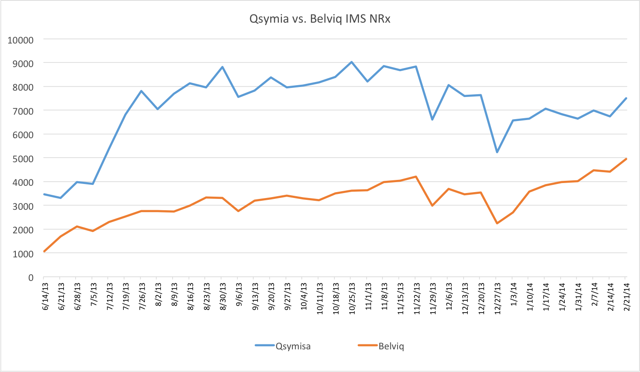 Competitive pressure is increasing with Orexigen's (NASDAQ:OREX) Contrave PDUFA date on June 10, 2014 and a expected launch by partner Takeda in 3Q14. Contrave is likely to be the only one of the three (next to Qsymia and Arena's (NASDAQ:ARNA) Belviq) obesity agents that is not 'scheduled' meaning that it can be sampled in addition to being marketed through Takeda's cardio-metabolic commercial infrastructure. In addition, securing a commercial partner for Qsymia will improve investor sentiment around IP, signal large pharma interest in the product and open the potential of a M&A take-out.
Competition from off-label use of generic combinations: Specialists potentially to consider such if the patient is concerned about drug cost. PCPs in my opinion/experience much less likely to do so as they typically would not be comfortable to prescribe it if Qsymia coverage is not available.
NPV analysis and review of analyst estimates indicate VVUS shares are oversold and currently offer attractive risk/reward entry point
Vivus board is certainly fully aware of the above mentioned issues and given where the shares are currently trading in addition to the loss of confidence with the analyst community will move quickly to fix the issues at hand. The Contrave PDUFA date in June 2014 in my mind must be a date that management is working against as it will be critical to get sales ramped up ahead of a new competitive product being introduced to the market.
Valuation:
I think a reasonable base case/downside valuation scenario is somewhere between the JP Morgan (lowered price target from $15 to now $8) and Credit Suisse (lowered price target from $10 to $7) estimates which do not reflect any upside from a commercial partnership. The Stendra/Spedra launch appears to be tracking well. Leerink recently upgraded Auxilium Pharmaceuticals based on impressive Stendra uptake (2). Based on those projections Stendra/Spedra is valued at approximately $2.50 - $2.75 per share.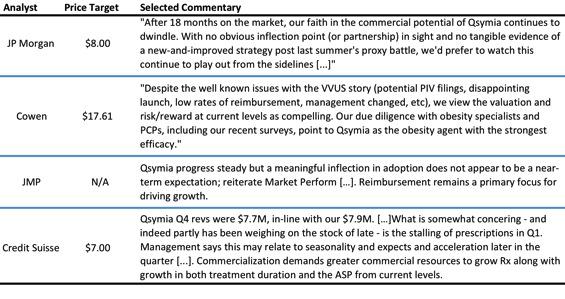 The time to speculate whether Qsymia will ever become the blockbuster product it was once widely expected to be has passed in my opinion. There is significant competition on the horizon as early as 3Q14 with the US launch of Contrave but I do believe the obesity market is large and fragmented enough to offer a significant commercial opportunity for all three products. Vivus appears to be oversold trading sub $6 per share given the lack of tangible progress and updates on commercial partnering. If one can take some comfort in the experience and alignment of interest of the current management and board it seems reasonable to assume that some progress will be made on a number of fronts in the coming months and with that the valuation will also receive a significant uplift. Analyst expectations have been revised downward a number of times and the shares now offer an attractive risk/reward opportunity.
Notes:
(1) Cowen's Survey #3 on Obesity Pharmacotherapy. March 12, 2014
(2) Auxilium Pharmaceuticals: Increasing Price Target on Stendra Uptake, Actient Accretion, EPS Growth. March 3, 2014
Disclosure: I have no positions in any stocks mentioned, but may initiate a long position in VVUS, OREX over the next 72 hours. I wrote this article myself, and it expresses my own opinions. I am not receiving compensation for it (other than from Seeking Alpha). I have no business relationship with any company whose stock is mentioned in this article.