There are quite a few oil and natural gas names which have been showing strength as of late, with a few of those names leading the entire sector higher. This has been an area which has driven our returns over the past few years and is a key portion of our portfolios as we are overweight a few sectors in the market with energy being one.
Chart of the Day:
This one year chart of the US Dollar Index shows the volatility beginning to taper off, but if one were to look at a longer-term chart, say five years, then this flattening out would be more apparent. It appears to us that the US dollar will be less of an issue in commodity price fluctuations moving forward, so long as the Federal Reserve does not rile markets with their monetary policy.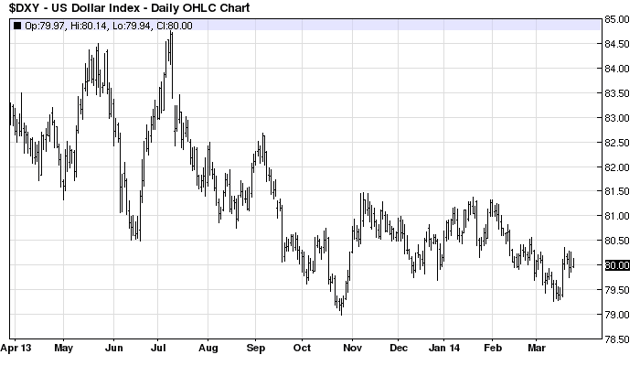 Source: BarChart
Commodity prices this morning are as follows:
Gold: $1,304.60/ounce, down by $6.80/ounce
Silver: $19.875/ounce, down by $0.104/ounce
Oil: $99.72/barrel, up by $0.53/barrel
RBOB Gas: $2.8895/gallon, up by $0.0067/gallon
Natural Gas: $4.381/MMbtu, down by $0.03/MMbtu
Copper: $2.971/pound, down by $0.0345/pound
Platinum: $1,409.70/ounce, down by $11.20/ounce
Fuel Cell Manufacturers
We tried to sound the bell on the way up to the nosebleed valuations for the fuel cell manufacturers and many were reluctant to listen to those warnings. After the retracement, which in our opinion was inevitable, the day traders continue to move in and out of the names. Our hope is that readers are not sucked in by the periodic news releases that the companies put out and bid up shares of names such as Plug Power (NASDAQ:PLUG), Fuelcell Energy (NASDAQ:FCEL) or Ballard Power (NASDAQ:BLDP). Until the dust settles and the market leaders in the industry, namely Plug Power and Ballard Power, build bases there is still too much risk to deploy capital in these names at this time.
If Plug Power cannot break through the $8/share level and hold it, then we think that might be an indicator that the stock heads lower towards the $6/share level to once again test the support it has found there.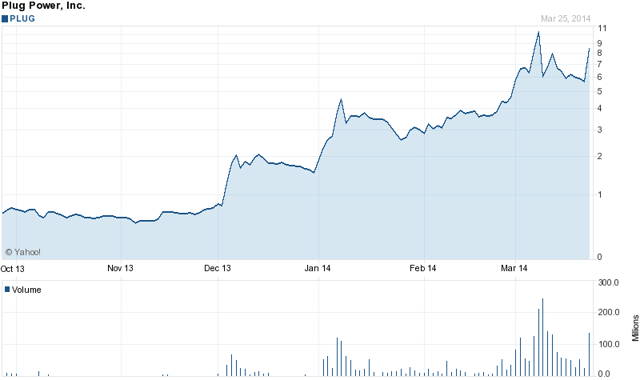 Source: Yahoo Finance
At times we get accused of not understanding new niche, hot industries but that could not be further from the truth. The fact is that we have been in many super hot mini bull markets and have seen how these super spikes play out. Those experiences are what tell us to stay away at this time and no amount of lobbying or debate will change that belief.
Bull Moves In Oil
Lost on many is the fact that a lot of oil names are continuing to push higher to new 52-week and all-time highs. Even the names which have disappointed the market with their financial and operating results have seen their stocks catch bids at these levels. The name which has caught our eye over the past few weeks is EOG Resources (NYSE:EOG), a company that has not posted disappointing results just to be clear, which has seen a steady move higher that has taken out numerous highs. This is a company that is difficult not to like, especially with their track record and strong balance sheet. We have highlighted it numerous times over the last few years and believe at this level that it might be setting up for another prolonged run through the $200/share level. The stock is an ok trade, but a much better long-term investment as we believe that they will continue to expand into new plays by joint venturing with weaker competitors.
Rice Energy has broken out and made a strong move higher. This is a name on the short list of companies we are watching in the Marcellus and Utica shales.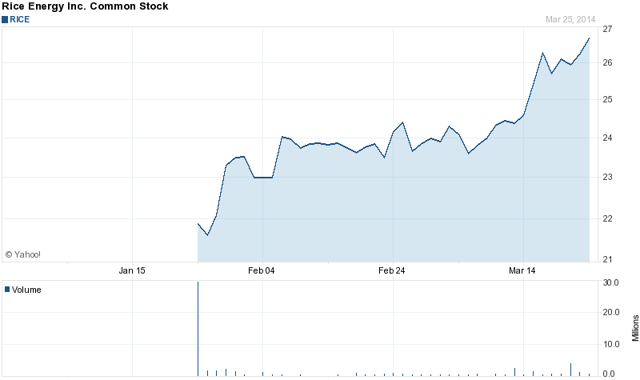 Source: Yahoo Finance
Another name we want to point out is Rice Energy (NYSE:RICE), which only recently came public. The company is focused on the Marcellus and Utica shales and has put together an impressive resume from their work in the two plays. The company trades at fresh highs right now, and does indeed sport a rich valuation, but the approximately $3.3 billion market capitalization company possesses a lot of upside in our opinion. It is not our favorite name out there, but it is on our watch list right now as they have terrific results that outperform their competitors' in the Marcellus and have teamed up with an excellent partner in the Utica to develop their prime acreage in the play. Although only recently coming public, Rice Energy could become a takeover target with their acreage positions and their positioning of that acreage (being neighbors with companies looking to add to their land positions). This is a name readers looking to take on risk should investigate.
Disclosure: I have no positions in any stocks mentioned, and no plans to initiate any positions within the next 72 hours. I wrote this article myself, and it expresses my own opinions. I am not receiving compensation for it (other than from Seeking Alpha). I have no business relationship with any company whose stock is mentioned in this article.