We are just two days away from BlackBerry's (BBRY) earnings call, and I've found myself in the position of not owning any BlackBerry for the time being. I'm considering buying again before the call, we'll have to see how the funding situation goes for me.
The technicals show a "golden cross" pattern - traditionally a bullish sign. However, the stock has been mired on caution heading into its earnings report this Friday.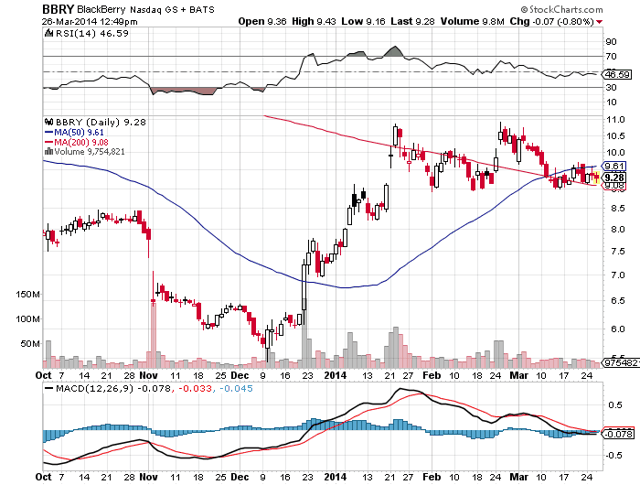 First, allow me to clarify, I'm not out of my position for any reason having to do with BlackBerry. The stock has basically gestated back and forth between $9 and $10 since I've owned my position, so I was able to sell near what I got in at. I moved out of the position in order to allocate the buying power for a few other trades [among them, my addition to GM at these levels]. I'll have another capital injection into my portfolio relatively soon, and BlackBerry will be one of the names that I'll be considering when I go to allocate it.
As the days have passed since my last article on BlackBerry, we've been privy to the news that the company is going to be selling most of its property holdings in Canada. Great news for those of you, like me, that are continuing to look for BBRY to free up assets and continue to build balance sheet strength.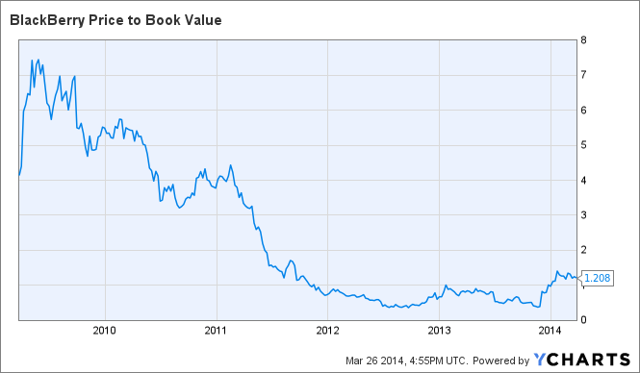 BBRY Price to Book Value data by YCharts
Additionally, there was news just yesterday regarding the company and its coming monetization of BlackBerry Messenger. Seeking Alpha reported:
"Because we are by nature private and secure and reliable and regulatory compliant, we are ideally suited to bring value in mobile money and financial services," says BBM exec David Proulx. BlackBerry (BBRY +0.9%) has begun trialing a person-to-person BBM money transfer service in Indonesia, and expects to add more countries/services in 2014.
BBM, which now has 85M+ MAUs, will also be monetized via sponsored channels for brands looking to reach out to consumers (BlackBerry introduced BBM Channels last year), and the sale of stickers and other virtual goods through a new BBM store (due to arrive this week through a software update).
Rival messaging platforms such as Naver's (OTCPK:NHNCF) Line and Tencent's (OTCPK:TCEHY) WeChat are already being monetized via stickers and/or payments. Some platforms are also eying mobile gaming as a revenue stream.
On the other hand, market leader WhatsApp is still taking a minimalist approach, monetizing its service only by setting a $0.99/year subscription fee for certain markets.
While I can't speak to the stickers and how they will monetize, I can say that the mobile money transfer idea is great. Specifically, I've seen several app developers in my home town with start-ups that are working on just this problem - money transfer. The key is to be able to make it easier to do things like divvy up a check when out at a restaurant. For other markets, the key could be the transferring of money without involving a massive process of going to the bank to make the transaction. This is definitely a good idea - BlackBerry leveraging its security asset to innovate. Good thinking, guys.
This upcoming earnings call is going to be telling for a couple of reasons, none of which are really the numbers that BBRY is going to report. Sure, there will be some focus on that, but I think we all know by now that the balance sheet looks good, Chen is tightening up the ship, and cutting off a ton of the fat on the company.
The focus is going to be moving forward:
What, if anything, can we be told about BBRY's QNX aspirations in vehicles?
What, if anything, is the company doing to potentially position BBM for sale or for additional monetary gain?
How are sales of BBRY's models doing in emerging markets?
What, if anything, can we be told about the company's business model from a macro perspective going forward? Has anything new developed?
As I said in my previous article:
And this earnings report isn't really going to be about the numbers. If you're betting bearish going in based on the accounting the company is going to report - you can't see the forest for the trees. This is about the traction of the turnaround of the company.
The stock is going to move according to Chen's comments and the way he delivers them. That, in and of itself, is a good reason to own the stock going into the report.
If BlackBerry dips after earnings, for whatever reason, there's a good possibility I will use that as a reentry point. My faith remains with John Chen, the small history he has with BlackBerry already, and the "common sense" moves that he's made thus far.
While I'm in no way guaranteeing a grand slam on earnings, what I am sure of is John Chen's demeanor. Chen has appeared relaxed and nonchalant during his public appearances since coming on board. As if to say, "Relax. I got this."
Additionally, while I do like to play options spreads on volatile earnings, I am not advocating such a spread on BBRY for this earnings call - as I think there's little chance of getting information that could move the stock as quickly as is needed for such a strategy to make money.
I continue to be bullish on BBRY, and could re-initiate a position at any time.
Best of luck to all investors.
Disclosure: I have no positions in any stocks mentioned, but may initiate a long position in BBRY over the next 72 hours. I wrote this article myself, and it expresses my own opinions. I am not receiving compensation for it (other than from Seeking Alpha). I have no business relationship with any company whose stock is mentioned in this article.