Discount stores have been facing challenges regarding growth in their top and bottom lines over the past two years. The decline in revenues and earnings is the result of changing market dynamics as customers are heading toward low-priced products and using technology to look for better deals. Therefore, retailers are shifting their focus to the long-term horizon and are looking for innovative solutions to generate growth and reduce operating costs. That enhances efficiency and brings in technological advancements. Looking at these circumstances, in this article, I picked two top discount stores: Wal-Mart (NYSE:WMT) and Target Corp (NYSE:TGT) to see where they stand in these changing market dynamics. I looked at their business strategies, future prospects and financial situations to gauge which one is in a better position to invest in.
Where Does Wal-Mart Stand?
Wal-Mart operates retail stores in various formats under 69 banners around the world. Its operations comprise three reportable business segments, Wal-Mart U.S., Wal-Mart International and Sam's Club. Wal-Mart sales and profits are decreasing because of changes in market dynamics and fierce competition from other stores, particularly private labels.
The company wants to make big changes to cope with this challenging environment. Wal-Mart is trying to work more on a customer-centric approach. Its management believes in Sam Walton's fundamental principle: to serve customers as if they are the bosses. The company seeks to improve its sales growth by strengthening its EDLP (everyday low pricing) focus and offering more innovative merchandise products. The company is further looking to support these initiatives by providing enhanced services and a combination of price investment. Besides all these initiatives, its focus is to win customers' loyalty by getting closer to them and by giving them additional shopping options.
To further streamline its sales and get closer to customers, the company plans to increase its focus on small format store rollouts. This initiative will be a convenience for customers. In addition, it plans to continue its investment in e-commerce and mobile commerce. With EDLP, it wants to lower its cost structure. This is one of the key initiatives the company is taking. In a slow growth environment, Wal-Mart wants to convert soft growth in sales to higher profits by lowering costs and enhancing margins. The company allocated more capital expenditure this year compared with the past year of $13.1 billion to do all this.
Looking at the financial situation can reveal more facts about the company's ability to work on its plans and to generate safe returns for investors. Last year, its net sales increased by 1.6%, symbolizing the company's growth initiatives are working. However, it could not convert its top line growth into big profits. The company's margins went down compared with 2013's and, as a result, earnings per share went down by 2.8%. Nevertheless, with the implementation of its EDLP initiative, it will be able to turn its sales into higher growth.
Soft growth in the top line and negative growth in the bottom line reduced its cash flows from operations from $25.5 billion in 2013 to $23.2 billion in 2014. Increased capital investments impacted its free cash flows, which also decreased over the past period. Amid this, its free cash flows of around $10 billion are enough to cover dividend payments of $6.8 billion. Its dividends look completely safe as its free cash flows are covering them adequately.
Where Does Target Stand?
Target operates general merchandise discount stores in the United States and Canada. Target also has had a difficult last year in terms of financial performance. Both sales and earnings per share decreased compared to the past year. Nevertheless, the company has taken some measures, which should help it out this year and beyond.
It made progress in its multichannel and, as a result, the company managed to increase conversion both on its website and on its mobile apps. The company acquired Chef's Catalog, Cooking.com and DermStore, which will extend its online assortments. Target launched Cartwheel and, as a result, growth in its digital traffic and sales increased over industry averages.
Target also introduced the CityTarget format, and the company plans to launch a separate smaller format called Target Express. Both formats are opening new opportunities in dense urban areas, allowing it to expand in new trades. Further, the company is desperately looking to enhance the customer experience by adding innovative and dedicated services to its key categories, like baby, beauty and electronic products, and by training its staff and providing them with technology to solve customers' problems. Further, the company wants to reduce its operational costs to give support to margins. Last year, it saved around $200 million, and until 2015, it plans to save $1 billion in cost savings. It is setting strong footprints in Canada, which will likely grow Target more in the coming days.
Target has taken numerous steps to tackle a rapidly changing business environment in 2013. Nevertheless, these initiatives will set the company up to generate growth in 2014 as it is expecting to generate adjusted earnings per share of between $3.85 and $4.15. Its cash-generating potential remains strong, and the company's free cash flows are providing cover to dividend payments. Consequently, it increased dividends each year since its inception. Last year, its free cash flows were at $3 billion when dividend payments were only at $1 billion. Its dividends look completely safe with its strong cash-generating potential.
Which Is a Good Stock to Buy?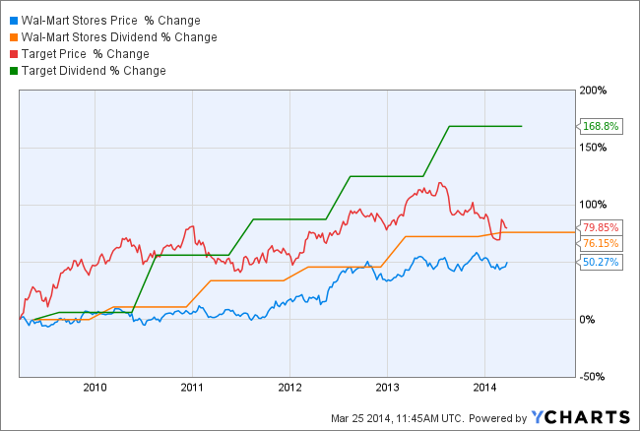 | | | | |
| --- | --- | --- | --- |
| | WMT | TGT | Industry Average |
| Price/Earnings TTM | 15.8 | 19.4 | 17.5 |
| Price/Book | 3.3 | 2.3 | 3.4 |
| Price/Sales TTM | 0.5 | 0.5 | 0.5 |
| Rev Growth (3 Yr Avg) | 4.1 | 2.5 | 5.5 |
| Net Income Growth (3 Yr Avg) | -0.8 | -12.3 | 4.9 |
| ROE TTM | 21.0 | 12.0 | 21.5 |
| Debt/Equity | 0.6 | 0.8 | 0.6 |
Source: Morningstar.com
Clearly, the chart demonstrates that Target has generated better returns for investors regarding dividends and share price appreciation. Target made double-digit increases in dividends over the years. Its ability to generate strong cash flows allowed it to do that. Every year over the past three years, it increased its free cash flows. Further, the company has been strongly working on strategies to generate growth in changing business environments. I believe the company has done a lot of good things last year, which will help it generate steady growth this year. Amid all this, Target is trading at high valuations compared with industry averages and Wal-Mart. However, its dividend growth rate is impressive for someone who likes dividend growth stocks.
On the other hand, Wal-Mart has been making changes and using multi channels to generate growth in the top line and working on cost saving initiatives to turn that growth to big profits. It is trading at attractive multiples and has a better financial position over Target, which can also be seen in the table. Though its dividend growth rate is slow over the other player, it still looks like a stock for defensive investors with limited risks.
One thing these companies have in common is aggressive buybacks. This initiative allows them to stabilize their earnings per share and their dividends. A low number of outstanding shares enhances demand and, thus, stabilizes share price as well. Both companies have a strong penetration in the market with solid brand names. They are further penetrating the emerging markets, and they are making smart moves. That way, both companies look like sound investments, each with a different edge on the other.
Disclosure: I have no positions in any stocks mentioned, and no plans to initiate any positions within the next 72 hours. I wrote this article myself, and it expresses my own opinions. I am not receiving compensation for it (other than from Seeking Alpha). I have no business relationship with any company whose stock is mentioned in this article.