Today was the day that many investors were looking forward to. No, it wasn't the results from the audit report, rather an update for investors about NQ Mobile's (NYSE:NQ) upcoming earnings announcement.
NQ Mobile, a leading global provider of mobile Internet services, announced that it will report its fourth quarter and full-year 2013 results before April 15, 2014. A separate announcement with the specific date and conference call dial-in details will be issued by next week.
In case you might have missed it, I believe there are two very important things that investors need to take away from the Company's press release yesterday. First, NQ Mobile will report earnings before April 15. Second, the Company will announce by next week the specific details relating to where and when everything will take place.
A couple of weeks ago, NQ Mobile put out an update saying that the Company will be announcing the date of its earnings report relatively "soon." This terminology of course was interpreted differently by many different investors. While some believed that "soon" meant a week or so, others believed it fell in line with two or three weeks etc.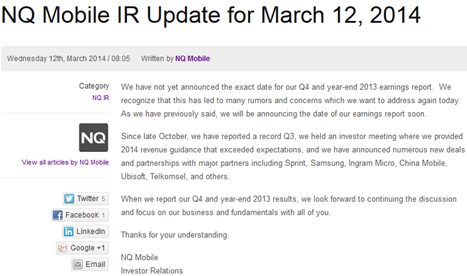 * Source
As each day passed without an earnings or audit announcement, shares continued to slide before recovering a bit at the end of the day in anticipation that news would be released pre-or-post market. When news did not come, shares continued the downward cycle. Now that its officially official, investors can now stop worrying about interpreting the meaning of "soon" and now concentrate on the dates NQ will and has provided.
The news brought plenty of excitement back into the stock as shares were up more than 4% in pre-market trading. Clearly shares were trading higher throughout the rest of the day right? In the words of Lee Corso, "Not so fast my friend!"
Shares actually closed down 1.73% on the day. So why did this happen? I believe it is due to a number of reasons. So without further ado, here they are.
1) Looking across the board, most if not all Chinese stocks Dangdang (NYSE:DANG), Sina (NASDAQ:SINA), Vipshop (NYSE:VIPS), Sohu.com (NASDAQ:SOHU) have been getting hammered lately. The chart below shows what has happened just within the last week.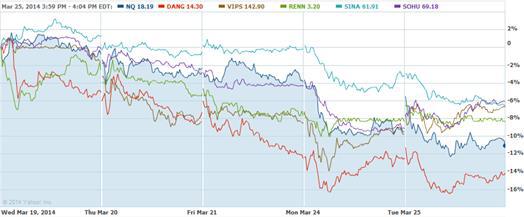 2) Momentum stocks that have given investors big returns have started to fall out of favor and cool off for a bit. In just the last week, companies like Tesla (NASDAQ:TSLA), Amazon (NASDAQ:AMZN), and Netflix (NASDAQ:NFLX) among others, have been hit hard by profit taking and economic and political events around the world. The same can be said for NQ Mobile which was up more than 70% over the last three months, before losing more than 15% just within the last week.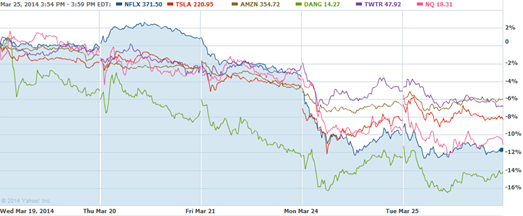 3) Muddy Waters continues to talk and tweet about NQ Mobile. The latest tweet happened right after NQ Mobile's press release Tuesday morning. Below is what Muddy Waters had to say about the company.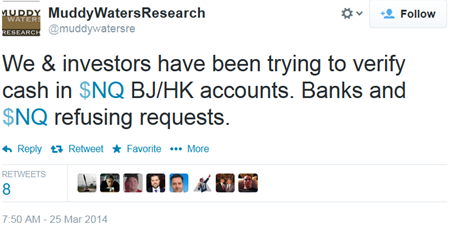 * Source
Is it any coincidence that they tweeted something out right after NQ Mobile's press release? I don't think so. In fact the tweet is a little hard to understand. We'll skip the grammar lessons and focus on what they were trying to say. Breaking it all down, Muddy Waters and its "investors" have tried to verify NQ Mobile's cash, but the banks as well as NQ Mobile, "supposedly" refused their requests.
Could this be true? Absolutely, but I'm not believing it. NQ Mobile has made it quite clear that they are open and transparent. In fact, management has stated on multiple occasions that they welcome investors to come and do their due diligence. NQ Mobile's Co-CEO Omar Khan even talked with Liz Claman on Fox Business about this situation last November. Here is a little bit of what Khan talked about.
"... We welcome people to come and do their due diligence. In fact over the last three and a half weeks, we had multiple large shareholders come to greater China and to our offices and due their due diligence with our customers and looking at what we are doing as a product company. You have seen 13G filings over the last couple of weeks, significant holders have come into the stock. At the same time in the last three and a half weeks you've seen four of the top carriers in the world announce new or expanded business deals with us."
Multiple hedge funds and institutions did just that. Many of them personally met with management and talked to many of their business partners.
Oberweis Management, which doubled its stake in the Company last November, talked about why they likes NQ Mobile going forward.
"It would be arrogant to assume that I know absolutely everything, but we bet on probabilities." ... "We've done our research, and we think it is a high probability that Muddy Waters is wrong, and we've placed our bet. And there is no greater vote of confidence than placing a very large bet." - Jim Oberweis
As an investor in NQ Mobile, it's come as no surprise to see many 13G filings pop up every week. In fact, many investors including myself have become so used to it, that it comes a surprise if there isn't one filed within the week.
Last week, SAC Capital Advisors was the latest to disclose that it had purchased a large stake in NQ Mobile, as the firm disclosed buying 1.54M shares, or roughly 5.1% of the company.
I know I've said this plenty of times before, but every week I am adding funds to this list or increasing the number of shares that they own. Clearly, big money likes what they are seeing and are betting big on NQ Mobile. You don't have to take my word for it though, just take a look at the table below.
| | |
| --- | --- |
| Name | Percentage Of Shares |
| Public Employees Retirement System OHIO | 2.10% |
| Susquehanna International Group | 2.15% |
| SC China Holdings | 3.90% |
| ChinaRock Capital Management | 4.44% |
| GSR Partners II | 4.63% |
| SAC Capital Advisors | 5.10% |
| DNB ASA | 5.35% |
| Bank Of America | 5.83% |
| Kylin Management | 6.2% |
| Capital Ventures International | 6.3% |
| Morgan Stanley | 6.3% |
| Oberweis Asset Management | 6.6% |
| Toro Investment Partners | 7.34%* |
| Altimeter Capital Management | 17.3%** |
*5.72% shares and the right to acquire an additional 1.62%
**9.9% shares with the rights to acquire an additional 7.4%
After crunching up all of the numbers, it looks like institutional support makes up more than 80% now. Not bad for a company that was labeled as a "fraud" by some just a couple of months ago.
If big money is truly holding their positions, then that means around 6M-7M shares are floating around between everyone else. On top of that, I haven't even taken into account the Company's share buyback program that has been going on. Luckily for the shorts, we do know that funds such as Toro are lending out some of their shares and are watching the shorts positions run up against them. I assume that a couple of other big players are likely doing the same thing which is why the short % is still very high.
Conclusion
NQ Mobile has been nothing short of a rollercoaster ride over the last couple of months, providing plenty of chances to capture great returns on both sides of the trade. As each day passes, these opportunities are getting smaller and smaller. As we get closer to the results and announcements, I wouldn't be surprised to see those funds issue a return for their shares that they have been lending out.
Because nobody can predict the future, it is wise to make sure that you are protected in the markets. This is where hedging comes into play. Think of hedging your position as buying insurance. The money you spend covers you in the face of potential disaster in case things didn't go the way that you had planned.
One way for investors that are long NQ Mobile to be protected, is to buy put options. With yesterday's announcement that earnings will be in before April 15, those with April options will be able to cash in on all of the volatility from now until April 19. Investors should remember that you should not put all of your eggs into one basket no matter how confident you are in a company. Asset allocation and hedging will not only limit your losses, but will help you to sleep better at night as well.
As of right now, NQ Mobile has a market capitalization just over 1B, a forward P/E 12 and a PEG of just 0.43. Those that have used Warren Buffett's strategy of being fearful when others are greedy and greedy when others are fearful, have done well with NQ Mobile. That is just one of the reasons why I recommend buying the dips. If you are looking for an undervalued company that is well-positioned with great growth prospects to go along with insider and institutions buying, not to mention the company's own share buyback program currently underway, then you have come to the right place. I like the company's prospects and as I've outlined in previous articles here and here.
While I cannot speak for management, I believe they have been bombarded with questions such as, "When are you going to report earnings," or "when is the audit coming out." This is one of the reasons why I believe management put out this press release. Instead of responding to the same old questions, management can focus and concentrate more on running the actual business.
Looking at the press release closely, it looks and smells like NQ Mobile has some sort of indication from their auditors that things are pretty much all wrapped up. This is great news for shareholders! Now with results right around the corner, investors better have their engines started as the race is about to begin.
As always, I'm providing you with my track record and other particular stocks that I recommend. The link provided will show you all of my picks, how they have fared, and where I think they will be going in the near future. I think you will find my track record to be very impressive as well as useful.
Disclaimer: Investors are always reminded that before making any investment, you should do your own proper diligence on any stock mentioned in this article. Have a great day and as always, I look forward to hearing your thoughts or questions that you might have.
Disclosure: I am long NQ. I wrote this article myself, and it expresses my own opinions. I am not receiving compensation for it (other than from Seeking Alpha). I have no business relationship with any company whose stock is mentioned in this article.