Great things appear to be happening at HPEV, Inc. (OTCQB: OTCQB:WARM). The stock started to move in late November after publishing favorable, third party test results of their patented thermal dispersion technology. The stock was steadily accumulated for three months before breaking out in March on repeated record volume sessions. The expected retracement was short lived as the stock bounced hard after falling below a dollar intraday. It has been trending upward with a steady increase in both price and volume as investors begin to grasp the potential of this company. Their recently filed investor presentation implies good things may be in store for investors in this relatively unknown company.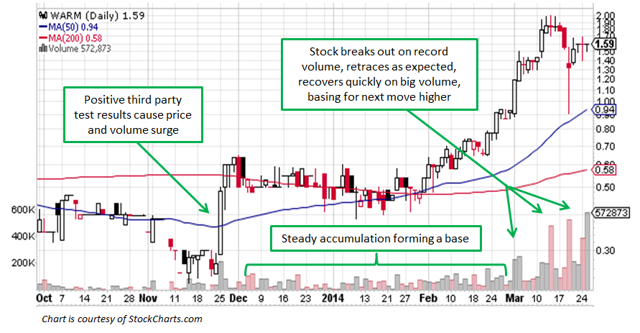 Why HPEV? Three Paths to Revenue with a Common Theme
HPEV currently lists three main paths to revenue:
Motors & Generators - Patented thermal dispersion technology that adds 25% to power output while lowering manufacturing costs.
Mobile power generation - Patented thermal and gearing technology integrates a sub 1,000 pound generator with any existing class 2-8 truck, utilizing the truck's own engine to generate up to 400kW of electric power. This replaces 6-8,000 pound tow-behind generators saving half the cost at one fifth the weight.
Submersible pump market - Patented thermal technology more than doubles pump power and all but eliminates maintenance in the water and waste-water market.
While there are currently three separate revenue streams being pursued, they all tie back to the first - their patented thermal dispersion technology. HPEV was founded primarily to capitalize on their intellectual property (NYSE:IP) which currently includes five patents, more than ten pending, and another fifteen in the application process. In this article I want to focus on HPEV's thermal dispersion patents as applied to electric motors and generators, and how this has the potential to create enormous revenue streams.
Patented Thermal Technology Yields 25%+ Increase
At the core of this company is their patented use of heat pipes in electric motors and generators. Heat pipes are a passive cooling technology that have been around for many years and are used to cool everything from space ships to computer chips. HPEV has patented their use in electric motors and generators (among many other application types) in such a way that they can be easily integrated into existing designs with minimal retooling expenditures.
During a recent test of products ready for market, HPEV's patented technology showed an impressive increase in power density of 25 to 35% in generators. Another independent commercialization test confirmed a more than 200% increase in horsepower capability in electric motors equipped with HPEV's technology. John Ivins, President of ESSCO Pumps and Controls supervised this test and stated, "Honestly, I am amazed with the results! This is a significant innovation in the pump industry and the biggest improvement in pumps in more than 50 years. . . By removing heat in this way, we dramatically reduce maintenance costs and time loss while improving pump output and flow as well. It's a real game changer."
HPEV's Solution is Passive and Easily Integrates into Existing Products
What makes HPEV's thermal management so exciting is not only does it produce 25%+ gains, it is completely passive. This means there are no moving parts that wear out and need replacing, and brings maintenance costs down to zero. Additionally HPEV's patents and technological "know how" ensure that heat pipes can be easily integrated into existing products at minimal cost. Changes in manufacturing are a cost concern for any manufacturer, but HPEV's solution promises to provide impressive improvement with minimal production changes. While a 25%+ gain is impressive, what really grabs the attention of manufacturers is that they can turn around and use a smaller motor or generator in place of a larger one due to these gains. This saves in costly materials as well as weight and gives them a significant advantage over their competitors.
Licensing Shows Potential for Tremendous Revenues in Markets Totaling $125+ Billion
Based on the commercialization tests being performed, HPEV is clearly targeting the industrial motor, pump, and generator market, and is close to signing deals. The 20 horsepower and larger industrial infrastructure applications represent at least a $60 billion dollar market. This market segment is dominated by only eight companies, each looking for a competitive advantage. Since HPEV's technology is such a low integration hurdle for existing products, I have no doubt that at least one company will license the technology in order to realize a 25% gain. Once one of these companies license HPEV's patents, the rest will surely follow to remain competitive.
Similarly, the large submersible electric pump market used for fresh and waste water is projected to be $76 billion for 2016. Most cooling solutions for waste water pumps utilize the effluent (sewage fluid) for cooling. The problem is that not all sewage is fluid, and solid material frequently causes blockage problems in active cooling systems. This necessitates immediate unscheduled maintenance to clear the block which has associated down time and labor costs. HPEV's technology not only produces impressive gains in power output, it also eliminates those maintenance costs because the effluent is no longer used for cooling, providing a huge incentive for end user adoption.
HPEV's IP has the potential to be licensed in all of these $125+ billion dollar markets they are currently targeting, which makes this a hot commodity and a strong buyout candidate.
$10 Million on Tap Gives Flexibility without Unnecessary Dilution
HPEV recently stated that they have all the money they need to achieve profitability. To further send that signal, the Company entered into a $10M stock purchase deal with Lincoln Park Capital. For an OTCQB listed stock to pull off a deal on these terms is quite an accomplishment and is a large vote of confidence by Lincoln Park Capital. With $10M at their fingertips completely at the company's option, this deal puts the company on firm fiscal ground and eliminates any foreseeable need for additional dilutive financings.
Risks Moving Forward
As with any investment, HPEV is not without risks. Investors should be aware of the risks associated and perform their own due diligence prior to making an investment. As an OTCQB traded stock with a market cap under $100M, HPEV's share price may be suspect to high volatility. HPEV management has expressed their desire to move to NASDAQ once the listing requirements are met, but I don't expect that to happen until late this year at the earliest. Also, failure to generate any significant revenues may require the use of their $10M stock purchase agreement with Lincoln Park Capital, causing additional stock issuance and shareholder dilution. Despite it being dilutive, execution of this deal is solely at HPEV's discretion with Lincoln Park Capital required to buy at market price with no discount. Unlike previous financings, this deal includes no warrants, making it a much better deal for shareholders should funds be needed.
Conservative Target Price: $4+ Short Term, $20+ Long Term
HPEV holds an impressive array of IP for innovative heat dissipation solutions that is directly applicable and targeted at the large electric motor, generator, and pump industries with a combined $125+ billion market. Their patented technology has been independently tested in the commercialization phase showing at minimum 25% improvement. Due to the way their solution can be easily integrated with existing production, the barrier to actual use and acceptance from the industry is low. Also, HPEV has recently rounded out its management team with some impressive personnel. The team has strong ties within the industry which will help finalize agreements to monetize these patents.
Despite the recent surge in HPEV's stock price and volume, I believe this company is currently undervalued and more deserving of a $300-350 million market cap based on their impressive IP portfolio alone. With approximately 78 million fully diluted shares outstanding, my conservative short term price target remains $4 to $5.
Let's extend the timeline into the next 18-24 months and look at some conservative estimates for revenues, profits, and stock price. If HPEV is able to capture just 5% of the $125 billion dollars in markets they are targeting, their effective market is $6.25 billion in size. Of this market, if HPEV were to only negotiate a 3% royalty on top of licensing fees that should range from $1-10 million for a 2-3 year license, this would generate $185-200 million in yearly revenue. Using a profit margin of 80%, conservative for an IP company such as this, nets them $160M in profit. Using a very conservative 10x forward price to earnings ratio yields a $1.6 billion market cap and a resultant share price above $20. Again, I have used extremely conservative numbers, and I would not be the least bit surprised to eventually see real world numbers up to three times higher. Given the IP portfolio they are building, they are also a strong buyout candidate for large industry players such as General Electric (NYSE:GE), Emerson (NYSE:EMR), Siemens, (SI), and Nidec (NJ).
Disclosure: I am long WARM. I wrote this article myself, and it expresses my own opinions. I am not receiving compensation for it. I have no business relationship with any company whose stock is mentioned in this article.