Last week, the market reacted surprisingly well to the newly listed MediWound (NASDAQ:MDWD), an Israeli based wound care company addressing severe burns. MediWound issued 5M shares at a price of $14 (the low end of the expected $14-$16 range), opened trading at $16 and ended the week at $18.16, nearly 30% higher than IPO price. Not only does this initial success bode well for MediWound investors, but it also suggests upside for other companies in the wound care business that are targeting similar markets.
A Look at MediWound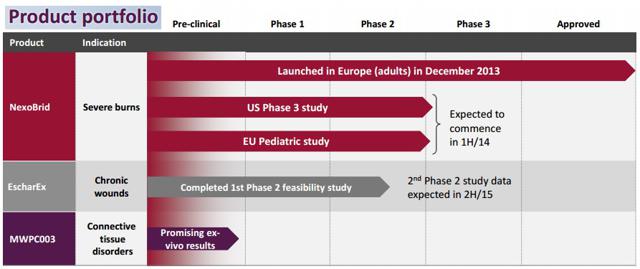 NexoBrid
MediWound's lead product, NexoBrid, received marketing authorization from the European Medicines Agency (NYSEMKT:EMA) in December 2012 for the removal of dead or damaged tissue due to severe burns. NexoBrid presented MediWound the opportunity to treat hospitalized burn patients by non-surgically removing the eschar (dead or damaged tissue) without harming non-injured tissue. MediWound sees NexoBrid as a new paradigm in wound care as early eschar removal is the first step in wound treatment.
NexoBrid was launched in the EU in December 2013 through a local German subsidiary. By 2016, MediWound plans to expand NexoBrid's reach throughout Europe and other international markets. Going public gives the company easier access to capital as it ramps up EU marketing for NexoBrid and plans to initiate a Phase III study in the US sometime in 1H 2014. To date, NexoBrid has not generated any revenues for MediWound.
US Study
The expected 200 patient Phase III study is significant as it would potentially open the door to the largest market in the world. The company projects a 24 month follow up after enrollment and treatment which would mean final outcome is revealed sometime in 1H 2018. Though this target date is several years away, investors are hopeful that the designated orphan status NexoBrid received in 2003 and EU approval will be indicative of an obstacle-free process.
EscharEx: for Chronic & Hard to Heal Wounds
By utilizing the same enzyme technology that underlies NexoBrid, MediWound is also targeting chronic and other hard to heal wounds with EscharEx. This additional market opportunity presents lower development risk as MediWound's technology has already showed its effectiveness in burn wounds. A second Phase II study will be initiated by 1H 2014 in which company expects to have results by 2H 2015. Penetrating this secondary market will be difficult for MediWound however as competition is already fierce with many other names (MiMedx, Alliqua, Organogenesis and Osiris to name a few) having established commercialized products.
Financials
From the prospectus, MediWound estimates that the company will receive net proceeds of approximately $63M from the IPO offering. Accounting for the $9.5M cash balance at the end of 2013, this leaves MediWound with approximately $73M in their cash balance. Nearly all of the proceeds will be allocated towards expanding marketing infrastructure of NexoBrid expansion in Europe and the funding of ongoing clinical trials. Last year MediWound burned through roughly $8M, signifying that the current cash balance should be sufficient to fund operations for the foreseeable future.
IPO Hype Inflating MediWound Valuation
With 20,350,586 ordinary shares outstanding and a market price of $18.16, MediWound sports a market cap of $370M. Given the current developing operations in Europe and initiation of a Phase III trial in the US, I believe the IPO hype surged valuation past fair value. I do not see any real top line revenue growth until next year and an even longer timeline for any US clinical data. Therefore, I will sit on the sidelines and let the dust settle before making any moves on MediWound. In the meantime, I believe there are better value plays in the wound care sector that benefited from MediWound's initial burst.
Sanuwave (OTCQB:SNWV)
Secures $10M in Private Offering
On March 18th, Sanuwave, a medical device company utilizing shockwave therapy for wound treatment, announced that it had raised $10M through a private placement at $0.50/share. This offering will provide Sanuwave with sufficient funds through the release of top line data of their Phase III dermaPACE trial, thereby reducing any further financing risk. As a result, company management and operations can be solely focused on the ongoing trial for treatment of diabetic foot ulcers.
This offering is a significant development for Sanuwave and its investors as it denotes an act of confidence. Investors taking part in a private placement are issued restricted shares which they must hold for at least six months (as per SEC Rule 144). In other words, these Sanuwave investors, such as hedge fund RA Capital Management, are betting on positive top line data from the dermaPACE trial (in summer 2014) to add value. Adding to the bullish sentiment, CEO Joseph Chiarelli and Health Director Kevin Richardson respectively purchased $40,000 and $50,000 of Sanuwave stock through the private offering.
Earlier in 2014, the company revealed that more than 75% of patients had been enrolled in the dermaPACE PIII trial evaluating the shockwave device on diabetic foot ulcer patients. This means that the company is on schedule to complete enrolment by end of Q1 2014 (see below). This upcoming catalyst makes way for yet another influential event; review of clinical data by independent committee. Chances are these findings will either make or break Sanuwave. RA Capital Management, however, are siding on the former. Given the funds investing history, which includes winners like NVAX, ACAD and SGMO, this bodes well for upcoming Sanuwave operations.

Sanuwave Takeover Target?
Last year, I speculated on the possibility that Sanuwave could be a fitting target for Smith and Nephew (NYSE:SNN), given the medical devices giant growth through acquisition strategy. 2013 was a year in which SNN increased investment in tomorrow's growth drivers and built strong position in the emerging markets. Looking ahead, 2014, as company management guided, will be a year where integration and smaller bolt-on acquisitions take place.
Smith & Nephew's strategy to position itself in emerging markets corresponds perfectly with Sanuwave. Sanuwave's shockwave platform technology is already approved internationally and marketed in Europe, Canada, Australia and Asia. Such a broad geographical reach, in which Sanuwave generates approximately $1M in sales, makes the target that much more appealing. Expansion in international markets seems to be a priority for Smith & Nephew, making Sanuwave a suitable potential acquisition.
Being fully financed and nearing a potential early 2015 US market approval, Sanuwave would provide Smith & Nephew a direct revenue source. For a company that experienced a 1% top-line growth YoY in their advanced wound care segment, which includes diabetic foot ulcers, additional revenue streams are essential. Though SNN utilizes negative wound therapy to treat chronic wounds, Sanuwave's shockwave technology could prove to be the new standard of care for advanced wound treatment due to being a cheaper and more time effective alternative.
Alliqua (NASDAQ:ALQA)
Alliqua is creating a suite of technological solutions to target chronic and acute wounds. The company strives to offer a full range of products that cover the wound treatment process including managing drainage, infection and healing wounds until closure.
Validated Operations through Large Pharma Deal
In November 2013, Alliqua announced a transaction with Celgene whereby Alliqua received the exclusive right to develop and market the large pharma's advanced wound care product, Biovance. As part of the deal, Alliqua sold shares in exchange for approximately $13M. This funding removed concerns over the company's financial situation, while ensuring significant capital to bring business objectives to fruition.
Biovance is derived from human placental tissue meaning the product influences natural wound healing. With Biovance, both Celgene and Alliqua are penetrating the same market segment as MiMedx, which also happens to be the fastest growing segment in advanced wound care. In his latest interview, CEO David Johnson announced that Biovance would be launched by April 2014. To complement the launch and drive sales, Alliqua is in the process of adding to its sales force by 50%. By the end of 2Q 2014, the company expects to have 60 total sales people across the US.
A recent Schedule 13D disclosed that Celgene had a 20% ownership of Alliqua as a result of the November transaction. Obviously Celgene's association offers extensive validation for Alliqua's platform technology as both companies have financial interests in launching a successful biological product. Additionally, it can be assumed that the giant pharma will provide the necessary resources for the launch to progress accordingly, offering investors a de-risking investment factor.
At a market cap of just over $100M, Alliqua presents an attractive opportunity due to its soft valuation and upcoming catalysts. I believe the second half of 2014 will bring great traction as Biovance is marketed. The progress of the launch and the following announcements, such as sales force enlargement and distribution agreements will be value driving catalyst that support long term Alliqua operations.
Wound Care Comparison

When compared to competition in the wound care field, MediWound's current position does not seem to warrant its valuation. The company has no access to the US market and could be as far as four years from such a mark. Other wound care companies such as Alliqua and Sanuwave trade at valuations worth fractions of competitors yet provide similar, if not better, prospects.
Sanuwave and MediWound present regulatory risk as both companies must obtain FDA approval before marketing products. The FDA presents a huge hurdle for these two names, but Sanuwave trades at 1/8th market cap of MediWound. This does not take into consideration that Sanuwave may have a commercialized product by 2015 whereas MediWound by 2018.
Conclusion
The initial exposure MediWound's IPO attracted can be leveraged by other wound care companies that currently offer superior investment opportunities. As shown above, the hype of being the new "toy" has priced MDWD beyond its fair value. Though I believe MediWound has a promising outlook, when comparing its situation to that of others in the same segment, I see better value in names like Alliqua and Sanuwave. I believe both companies have an upcoming quarter that will surely provide investors with actionable events impactful enough to drive stock price.
Disclosure: I am long ALQA, SNWV. I wrote this article myself, and it expresses my own opinions. I am not receiving compensation for it (other than from Seeking Alpha). I have no business relationship with any company whose stock is mentioned in this article.
Editor's Note: This article covers a stock trading at less than $1 per share and/or with less than a $100 million market cap. Please be aware of the risks associated with these stocks.
Editor's Note: This article covers one or more stocks trading at less than $1 per share and/or with less than a $100 million market cap. Please be aware of the risks associated with these stocks.