Shares of Potbelly Sandwich Shop (NASDAQ:PBPB) have been locked in a downtrend since the stock started trading up huge on its IPO debut on October 8th of last year. Since closing at $30.22 that day, more than double the IPO price, the stock has lost about 38% of its value as it now trades around $18 to $19. It's my opinion that the downtrend Potbelly's stock has undergone is still not over and a low risk short opportunity is present.
Company:
Potbelly has 288 company owned store locations with an additional 19 franchise locations, twelve of which are in the Middle East. Potbelly has set a growth goal of adding 35 to 40 corporate owned storefronts and up to eight franchise locations in 2014. Potbelly puts forth In their March 5th 10k that the average profitability of one of its shops is approximately 20% of revenue once a location is fully established.
One of my biggest concerns, however, is that Potbelly does not own any real estate. Again, In the March 5th 10k report, on page 21, Potbelly discloses that their corporation "does not own any real property and all our company-owned shops are located in leased premises."
If Potbelly cannot negotiate re-leasing of their shop properties on favorable terms, profitability could take a substantial hit if shops are forced to close, required to relocate, or lease terms deteriorate and rent increases. Also, the value growth of each underlying real estate property having a successful restaurant on it will not be reflected on the company's balance sheet and is a large loss of value for investors. This poses some inherent business model risk, although the lease only model is likely why stores are able to reach profitability relatively quickly and have favorable cash flow. Relatively inexpensive growth and the benefits of early positive cash flow does not offset the long-term balance sheet loss for me, and this lease only model may prove to cause some headaches for the chain especially considering Potbelly likes to locate in highly competitive downtown and mall-area real estate markets where rent is high.
The one thing that could be said to be going well for Potbelly's shops, though, is that one immediately knows they are in a Potbelly once they step inside. Potbelly's corporate team has made it their focus to ensure that all stores feature the same design motifs and are a part of the surrounding community. Like Starbucks, Potbelly stores feature local musicians and like many other restaurants, hold occasional fundraising events for local sports teams or charities. Potbelly's alignment with the neighborhood means repeat, loyal customers. Another positive is that the food is pretty good, too. This is really one of the only good things Potbelly has going for it, but the question for me remains; does the market really need another sandwich shop, regardless of quality? Is Potbelly differentiating itself from the likes of Subway, Jimmy Johns and other fast casual chains enough? Is the bankruptcy of Quiznos a sign that the market is tired of sandwiches? I think no, no, and yes.
The Stock:
The chart is classic IPO hype fade to say the least, but at current price levels PBPB is still overvalued.
With the current price hugging the lower line of its Bollinger Band and the Stochastic screaming of massive overselling on the daily, there is perhaps the opportunity to swing this stock long for a 4-8% gain in the coming five to ten trading days, but this would be a risky trade to make and beyond this quick gain I foresee even more downside and a great low risk opportunity to short off this pop.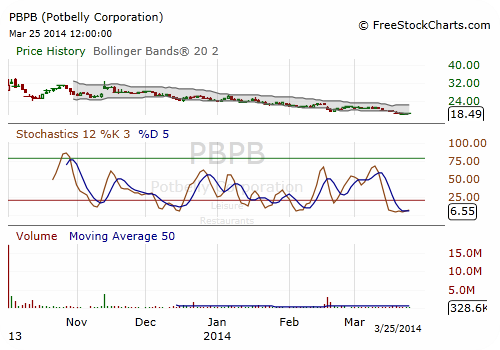 Comparing Potbelly's forward PE to other well positioned, and similarly marketed companies does not bode well for the Potbelly optimist. Even after the huge loss in stock value since its IPO hype days, the stock remains to be trading at a forward PE that's just too rich.
Comparing forward PE ratios.

Potbelly

41.09

Chipotle (NYSE:CMG)

35.60

Panera Bread (NASDAQ:PNRA)

22.63

Wendy's (NYSE:WEN)

22.32

Starbucks (NASDAQ:SBUX)

23.54
Comparing Potbelly to the crown jewel of fast casual, Chipotle , is telling of Potbelly's overvalue. With Chipotle an investor gets a super solid core burrito business with die-hard customers, the potential for expansion of the Chipotle model to other food types such as pizza and eastern cuisine, a stellar corporate identity, and even, for whatever reason, a fun little entertainment studio. With Potbelly you get sandwiches. How exciting and valuable is that?
Also important to note and be aware of, lockup expiration is due to come in early April so more selling of Potbelly's stock can be expected in some regard.
Lastly, as many a trader likes to preach, the trend is your friend. With PBPB, the trend is clear, defined, long held, strong, and the stock is still overvalued by many accounts. For Potbelly's stock price to better reflect the potential of the business model, the value of its current business, and so forward PE is closer to the competition, I predict initial downside of the stock of at least 25% to $14.00, PBPB's initial set IPO price. Furthermore beyond that prediction, because of a seemingly apathetic investor base and a lack of excitement about the business and its model, even more downside past the $14.00 point is likely to come. Additionally, with the much talked about, apparently imminent market correction looming, Potbelly's stock could reach $10.00 in the coming months. Trading at $10.00 would represent a 46% downside.
Conclusion:
Potbelly's business model, their shops, their food, and their potential to grow is decent, yet unexciting. Couple this with a longstanding downtrend and a valuation still too rich for its industry and the case for further downside to at least the initial set IPO price of $14.00, representing a roughly 24% depreciation in price, is strong. In short, short Potbelly.
Disclosure: I have no positions in any stocks mentioned, but may initiate a short position in PBPB over the next 72 hours. I wrote this article myself, and it expresses my own opinions. I am not receiving compensation for it (other than from Seeking Alpha). I have no business relationship with any company whose stock is mentioned in this article.