Restoration Hardware Holdings (NYSE:RH) is a company I have added to my watchlist lately. The future for this company looks bright, and some research that I did lately on some of its competitors leads me to believe that RH can reach new highs if earnings come as strong as one expects. This article will give an overview of the company, and will discuss why I like RH going forward.
One of my latest articles that I wrote was on Gogo Inc. (NASDAQ:GOGO) that can be read here. The company rallied around 20% after the analysis, and I believe RH has the same potential going forward.
The company
RH is an American company which specializes in home furnishings, hardware, outdoor and garden products.
RH is one of the most innovative and fastest-growing luxury bands in the home furnishings space. The company continues to gain market share, and I believe it will continue to grow strongly in the coming years. Its unique product development, go-to-market and supply chain capabilities enable RH to offer a compelling combination of design, quality and value that I believe is unparalleled in the marketplace.
The numbers speak for themselves:
From fiscal 2010 to fiscal 2012, net income increased by $34.7 million, from $3.0 million to $37.7 million.
Latest earnings report
On December 13th, 2013, RH issued its earnings, as seen here. Numbers were very strong and earnings estimates were beaten easily. A summary of the strong results is as follows:
Delivery of 39% growth in total revenues, driven by a 47% increase in direct revenue and 29% comp store sales growth.
Record quarter, total revenue increased 29% to $395.8 million.
Direct sales increased by 47% during the quarter, driven by strong web traffic.
Gross profits increased by 38% to $140.8 million during the quarter.
For 2013, adjusted diluted EPS were increased to a range of $1.71 to $1.74. These are very impressive numbers, and I believe the next earnings report can be another record in the making.
The picture below shows the impressive growth one expects in 2014.

(Adapted from finance.yahoo.com)
The picture below shows how RH has beat earnings, something I like to see in stocks that I follow.

(Adapted from finance.yahoo.com)
Technical analysis
The daily and weekly charts are both setting up for higher prices. Let's analyze the daily chart first. The price has consolidated over the 50-day moving average, and volume has been increasing lately. A few days ago, a nice bullish hammer was formed, and I believe higher prices are around the corner. Also, stochastics are now oversold, and should start rising as prices move higher.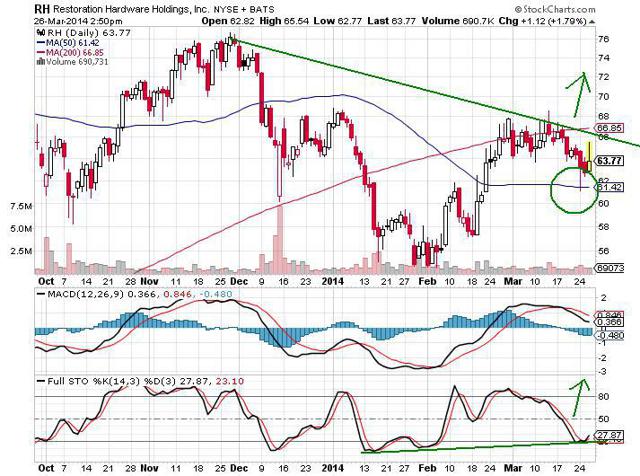 The weekly chart is also a thing of beauty. Look how prices have consolidated over the 50-day moving average, whilst stochastics are rising.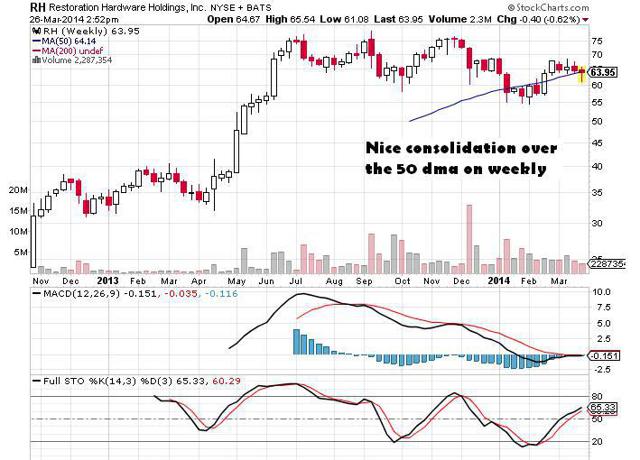 Fundamentally, the company remains very strong. RH has around 34 million shares in the float. 57% of the float is owned by insiders, which is very bullish. 12% of the float is short, which is very high and can cause a short squeeze any time on a strong earnings report.

(Adapted from nasdaq.com)
Risks investing in RH
RH has $134 million in debt and only $8 in cash. Some might argue that the company might issue a secondary offering of shares to help with the debt. I do not think that this will be the case, since the company is very well-positioned to bring record revenues over the next few quarters, so I think the risk is very low, but worth mentioning.
Conclusion
RH is one of my favorite companies right now. Recently, Williams-Sonoma (NYSE:WSM) reported very strong numbers, as seen here. I believe we will see the same impressive numbers in RH.
With such a low float and a large percentage of it being short, together with impressive numbers in the last 4 quarters, I believe RH is ready to challenge new highs.
Disclosure: I have no positions in any stocks mentioned, but may initiate a long position in RH over the next 72 hours. I wrote this article myself, and it expresses my own opinions. I am not receiving compensation for it (other than from Seeking Alpha). I have no business relationship with any company whose stock is mentioned in this article.