[Author's correction 3/27: This article contains an error. It was stated in the article that the Florida Supreme Court will send down a decision on Apr. 1 regarding the language contained in a ballot question to amend the Florida Constitution. The Florida Supreme Court had already handed down a decision in January, of which, accepted the language of the originally disputed claim made by opponents of the proposed ballot question. Though this decision is favorable to investors of TRTC, I regret this error. Please accept my sincere apology for this oversight.]
For those investors willing to deploy a few percentage points of a total portfolio to an industry that Minyanville CEO Todd Harrison recently speculated will be "the single best investment idea for the next ten years", should seriously consider taking a stake in a few of the top-tier stocks in the cannabis sector.
Though Harrison, the former-Morgan Stanley executive and Emmy Award winner, isn't quite going out on the proverbial limb with his Yahoo interview prediction of Feb. 27, he does, however, reflect the rabidly euphoric sentiment of many investors who've recently bid-up some cannabis stocks to outlandish valuations, predicated on the notion of around-the-corner and supporting revenue streams.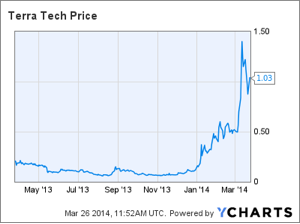 But, unfortunately, of the 25-plus, or so, cannabis stocks listed, Terra Tech Corporation (OTCQX:TRTC) stands out as one of the handful of credible plays in an industry riddled with bogus business models to compliment an infestation of unprofessional, inexperienced and opportunistic characters.
Though TRTC's recent IPO does not include profitability, it is, however, a play that appears to come with competent management, a textbook business plan and a starved market in which to expand rapidly for some years before cannabis becomes truly commoditized.
Why TRTC's Business Model is So Compelling
TRTC develops and manufactures state-of-the-art growhouse equipment to amateur and professional growers. In alliance with hydroponic farmers and its own grow facility, the company's Edible Garden produce is sold to supermarket chains Shoprite (OTCPK:SRHGF), Food Emporium, Demoulas and others throughout New Jersey, New York, Delaware, Maryland, Connecticut, and Pennsylvania.
Though the company's initial and strategic focus is to promote and sell its Edible Garden produce, along with supplying equipment, grow technologies and know-how to a retail market of private growers, it will be TRTC's forged partnerships with commercial produce farmers (who presently supply much of the company's Edible Garden brand) that will ultimately provide the unrealized and potentially explosive value underlying this enterprise.
Outside of its flagship farm in the Northeast, TRTC's is meticulously building-out a readiness of the company's infrastructure of Dutch System, hydroponic farms throughout the United States, which will then ultimately serve a much more lucrative $100 billion per annum (estimated) American market for cannabis products: the real goal of TRTC's business model.
Today, the company has secured agreements with hydroponically-grown produce farmers strategically-located in New Jersey, Indiana and Florida. Terra Tech CEO, Derek Peterson, told Bloomberg's Pimm Fox:
We feel the future of farming, especially in cannabis, is going to be done inside of commercial-scale, Dutch hydroponic-style greenhouses, using energy from Mother Nature, or the sun, in combination with other technologies.

We're taking the opportunity to build the infrastructure now, [then], ultimately down the line, we'll compliment that with, hopefully, cannabis and industrial hemp.
Since its inception of 2010, TRTC's fingers can now be found in many pies (now to include the production of botanical extracts), but for illustrative purposes, the recent partnership with Florida-based Sunshine Growers will give investor a sense of the potential revenue explosion from the U.S. future super cash crop, cannabis.
On Feb. 24, TRTC issued a news release of its distribution agreement with Sunshine Growers of Lakeland, Florida. Under the agreement, Sunshine will cultivate the full line of hydroponically-grown Edible Garden produce for distribution to Tampla, Orlando and South Florida. Craig Roth, President of Sunshine Growers, stated in the release:
Sunshine has managed to remain competitive in the marketplace over the years due to our willingness to adapt to consumers demand. We feel uniquely qualified to fulfill that demand [via our 10-acre facility] based on our sustainable and eco-friendly cultivation methods.
Prepare For Florida Supreme Court Ruling of Apr. 1
With Sunshine's 10-acre grow facility and the company's president willingness "to adapt" to consumer demand, the upcoming Florida state supreme court ruling on whether a state-wide ballot will be issued in November to amend the Florida Constitution and allow the cultivation of cannabis for medicinal use is of utmost importance to investors of TRTC.
The Florida Supreme Court is scheduled to announce its decision on April 1. The Florida Division of Elections has confirmed that proponents of physician-supervised prescriptions of cannabis have submitted enough signatures to qualify for the November ballot.
A favorable decision on April 1 will most likely result in a landslide of support in November for an amendment to the Florida Constitution to legalize cannabis use for medicinal purposes. According to nationwide, pro-cannabis organization, Norml, Quinnipiac University survey data show that:
82% of Florida voters support reforming state law to allow for the medicinal use of marijuana, only 16% were opposed.
TRTC's Potential Revenue From Sunshine Growers
A favorable ruling by the Florida Supreme Court suggests that Sunshine's grow facility now has a capacity to yield approximately 70,515 lbs. (35.52 tons) of cannabis, instead of tons of low-priced produce.
That estimate of 35.52 tons of production is derived from calculations published in a white paper authored by Jonathan Caulkins of Carnegie Mellon University, entitled, "Estimating Adequate Licensed Square Footage for Production," in which Caulkins surmises that professional growers can expect a yield of 500 grams per square meter of plant space, per crop, of cannabis from a grow facility.
Using Caulkins' parameters, calculating the production capability of cannabis from the 10-acre Sunshine facility is, as follows:
500 grams per sq./meter / 453 grams per lb. = 1.1 lbs. per sq./meter
1.1 lbs / ~9 sq. ft. = 0.1126 lbs. per sq./ft.
10 acres = 435,000 sq./ft.
435,000 sq./ft. x 0.1126 lbs./ft. = 53,421 lbs.
53,421 lbs. x 0.66 (net plant space) = 35,257 lbs.
35,257 lbs. x 2 (crops per year) = 70,515 lbs. (35.25 tons)
And at "50% wholesale" price from the market price of "$5,000 to "$8,000 per pound, retail," according to Terra Tech's Derek Peterson, the Sunshine facility could approach $229.1 million of potential revenue during the first year of production, which is quite bizarre.
Even at California's price of "20% less," than prices quoted elsewhere in the U.S., according to Peterson, the Sunshine facility could still generate more than $183.3 million of annual revenue.
TRTC's cut would be in the form of a marketing and distribution percentage, which, in the case of the Gro-Rite deal, is 10% of total sales. Using that marketing percentage estimate for the Sunshine deal, TRTC's cut from a full-facility production of cannabis at Sunshine equates to approximately $18.3 to $23 million of revenue per annum.
TRTC's Revenue Potential From Its N. J. and Indiana Facilities
To include the TRTC's other facilities in New Jersey and Indiana, which contain five acres and 30 acres, respectively, the total revenue potential from the three facilities equates to $92.9 million per annum for the company.
Mitigating factors of this calculation are numerous and speculative, such as, for example, the effect on revenue from competition, ultimate level of wholesale prices, actual percentages earned from the three facilities, contracted quantities agreed upon by the the parties involved, et cetera.
As far as wholesale price levels in the near future, Peterson told Bloomberg that he didn't;
feel the industry and the environment is geared-up to handle the type of volume that could exist on full, mass legalization across the country.
Therefore, demand would remain high relative to supply. But for how long? Maybe long enough to illicit a buyout at a capitalization level much, much higher than today's $100 million?
Conclusion
Wild estimations of potential revenue and valuations have turned the cannabis market into quite a circus.
In the case of TRTC, an estimate of $92.9 million of revenue, on top of assumed sky-high gross margins appears to be a reasonable assumption at first glance, but the risks endemic to the cannabis industry and TRTC are still are quite volatile. News about the industry comes out nearly weekly, with a weigh-in by big tobacco sure to be on the horizon at some point.
But, in support of a positive thesis of this stock, TRTC has made quite a few correct moves to position itself as a player in the trend to legalize cannabis throughout the U.S., as more states jump on the wagon to lift prohibition in some form of this magical substance. That's obviously apparent to many investors, already.
Therefore, the purpose of this article is to offer a sense of the possibilities of a company like TRTC, which has real facilities and skilled management in place to make some money in an industry poised to become the nation's fastest growing.
We believe investors should perform due diligence work on TRTC, as it could well be worth the effort for a long-term stake in the cannabis industry.
We will be following up on TRTC after the scheduled April 1 Florida Supreme Court decision regarding the referendum initiative scheduled to be included on the November ballot.
Disclosure: I have no positions in any stocks mentioned, but may initiate a long position in TRTC over the next 72 hours. I wrote this article myself, and it expresses my own opinions. I am not receiving compensation for it (other than from Seeking Alpha). I have no business relationship with any company whose stock is mentioned in this article.
Editor's Note: This article covers one or more stocks trading at less than $1 per share and/or with less than a $100 million market cap. Please be aware of the risks associated with these stocks.