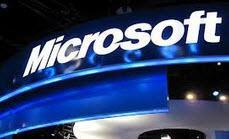 Microsoft (NASDAQ:MSFT) has been on a tear since my previous article, where I suggested buying the stock was essentially a no brainier in August of 2013. Nevertheless, I posit this is only the beginning for a new evolution in the company and the stock. In the following sections, I will lay out my bull case for the stock going forward.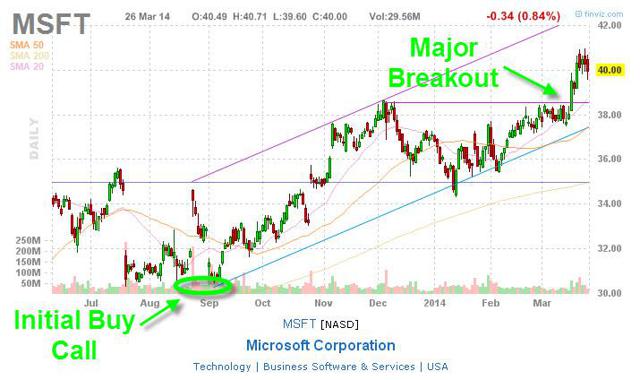 (Chart provided by Finviz.com)
Realignment of company to focus on growth segments
A major paradigm shift is occurring at Microsoft. Whoever said a leopard can't change its spots is rolling over in their grave as we speak. The company and stock is shifting from a value play to a growth play. After more than a decade of being viewed as stodgy cash cow, growth investors are taking notice and taking the stock price up as well. This is exactly what needed to happen. The fact that Ballmer is out of the picture doesn't hurt either.
Microsoft is creating a cloud enterprise system
Nadella is expected to lay out the plan for Microsoft's foray into the cloud tomorrow. Microsoft's goal is to provide end users with a state of the art experience as they perform their daily activities.
Microsoft has cultivated key relationships with certain major corporations over the years. I see Microsoft's strong relationships with major corporations as a potential springboard that may provide the company with a head start on the competition. I posit the company will be successful.
Microsoft has a fortress balance sheet and solid fundamentals
Microsoft is fundamentally very solid with a fortress balance sheet that has created substantial positive cash flows. The company is sitting on one of the largest cash hoards today. Microsoft is outperforming the industry and its peers with regard to profitability with gross margins slightly better than its peers and on par with the industry average.
Microsoft looks good when it comes to valuation. The P/E comparisons have Microsoft trading substantially lower than its peers and the industry average. Microsoft's P/E ratio being below the industry average signals that investors still consider Microsoft's stock a value play. Further, Microsoft is trading for 12.4 times free cash flow. The company is a massive cash cow. Efficient and effective use of this cash flow will be one of the keys to success for Microsoft.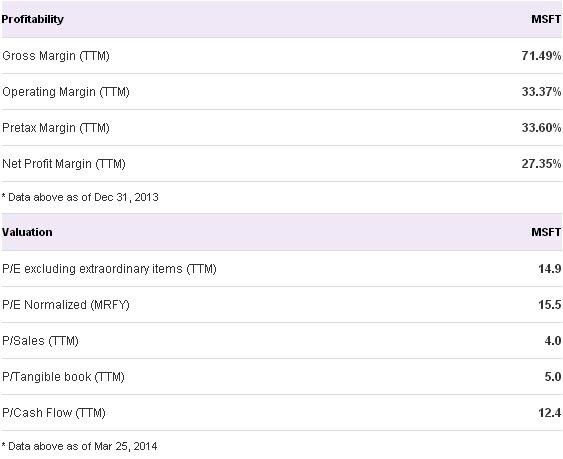 (Table provided by Scottrade.com)
New CEO brings new mindset
Satya Nadella will officially put his stamp on Microsoft at an event in San Francisco tomorrow. Nadella will outline his new direction for the company. Nadella is expected to disclose a new version of Microsoft's Office software for the iPad among other things. This move breaks from a policy of offering tablet versions of Office exclusively on Windows. Nadella is expected to focus on the importance of Office and online services on non-Windows based devices. Currently, approximately 15% of Internet connected devices are powered by Windows. Nadella is expected to say the future is in the cloud and this will be a major step in that direction for the company. Microsoft is shifting its business away from only personal computers to focusing on creating a seamless experience across all end user devices. The company is embarking on the next leg of its journey and Nadella provides a needed infusion of fresh blood at the CEO position.
Downside Risks
Competitive Pressures
The industry is cyclical and subject to abrupt fluctuations in pricing for products and services. The company has done a great job of creating value in the PC space, but it has been a different story when it comes to its mobile efforts. The fact that Microsoft has realized it needs to make major changes to keep up with the times is good news, but it doesn't necessarily mean the company will be successful. There is a vast amount of risk ahead for Microsoft.
Production Cost Risk
Companies are always looking for ways to cut costs. Sometimes hidden or unexpected costs occur during the process which results in less-than-expected unit cost reductions. This will also have a negative effect on profits.
Macro Market Exposure
The market looks frothy to me. The latest bull run looks extremely long in the tooth at over five years. A rising tide lifts all boats, but it can sink them just as easily. Stocks tend to take the stairs up and the elevator down. With the recent geopolitical tensions rising, it would be prudent to proceed with caution.
Execution Risk
The fact that Microsoft is so formidable regarding its size and strength is both good and bad. With a company of this size, the constant redeployment of personnel and assets can become a money drain if not managed closely. Microsoft will need to stay on track regarding the realignment of operations to be successful.
Conclusion
What I like most about Microsoft is the fact that the company is looking to stay relevant. The changing of the guard at the top prior to the company embarking on its next evolution is just what the doctor ordered.
I posit the stock is on the cusp of a major paradigm shift toward growth. All bets are off in regards to what happens next for the company. I believe Microsoft has substantial upside from here. I plan to layer into a position over time to reduce risk.
Disclosure: I have no positions in any stocks mentioned, and no plans to initiate any positions within the next 72 hours. I wrote this article myself, and it expresses my own opinions. I am not receiving compensation for it (other than from Seeking Alpha). I have no business relationship with any company whose stock is mentioned in this article.