The Analysts:
Shares of Himax Technologies (NASDAQ:HIMX) have taken traders and investors on a roller coaster ride the past few trading days. Shares were originally down heavily in trading on Tuesday March 25, before slightly recovering in early trading earlier today. Analysts are the sole reason behind the recent swings in shares of Himax.

The first stop on this roller coaster ride was a downgrade of Himax by BofA Merrill Lynch (NYSE:BAC). Himax was slashed to underperform from a buy, leading to an over 13.5% intraday decline. Shares started to slightly recover, and ended the day with just over a 10% decline.
Currently standing at $11.77, shares are very close to billionaire Julian Robertson's purchase price in Himax. Robertson has 8.85% of his fund in shares of Himax, at an average cost of $11.34.
Bank of America tacked on a $12.50 price target on Himax along with their underperform rating. This is from their original buy rating along with a $13.38 target. Bank of America is not the only firm that has a view on shares of Himax though.
Credit Suisse initiated coverage of Himax back on March 12, with an outperform rating and a $19 price target. Also on the bandwagon, Northland Securities raised their price target from $17.50 to $20 on March 10.

Overall, looking at the nine brokers listed, analysts still have a bullish stance on shares of Himax - with a mean target of $15.13, above the current $11.77 level.
Why The Downgrade:
BofA Merrill Lynch forecasted lower 2014/2015 EPS for Himax - lowering their estimates 22.7% for 2014 and 17.6% for 2015. The report quoted weaker projected LCoS and margin projections while raising 2015's estimated sales growth from 30% to 32.5%. Although BofA Merrill Lynch is estimating a weaker EPS for 2014 and 2015, the other analysts following Himax have not jumped on this bandwagon and have held to their projections.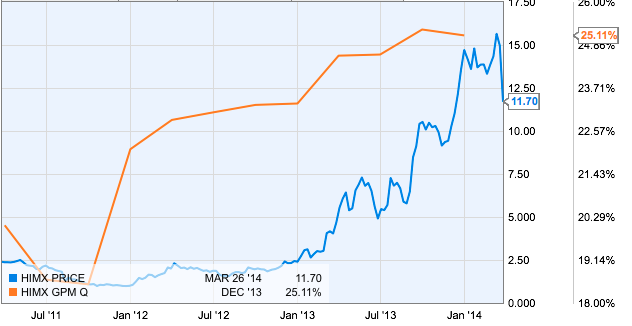 Against BofA Merrill Lynch's future margin projections, Himax has been able to consistently increase its GM over the past several years.
In the report, BofA Merrill Lynch lowered their 2014 EPS projections to $0.60 from $0.77 and their 2015 EPS projections to $0.89 from $1.08.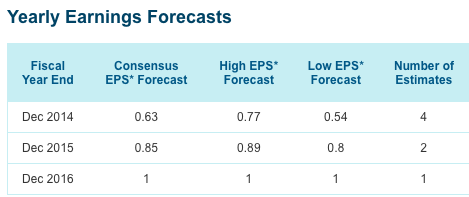 Of the four analysts projecting Himax's EPS for 2014, the BofA Merrill Lynch report is in line with the consensus EPS estimate - albeit slightly below. For 2015, BofA is slightly above the consensus report.
A Bounce: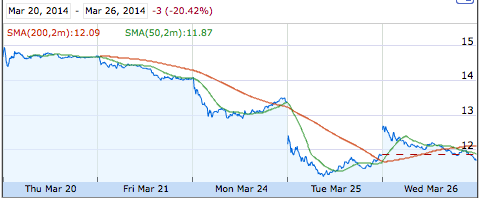 An interesting event happened today, as Himax's 50-day moving average jumped below its 200 DMA. This is known to traders as the "death cross" and can be a bearish signal for shares.
Shares were slightly higher, nearly 2.5%, today following Facebook's deal to purchase virtual reality headset developer Oculus VP for up to $2.3B. Shares were higher due to an increased interest in the virtual reality area. Although it may be misplaced, as Oculus doesn't utilize Himax's LCoS microdisplays.
The recent news does not directly benefit Himax, although it does spur interest in the virtual reality area. Analysts are the entities behind the recent share price roller coaster. Shares were down due to BofA Merrill Lynch's report, while other analysts have held strong to their projections so far. Shares were back up on Facebook's Oculus deal, although this does not directly benefit Himax - it does spur interest in the virtual reality realm though.
Analysts have led the roller coaster ride in shares of Himax the past few days. Analysts can be a good factor for an investment decision, although they should not dictate your decisions. Always do your own due diligence and capture as much information and knowledge on an investment instead of following the pack.
Disclosure: I have no positions in any stocks mentioned, and no plans to initiate any positions within the next 72 hours. I wrote this article myself, and it expresses my own opinions. I am not receiving compensation for it (other than from Seeking Alpha). I have no business relationship with any company whose stock is mentioned in this article.
Additional disclosure: Always do your own research and contact an investment professional before executing any trades. This article is informational and is in my own personal opinion.