Earlier in the month we were excited to listen to the 3 Ts from Buffett's Berkshire Hathaway talk about anything, seeing how they have not been in the spotlight too much since they have joined the company. What really struck us was the conversation over what other "partner" each of Berkshire's co-CIOs would hire. In particular, Todd Combs' response was what piqued our interest. His choices were Lou Simpson, Meryl Witmer or Tom Bancroft, who are all quite similar in their investment philosophy. We like to get ideas from managers that tend to favor companies with solid management teams but more importantly focus their portfolios on their best ideas. Historically, the above managers fit the mold and have used unconventional amounts of concentration. Our focus tends to be on the smaller above average companies and since Tom Bancroft's firm Makaira Partners has smaller amounts of capital, Bancroft can focus on smaller companies. Our attention was grabbed by Makaira's top holding Wesco Aircraft Holdings (NYSE:WAIR) being 18% of their stock portfolio. A further investigation into Wesco shows us another rare small-cap company with a quality business and quality management. Further tailwinds are behind Wesco's back to unlock value for shareholders in the near, mid and long term.
Wesco Aircraft Holdings Background
Wesco Aircraft Holdings acts as the largest distributor and supply chain manager for the global aerospace industry. With over 650,000 SKUs (post acquisition) and a highly customized IT infrastructure, it's no wonder why Wesco is the leading distributor and supply chain manager for 7,400 customers. Just think of any airplane that is manufactured in the west - commercial, business or military - and it is probably a safe bet that the airplane was put together with parts distributed by Wesco.
Wesco's 2013 sales were derived mainly from O&M/Subcontractors (88%) but also sells to distributions (7%), the US Government (2%) and Airline MROs (3%). The company has three different contractual agreements with customers, which increase in stickiness and duration as the customer sees the value in Wesco's services. Ad hoc contracts allow the customer to fill specific needs that have been unaccounted for from a previous supply arrangement. Wesco's infrastructure allows the company to provide such a service to customers and from it they can realize high margins. From here Long Term Agreements (LTA) and Just In Time (JIT) contracts allow the customer to work with Wesco for multi-year time frames and realize the full potential of cost savings and efficiency that Wesco's services provides. As indicated by Wesco, many of the largest customers started out as Ad Hoc contracts and have moved towards LTA and JIT solutions. We like that 60% of revenues are derived from LTA/JIT contracts and have been consistent since the company's 2011 IPO. Management often highlights, "By developing strong, long-term relationships with a diverse set of customers, we have significant visibility into our future sales." Long-term investors benefit from recurring revenues because such earnings provide plenty of protection against capital impairment over the long term.
Significant barriers are present that deter others from entering the market and deter customers from canceling their long-term contracts with Wesco. Other than the costs of switching to another provider being large, there are no other competitors that have the wide selection of quality products, delivery response and quality of products that are available at 78 locations spread out over 24 different countries. This means that Wesco benefits from a network effect. Distributors with a large network also have the scale to buy significant quantities from suppliers and maintain margins that would be greater and unattainable by new entrants.
Wesco also attributes their management's long experience, superior insight into customer needs - they have access to information on 7,400 customers - and highly customized IT system allow the company to achieve superior margins. They are not kidding. Of the global industrial distribution industry, Wesco is at the top with consistent mid to lower 20% operating margins and >10% net margins over every period since their IPO. Our educated guess is that pre IPO the company had similarly high margins over decades. Kaman Corp (NASDAQ:KAMN) is another publicly-traded aerospace and distributions company - although not exactly similar in their product and service offering - that has achieved mid single digit operating margins and low single digit net margins. Other leaders in the global industrial distribution industry post margins that are consistently high but not as high as Wesco's. Grainger (NYSE:GWW) and MSC Industrial (NYSE:MSM) are the large global industrial distributors that are neck and neck with mid teen operating and upper single digit net margins. Genuine Parts Company (NYSE:GPC) has maintained operating margins around 7% and net margin around 4%. Clearly, Wesco's consistently higher margins point to a competitive advantage. We believe that Wesco's business model and position in the market will be hard to compete with in the long term.
Management
We also believe that Wesco's management has a vested interest in keeping the company's competitive advantage intact. Wesco is run by Randy Snyder who is the son of the founder Jack Snyder. Although Randy Snyder only owns 1.7% of shares and often sells stock options, the Snyder family continues to own a significant portion of the company through trusts.

(Source: 2013 Proxy)
With such a large portion of the company still owned by the Snyder family, Randy Snyder is running Wesco for his family's future. We are reminded of Warren Buffett's idea that he wants to buy a company where the owner runs the business as if their family owned 100% of the company. They would be incentivized to make the best long-term decisions. Wesco sure looks to be one of those companies and Randy Snyder's track record proves that long term is the focus.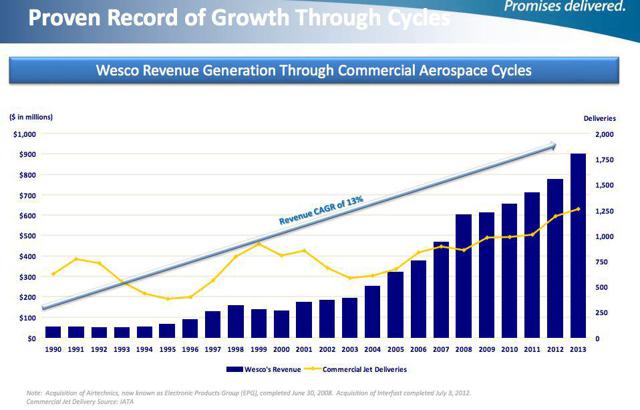 Catalyst
On February 28, 2014, Wesco Aircraft Holdings completed the acquisition of Haas Group Inc for $550 million. Haas is a great fit for Wesco as it is the leading provider of outsourced chemical supply chain management services (CSCM) to the aerospace industry, which is one area that Wesco was lacking. Haas also has a similar value proposition offering customer the ability to lower chemical purchasing, business cost and overhead cost by managing chemical inventory with an advanced IT system. Like Wesco, Haas has a majority (94%) of their revenues derived from long-term contracts and 69% are relationships where Haas has personnel on-site indicating sticky long-term revenues.
Currently, management estimates that CSCM is a $2 billion business - Haas has 30% market share based on 2013 numbers - that could rise to $10 billion in the next several years.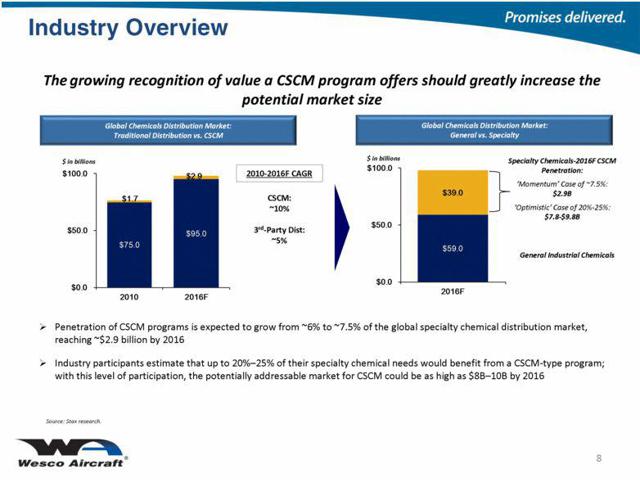 We would expect that over the long run CSCM could reach $8-10 billion but not by 2016, unless Wesco is able to convince many of their current customers that CSCM would be beneficial. The current $2.9 billion estimate by 2016 could also be a very low number if we take into consideration the network that Wesco has and the service Haas brings along. We estimate that $4-6 billion could be a better estimate of the CSCM market by 2016. If Wesco is able to maintain Haas' 30% market share, then CSCM could be bringing in $1.2-1.8 billion in revenues by 2016. Haas' adj EBITDA margin in 2013 was 7.8% but with Wesco's synergies and management's skill, Wesco has had consistent 20% EBITDA margins, we estimate that Wesco can achieve 10-12% margins this year. That would indicate that Wesco could realize $120 million to $200 million in EBITDA from Haas' operations by 2016.
Wesco's EVP of Sales and Marketing also highlighted some more on the benefits of the combination in the recent earnings call:
For example, several of Wesco's largest customers today are accounts that Haas has not yet penetrated. Conversely, Haas has some very large and strong customer relationships where Wesco is currently underrepresented. In addition, Wesco's footprint relationship in Mexico and India, in particular, should facilitate significant growth of CSCM business in the coming years. I'm confident that in partnership with the demonstrated leadership of the Haas management team, we'll able to drive significant growth going forward.
Now we cannot forecast the exact amount of growth Haas can bring to Wesco's customers or vice versa, however, we can see what the two companies have generated and compare with current analyst estimates. The average analyst consensus estimate (Reuters) is that Wesco will produce $1.3 billion in revenue this year and $1.7 billion next year. We think these estimates might be low. In 2013 Wesco produced $967 million and Haas produced $569 million in revenues. Those numbers by themselves when added would equal $1.5 billion. As we highlighted above, the combined company should be able to lead to significant growth in both operations. Wesco will also benefit from cost savings in administrative and professional fees that they calculate to be $2.2 million.
Valuation
Including the $525 million and $33 million in debt to fund the acquisition of Haas, Wesco is currently trading at an enterprise value of $3.18 billion. Just using the pro-forma adj EBITDA numbers, Wesco produced $247 million for an EV/EBITDA of 12.7x. Peers in the distribution industry, bearings and aerospace industry trade at EV/EBITDA multiples in the 11-13x range. We feel that given the economics of Wesco's business, growth potential and aligned management could fetch a multiple higher than peers.
Our conservative estimate of CSCM growth ($120 million) as well as Wesco's growth from synergies with Haas ($80 million) could add $200 million by 2016. This would indicate that the company would have ~$400 million in EBITDA. With a 12x multiple that would indicate that Wesco's enterprise value would be $4.8 billion. We think that that amount of EBITDA could be realized sooner than later, and the more optimistic estimate could lead to significantly higher values. The management and company's business model also provides protection against long-term capital impairment.
Risks
Since Randy Snyder has been a very good owner operator, his age could be an important factor in this investment. Randy will be turning 65 years old this year and has not indicated any succession plans. We still believe that there are many years left for Mr. Snyder and since his family has such a large ownership in the company, we feel they will make the appropriate decision on a successor. Additionally, we feel that Wesco's business model and competitive advantages should not be hindered if there was a manager with lesser skill.
The commercial and military aerospace industry could see significant difficulties if the economy were to decline again. This could be possible but as the chart above shows, Wesco's revenues have not been impaired by commercial airline down cycles and the financial crisis.
Wesco needs to be able to manage their inventory levels as they grow and any problems in managing the inventory could lead to significant problems. Their IT system is also a huge component of their business model so any problems with that could also lead to lost customers and impaired earnings. We believe that Wesco's growth over the last two decades indicates that they have the ability to manage growing inventory. There also has not been a major malfunction with the IT system, so we feel that these risks are quite low.
Conclusion
Wesco Aircraft Holdings is another above average company with significant competitive advantages that should equal significant long-term value for investors. The market seems to overlook Wesco's recent acquisition of Haas Group Inc, which could significantly add to the company's earnings in the short-term and adds to the company's competitive advantage over the long-term. It is no wonder that Tom Bancroft has purchased Wesco as his fund's top holding; the risk/reward ratio is too compelling.
Disclosure: I have no positions in any stocks mentioned, but may initiate a long position in WAIR over the next 72 hours. I wrote this article myself, and it expresses my own opinions. I am not receiving compensation for it (other than from Seeking Alpha). I have no business relationship with any company whose stock is mentioned in this article.
Additional disclosure: This article is meant for instructional purposes and not meant as a recommendation to buy or sell. The only kind of intelligent investing is through your own due diligence.