Ralph Lauren (NYSE:RL), the world's premier luxury lifestyle brand, has been considerably lagging its industry peers lately. In the last 12 months, the stock has declined approximately 4.2% whereas most of its peers have managed high double-digit returns. However, considering the company's growth strategies, recent earnings-beat, bullish outlook and general industry trends, Ralph Lauren seems to have all the qualities of a fundamentally strong fashion retailer.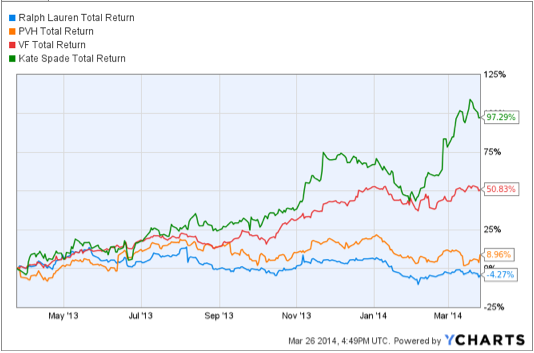 Solid Q3 earnings and improved guidance
Driven by a strong top-line performance along with leveraged selling, general and administrative (SG&A), Ralph Lauren's earnings per diluted share surged 11% to $2.57 in the fiscal-third quarter of 2014. The company's net revenues increased 9.2% to $2 billion. The performance beat consensus analysts' estimate of $2.51 per share, while the actual revenue was at the high end of the 8% to 10% growth forecast. The robust growth was mainly attributed to improved performance across the company's wholesale and retail segments in all key markets around the world. Exiting 2013, the company had $1.4 billion in cash and investments on balance sheet, compared with $1.3 billion in the year-ago quarter.
Bolstered by a strong quarterly performance, the company raised its fiscal 2014 revenue outlook to the top end of it previous guidance range. The company now expects a revenue growth of 7%, compared with its earlier guidance of 5% to 7%. For the current quarter, the company expects consolidated net revenues to increase by 10% to 12%, while operating margin is forecasted to grow in the range of 50 - 90 basis points from the year-ago level of 11.1%.
Wholesale business to drive gains
Despite a mixed impact from the integration of Chaps men's sportswear and net negative foreign currency effects, Ralph Lauren's wholesale business accounted for nearly 49% of operating income in 2013. It was followed by the retail business, which represented 42.2% of the operating income. However, the capital expenditures of the two segments tell very different stories. In 2013, the wholesale business required a capital expenditure of only $40 million to generate the highest level of income. In comparison, the retail business demanded the highest capital expenditure of more than $158 million during the year. This makes the wholesale business more preferable, not to mention it offers some leverage, in case of a slowdown.
Expanding international presence
With organic growth as its main focus, the company is trying to expand its presence by venturing into new markets, principally in Europe and Asia.
At present, Ralph Lauren derives around two-thirds of its total business from the Americas. The region is doing well and steadily increasing sales on strong performances from the wholesale and retail businesses. However, the company seeks to unleash the enormous growth potential that lies in Asian and European markets, either by growing its market share in existing markets or by exploring new high-growth emerging markets.
A stabilized economic climate in Europe, which represents roughly 20% of total revenue, is a good sign for the company. The company's key officers believe the region's markets are close to returning to pre-recession strength. Although a low double-digit percentage of business comes from Asia at present, the region has promising growth prospects. The company has set the goal to derive comparable streams of revenue from all three regions: Americas, Europe and Asia.
In line with the expansion pace, Ralph Lauren is rapidly increasing its distribution points in Greater China. It plans to unveil a 20,000 square foot flagship store in Hong Kong later this year. These expansion efforts are already garnering positive feedback for the company in these relatively new markets. The company is also embarking on a multi-year plan to open Polo stores in Greater China.
Extending direct-to-customer reach
Extending its direct-to-customer reach via Ralph Lauren stores and e-commerce is among the company's key growth strategies. Over the years, the company has developed an operational structure supported by a disciplined management team along with its well-trained staff that makes shopping experience pleasurable. Of course, it wouldn't have created a powerful brand name had it not been for its effective advertising and marketing efforts.
The company's retail formats include both physical retail stores and e-commerce. Recently, it expanded the distribution center for its North American e-commerce segment, while setting up an e-commerce segment in South Korea and achieving online transactions in about 10 European nations. One can only expect further growth of e-commerce business in several countries around the world.
Constant innovation
Innovating and expanding new and emerging merchandise categories, with the main focus on the accessories segment, is a key growth driver of the company's business. Year-after-year, the company has shown an unusual ability to constantly deliver fresh interpretations of iconic design sensibilities through appealing merchandises to foster growth. More importantly, it does so without estranging its core customer base. It is also for this reason that Ralph Lauren is more focused on in-house brands compared with the competition, including PVH (NYSE:PVH) and VF (NYSE:VFC). The company's consistent capability to reinvent signature brands for new customers while maintaining its allure for existing customers is particularly why it has no need to become overly diversified.
The company sees the accessories business growing rapidly over the next few years, possibly representing one-third of the global-luxury goods market by 2017. As for the moment, it intends to boost its luxury accessories line-up by thoroughly promoting its Ricky line, among other initiatives.
Outlook for luxury goods
Bain & Company, a leading global business consulting firm, backed Ralph Lauren's bullish view on the industry's growth prospects in their 2013 report. The report suggests that worldwide luxury goods market revenues will grow as much as 50% faster than global GDP, on track to break the $322 billion (€250 billion) sales threshold by 2015. From Americas to Europe to Asia, the report anticipates continued momentum to significantly boost global spending on luxury goods over the next few years. Over the long term, Bain forecasts the global luxury goods market in 2023 to grow more than five times larger than it stood in 1995.
Considering the industry outlook along with Ralph Lauren's strategies for merchandise innovation and expansion, the company is likely to further cement its position in the global luxury goods space by offering more value to customers.
Returning cash to shareholders
The company pays a quarterly dividend of $0.45 per share that yields at 1.10%, compared with dividend yields of 1.71% and 0.12%, respectively, for VF and PVH.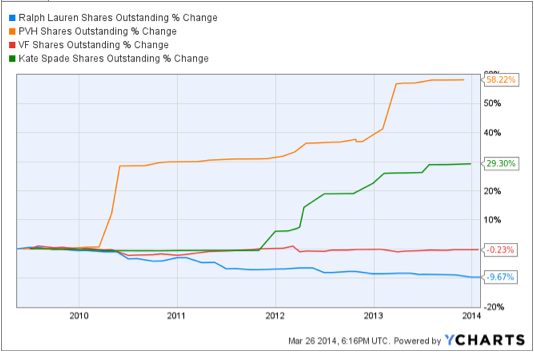 In the recent earnings release, the Board of Directors authorized an additional $500 million stock repurchase in addition to the previously authorized $230 million available at the end of the third quarter, bringing its total current authorization to $730 million. Ralph Lauren is among the few stocks in the industry that has a share repurchase program. Unlike most of its peers, it has reduced its share count by 9.67% over the last five years.
Final thoughts
In the highly competitive fashion retail business, brand strength is a great way to fend off competition.
Not only is Ralph Lauren a great brand, but also a great business model that is focused on inspiration and design, product development, global expansion, effective advertising and marketing, and unparalleled in-store experience. The case for Ralph Lauren is further supported by strong financial results and shareholder value creation over the long term. Clearly, all signs indicate that the company is well positioned for further success in both short as well as long term.
Disclosure: I have no positions in any stocks mentioned, and no plans to initiate any positions within the next 72 hours. I wrote this article myself, and it expresses my own opinions. I am not receiving compensation for it (other than from Seeking Alpha). I have no business relationship with any company whose stock is mentioned in this article.