As the industry business environment remains tough due to rising Treasury Yields, Two Harbors (NYSE:TWO) has been taking the right measures to protect its book value, support its bottom line results and maintain healthy shareholder results. As Treasury Yields are increasing and are expected to move higher further in the coming quarters, the company has been positioning its portfolio conservatively, to reduce interest rate sensitivity. Also, TWO has been increasing its exposure to Mortgage Servicing Rights [MSR], as agency securities are likely to remain unattractive. The company's efforts to reposition its portfolio seem to be productive, as the company reported healthy results for the recent fourth quarter, despite a challenging environment for mREITs.
Financial Performance
The company reported core EPS of $0.21 for the recent fourth quarter, slightly below consensus estimates of $0.22 per share. Earnings for the quarter came slightly below consensus estimates due to lower leverage and asset balances. In 4Q2013, TWO enjoyed an expansion in net spread earned, as net spread increased by 0.40% quarter-on-quarter to 3.2%. Also, the earnings yield of assets increased from 4% in 3Q2013 to 4.3% in 4Q2013. Leverage for the company dropped to 2.9x in the recent fourth quarter from 3.0x in 3Q2013. The following table shows different operating metrics for TWO.
| | | | | |
| --- | --- | --- | --- | --- |
|   | 3Q2013 | 4Q2013 | Quarter-on-Quarter Change | Year-on-Year Change |
| Assets Earnings Yield | 4% | 4.3% | 0.30% | 0.28% |
| Cost of Funds and Hedge | 1.2% | 1.1% | (0.10%) | (0.02%) |
| Net Spread | 2.80% | 3.2% | 0.40% | 0.30% |
| Leverage | 3.0x | 2.9x | (0.1x) | (0.75x) |
| Book Value Per Share ($) | 10.35 | 10.56 | 2% | (9%) |
Source: Company Reports and Calculations
As the Fed continues to taper, the environment for mREITs remains tough. The company is rebalancing its portfolio in efforts to lower interest rate sensitivity. In the last fourth quarter, the company's book value increased by 2% quarter-on-quarter to $10.56, whereas its peer American Capital Mortgage (NASDAQ:MTGE) registered a 4% quarter-on-quarter decline in its book value. TWO's book value performance in 4Q2013 was best among its peers, including MTGE, Invesco (NYSE:IVR), AG Mortgage (NYSE:MITT), and Dynex Capital, as shown below.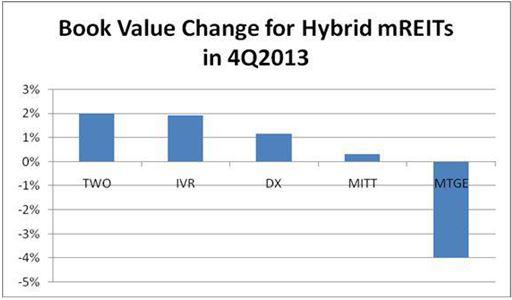 Source: Companies Reports
Continued Efforts to Protect Book Value
The company has been taking several measures to protect its book value in the rising rate environment. TWO has been decreasing its portfolio exposure of Agency and Fixed Rate securities, as OAS, z-spread and spread to corporate bonds are likely to widen as the Fed lowers its participation in mortgage market. The company's Agency securities portfolio exposure decreased by 5.9% quarter-on-quarter to 69.4% in 4Q2013. Also, its Fixed Rate securities portfolio exposure was reduced to 62%, representing a decrease of 5.5% quarter-on-quarter. As the company is lowering its exposure to Fixed Rate securities, it will also lower TWO's hedging costs.
Another important measure taken by the company to preserve its book value is that it has been focusing more on MSRs. MSRs help to protect the book value in a rising yield environment, as MSRs have negative duration, which offsets positive duration of Agency MBS. Last quarter, in December, the company announced to enter a flow sale agreement of MSRs and purchased a large servicing portfolio. At the end of 4Q2013, TWO held approximately $515 million in MSRs, with unpaid capital of $42.6 billion. The company is likely to increase its exposure to MSRs in the coming quarters, which will portend well for the book value and stock price. By increasing its exposure, the company can lower its hedge ratio and reduce its hedging costs, which will lead to stabilized earnings. Also, a reduction in hedging costs and yield premium MSRs could result in additional 1.50%-2.50% spread over agency MBS.
Share Buybacks and Dividends
In the rising rates environment, share buybacks remain an important tool with the company to grow its EPS and protect its book value. In 2Q and 3Q of 2013, the company repurchased 1 million and 1.45 million shares respectively, resulting in a total of 2.45 million share buybacks for $23.9 million in 2013. Also, the company is likely to undertake additional share buybacks of 22.5 million in the coming quarters.
Other than attractive share buybacks, the company offers a high dividend yield of 10%, which makes it an attractive investment option for dividend-seeking investors. In 2013, the company lowered its dividends three times, as the industry environment remained tough due to rising rates. However, I believe that as the company is correctly repositioning its portfolio, its earnings will improve and dividends offered by the company will be sustained. Recently, the company announced a quarterly dividend of $0.26 per share for 1Q2014, flat quarter-on-quarter. The dividend is payable on April 21, 2014. While the dividends offered by the company are higher than its core earnings, the main drivers for the said dividends are taxable and comprehensive income, including gains from the RMBS portfolio.
| | | | | |
| --- | --- | --- | --- | --- |
|   | 1Q 2013 | 2Q 2013 | 3Q 2013 | 4Q 2013 |
| Core EPS | $0.29 | $0.21 | $0.19 | $0.21 |
| Dividend Per Share | $0.32 | $0.31 | $0.28 | $0.26 |
| Dividend Payout Ratio | 130% | 145% | 150% | 125% |
Source: Company Reports
Conclusion
The stock remains an attractive investment option for dividend-seeking investors, as it offers a high dividend yield of 10%. Also, the company is taking the right steps to protect its book value by repositioning its portfolio, which I believe will portend well for the company's future performance. Also, increasing MSR exposure will help the company protect portfolio value and lower hedging costs.
Moreover, I believe the stock offers an upside stock price potential of 7%, based on my price target of $10.90. The price target is calculated based on TWO's current book value of $10.58 and historical average price-to-book value of 1.05x. Due to the abovementioned factors, I am bullish on TWO.
| | | |
| --- | --- | --- |
| Current Book Value | Historical Price to Book Value | Price Target |
| $10.58 | 1.05x | $10.90 |
Disclosure: I have no positions in any stocks mentioned, and no plans to initiate any positions within the next 72 hours. I wrote this article myself, and it expresses my own opinions. I am not receiving compensation for it (other than from Seeking Alpha). I have no business relationship with any company whose stock is mentioned in this article.