Shares of Coach Incorporated (COH) have gone nowhere over the last several years and sentiment seems about as low as it can go. International growth has not yet offset large declines in North American sales and competitors have continuously taken market share. A resilient brand for aspirational-consumers and a refocused strategy should drive an eventual turnaround. Robust free cash flow and a strong history of returning cash to shareholders means investors do not have to time the stock perfectly. A possible dividend increase and share buyback program over the next few months should support total returns until a turnaround can be orchestrated.
Can sentiment get any worse?
Shares of the $13.7 billion fashion retailer have been hit on poor execution and as competitors like Michael Kors Holdings (NYSE:KORS) grab market share. The company reported second quarter 2014 earnings in January that missed estimates by 4.5% to $1.06 per share, and the consensus for full year earnings of $3.14 per share is almost 16% below last year's results.
North American sales decreased 8.6% last quarter to $983 million from the previous year. Same store sales plunged 13.6% to $136 million and were only partially offset by an increase of $44 million in sales at new or expanded stores.
Analysts have largely downgraded the stock over the last year with most coverage (22 of 20 analysts) recommending a hold on the shares. Shares received four downgrades to recommendation in 2013 with everyone moving to a hold or neutral rating. Barclays recently initiated with an equal weight recommendation and Standpoint Research upgraded to a buy.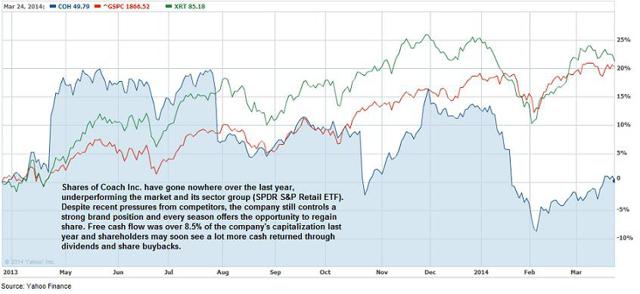 Shares have gone nowhere over the last year and investors are up just 1.3% when adjusting for dividends. That's better than a loss but horrible when you compare it against 20% gains in both the SPDR S&P Retail ETF (NYSEARCA:XRT) and the broader S&P 500. Going back further, the shares have provided a total return of just 0.09% on an annualized basis over the last three.
An underdog with a generational brand and growth opportunities
Despite the recent weakness, the company still controls a strong brand with a long history of success dating back nearly a century. This brand identity is translating to strong growth as the company expands internationally.
Coach closed on the full acquisition of its European joint venture by purchasing Hackett Limited's 50% interest in July of last year. The acquisition resulted in the transfer of 18 stores in Spain, Portugal, Great Britain, France, Ireland and Germany. The company only just entered the European market in 2012 with partnerships at department stores but plans a more aggressive strategy with its own retail stores.
The company's China position continues to see strong growth and support shares on lower operating costs and a growing market of aspirational consumers. Sales in China increased 40% last year to $430 million and total international sales increased 12% in 2013.
Coach opened 35 new stores in mainland China and four new European stores in the last quarter alone. North American sales still account for 69% of total sales but this should change considerably over the next couple of years as the company becomes more internationally diversified.
Recent changes at the top may be able to turn the company to a more fashion-forward and international direction. Victor Luis replaced Lew Frankfort as CEO this year to further the company's push internationally. The new chief has held executive positions at Baccarat Inc. and LVMH Louis Vuitton. Stuart Vevers, formerly at designer Loewe, joined the company as the executive creative director late last year.
If cash is king, then Coach investors may soon love their monarchy
Shares trade for just 14.4 times trailing earnings, well below the industry average of 21.9 times and even below the stock's five-year average of 17.8 times earnings. Valuation multiples have many wondering if the shares could be a strong value play on a rebound though most are still hesitant of falling into a value-trap.
While I won't pretend to call a quick turnaround in the shares, there is one very strong reason for a long position.
Despite weakness in the shares and sales lost to competitors, free cash flow continues to increase even on higher capital expenditures. Free cash flow increased by 13% last year to $1.17 billion, even as the company increased capital spending to $241 million. Coach has increased free cash flow by a compound annual rate of more than 9% over the last five years.
The company has increased the dividend per share amount by a compound annual rate of 35% since it began making payments in 2009. Coach has purchased $2.2 billion of its own shares over the last three fiscal years and still has nearly $800 million of cash on the balance sheet.
The company has increased its dividend in the second quarter of every year since 2010. On annual free cash flow growth and previous increases, I am expecting an increase of at least 25% to be announced in May or June for an annual dividend of $1.69 per share and a 3.4% yield. On $1.69 per share for the remaining two payments this year, the company would be paying out approximately 37% of net income. Beyond the dividend increase, it's possible the company could also announce a more aggressive buyback program.
Coach has not been kind to shareholders over the last few years but that may soon change with more cash returned through dividends and a repurchase program. While it may still take a couple of years to see strong price appreciation on international growth, the attractive dividend yield and possible increase to the buyback program should provide decent returns until a turnaround is achieved.
Disclosure: I have no positions in any stocks mentioned, and no plans to initiate any positions within the next 72 hours. I wrote this article myself, and it expresses my own opinions. I am not receiving compensation for it (other than from Seeking Alpha). I have no business relationship with any company whose stock is mentioned in this article.