Pending home sales for the month of February are released at 10am eastern with expectations for an increase of 1% off of January's report. Housing has been weak for several months on temporary weather issues but also on larger macro-economic issues. The report could breathe new life into the housing-related group of stocks and investors may want to take advantage of the recent weakness in stock prices.
Housing recovery slows but with room to grow
The housing bubble led us into one of the deepest recessions in 80 years so it was fitting that the sector should help drive the recovery. It looked like this was the case when housing starts and sales bottomed in 2010. Housing activity jumped by double-digits for years and helped bring employment and the economy from the brink.
The story has changed since last year. Existing home sales have collapsed since last summer, declining in four of the past seven months to a seasonally adjusted pace of 4.6 million in February. New home sales have been a little more resilient but mortgage applications have dropped hard and are now down 24% since the May peak.
Weakness in existing sales could be a function of the slowdown in investment money coming into the sector. Sales of distressed properties, as much as 68% of total sales in 2009, drove a large discount on existing home prices compared to new homes. This attracted billions in private equity and investor money on rental conversions but that money has largely dried up this year. Refinancing activity and mortgage applications have also slowed with rates more than 1% from last year's low. Some weakness in the market has been blamed on historically cold weather this winter but momentum was slowing before the cold hit.
Hope springs eternal for housing
Investors had largely shrugged off weak winter data in housing but a negative reading on the National Association of Home Builders' sentiment index for two consecutive months has turned the market lower. The SPDR S&P Homebuilders ETF (NYSEARCA:XHB) and the broader market were fairly closely correlated until the beginning of this month when sentiment turned on the housing sector.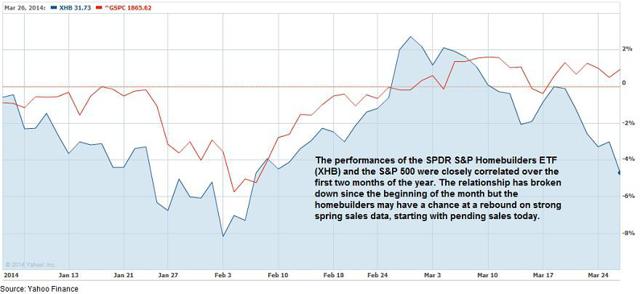 Against the backdrop of a weakening sector there may be some good news ahead. The index of pending sales for previously owned homes increased in January after six-straight months of losses. Rates have also come down with the 10-year Treasury at 2.7% after touching 3% in January. While housing starts fell again last month, building permits jumped 7.7% on the month and could translate into much higher starts in March and April.
February pending home sales will be released at 10am eastern and are expected to increase by 1% off of last month. The weather in February was only slightly better than in January but employment data surprised on the upside and consumer confidence remained strong. Other than the shallow correction in early February, asset prices were generally strong throughout the month.
Pending sales could surprise on the upside as homebuyers return to the market on last year's weakness. This could boost sentiment in the housing-related stocks that have underperformed over the last three months. Beyond potential to an upside on the pending sales report, the housing market still has room to recover and should be supportive of stocks in the sector.
Home Depot (NYSE:HD) announced that it would be hiring 80,000 seasonal employees for the spring housing boom. Shares have fallen 3.8% since the beginning of the year, underperforming the S&P 500 but slightly outperforming the SPDR S&P Homebuilders ETF. Shares trade for 21.0 times trailing earnings, just above their five-year average of 20.5 times and at the industry average of 21.6 times earnings. Earnings are expected to increase 18% to $4.44 this year on a 5% increase in sales.
At $109 billion, Home Depot is twice as large as competitor Lowe's (NYSE:LOW) and has a stronger operating margin of 11.6% relative to 7.7% at the smaller rival. The stock pays a 2.3% dividend yield and the company repurchased a net of $3.2 billion of its shares in fiscal 2013. Free cash flow has jumped over the last three years to $5.7 billion in 2013 even on higher capital spending. The company had $2.5 billion of cash at the end of 2013, more than anytime in the last nine years, though options may be limited by the company's $14.7 billion of long-term debt.
PulteGroup (NYSE:PHM) announced in late February the expansion in the key Washington D.C. market with new home designs at two successful developments in Virginia, the MetroWest in Fairfax and Potomac Yard in Alexandria. Shares have fallen 7.4% since the beginning of the year, underperforming both the S&P 500 and the SPDR S&P Homebuilders ETF.
I like Pulte against peers for its focus on higher-end markets and consumers. The weak job market but surging asset prices have driven a divergence in spending across economic groups. Luxury products have done relatively well against discount retailers.
The company reported $5.87 in earnings per share in the third quarter on one-time events which has skewed price multiples. On normalized earnings of $1.23 per share, the stock trades for 15.1 times trailing, just over the average for the Home Improvement group of 11.2 times earnings. Earnings are expected slightly lower this year to $1.18 per share but to rebound in 2015.
Shares pay a 1.0% dividend yield and the company repurchased $128 million of its shares in fiscal 2013. The company returned to positive free cash flow in 2012 and booked $852 million in FCF last year. With over $1.5 billion in balance sheet cash, one-fifth of the market cap, and strong cash flow the company should be able to increase its cash return to shareholders.
Fortune Brands Home & Security (NYSE:FBHS) is relatively smaller at $6.8 billion but should see higher sales well after housing starts and sales data slows. The company provides home and security products for home repair, new construction and storage. Shares have fallen 10.3% since the beginning of the year, widely underperforming both the S&P 500 and the SPDR S&P Homebuilders ETF.
The stock trades for 26.8 times earnings, just below the average for the Home Furnishings & Fixtures industry of 30.8 times trailing earnings. A five-year average price-to-earnings for the shares was not available on Morningstar. Earnings are expected higher by 32% this year to $1.99 on a 12.4% increase in sales.
Shares pay a 1.1% dividend yield and the company repurchased $52 million of its shares in fiscal 2013. Free cash flow fell by $7 million last year to $201 million but only on an increase of $22 million on capital expenditures. Fortune Brands announced in February the authorization of a two-year $150 million buyback program.
Weakness in the housing market over the last several months has driven sharp losses in housing-related stocks. While the sector may not grow as quickly as it has done over the past two years, housing starts and sales are still well below their long-term average. This should help support growth and asset prices in stocks. Beyond larger macro-issues, the weather has had a temporary affect on the market but sentiment could turn considerably higher on pending sales and data over the next month. Investors might want to take advantage of lower prices to build positions in stronger players in the space.
Disclosure: I have no positions in any stocks mentioned, and no plans to initiate any positions within the next 72 hours. I wrote this article myself, and it expresses my own opinions. I am not receiving compensation for it (other than from Seeking Alpha). I have no business relationship with any company whose stock is mentioned in this article.