With the market approaching all-time highs again, it's difficult to identify stocks that are undervalued with growth potential. As the market is peaking, I'm looking for areas to enter that have downside protection, pay a healthy dividend and have solid growth potential. Offshore drillers meet all these criteria. Some companies and analyst warned of possible decreasing dayrates for rigs and a weakening market as companies limit capital expenditure and as a result offshore drilling stocks have taken a beating over the past few months. However, this weakness has created a buying opportunity as fundamentals and long-term business remains strong. In particular, I like Noble Corp. (NYSE:NE), Ensco (NYSE:ESV) and Seadrill (NYSE:SDRL) at current prices. These three stocks are near 52 week lows, pay strong dividends and have a large backlog of secured contracts.
| | | | | |
| --- | --- | --- | --- | --- |
| Company | Market Cap. | P/E | Dividend Yield | Backlog ($ billion) |
| Noble Corp. | $ 7.9 | 10.3 | 4.7% | $ 15.4 |
| Ensco | $ 11.8 | 8.3 | 5.9% | $ 11.0 |
| Seadrill | $ 15.9 | 6.2 | 11.5% | $ 20.2 |
Noble Corp.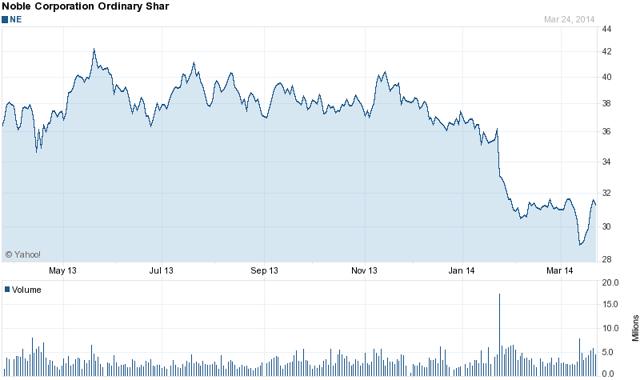 Shortly after Noble Corp. reported their 4Q2013 earnings, the stock dropped approximately 15% over the next 2 weeks. It was during this free fall that I wrote an article highlighting the value of Noble Corp. Since then, the stock has shown continued weakness giving investors another chance to add an undervalued company to their portfolio.
| | | | |
| --- | --- | --- | --- |
| ($ Billions) | 2013 | 2012 | Y/Y % change |
| Revenue | $ 4.32 | $ 3.55 | 22% |
| Operating Cost | $ 3.11 | $ 2.76 | 13% |
| Operating Income | $ 1.12 | $ 0.78 | 44% |
| Net Income | $ 0.78 | $ 0.52 | 50% |
| EPS (diluted) | $ 3.05 | $ 2.05 | 49% |
The company experienced strong growth in 2013 with tremendous growth on top and bottom lines. This shows the strength of not only the company's ability to grow revenue, but also to control costs and increase profitability. Many companies only dream about a 49% 1 year increase in EPS. What's equally impressive is the company's continued growth already taking place in 2014. In 2013 Noble added 3 ultra-deep water drillships and 2 high-spec jackups. In 2014, the company expects 2 new ultra-deep water drillships and 3 high-spec jackups to be delivered. Of the 6 rigs currently under construction, 4 already have contracts in place. This is a very positive sign for Noble because it was able to secure impressive dayrates for its 2 ultra-deepwater rigs under construction before any downward pressure in the market affected them. Both the Noble Sam Croft and Noble Tom Madden received 3 year contracts for $632,000/day, which is toward the top of the market. These 2 rigs are expected to be delivered in early to mid-2014.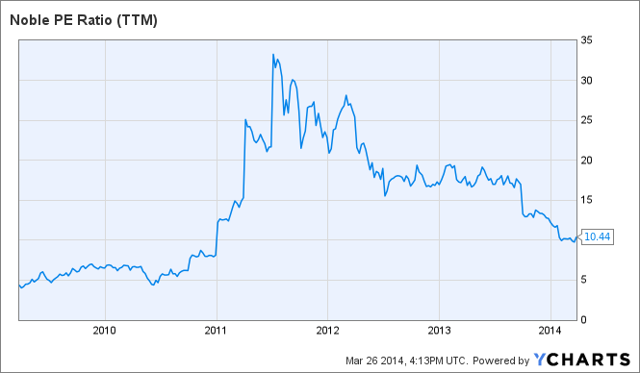 With a current P/E of 10.3 and a forward P/E of 9.3, the company looks historically cheap considering its strong growth. This creates a great opportunity for dividend investors as short-term weakness has created an impressive 4.7% dividend yield with very little downside from current levels.
In 2013, Noble Corp. announced they would spin-off part of its standard jack-up fleet by the end of 2014. Paragon Offshore will be the new company created and will take on 34 jack-ups, 8 floaters, and 4 other rigs to be announced. This spin-off will leave Noble Corp. with a young and specialized fleet of ultra-deepwater rigs and high-spec jack-ups.
Ensco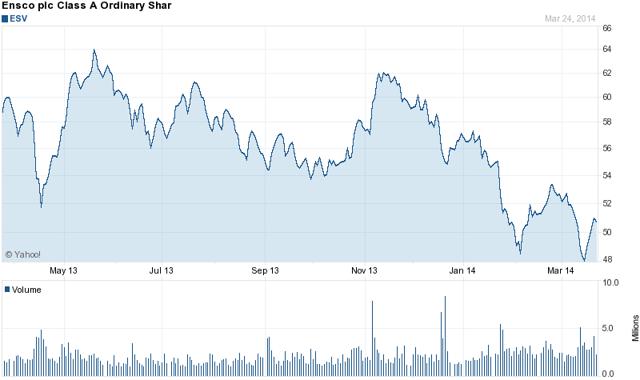 Ensco offers an impressive 5.9% yield and has seen strong support at the $48 level. At current prices around $51-$52, there is very little downside to this investment which offers both strong upside potential and pays a healthy dividend. Ensco is the second largest offshore driller with 71 active rigs and 6 more under construction. Similar to Noble Corp, Ensco saw strong growth on all levels in 2013.
The company doubled its dividend in 2013 to $3.00/share and has shown its commitment to returning value to shareholders through strong dividends. What's even more impressive is the company has done this while having the lowest payout ratio of any major offshore driller having a dividend yield over 3%.
Source: Credit Suisse Energy Summit February 2014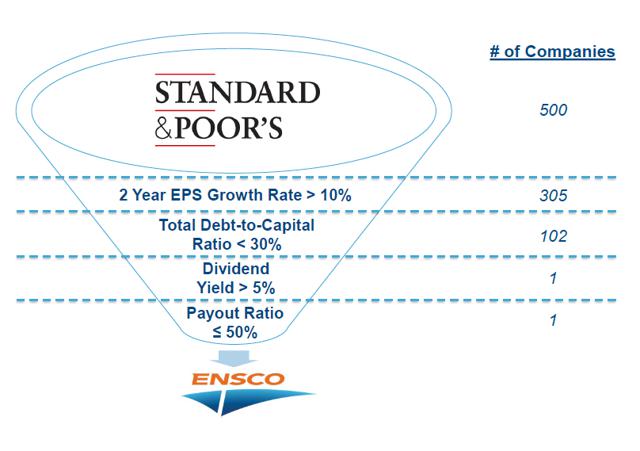 I included this chart in my last article on Ensco, because most investors don't realize what a quality dividend stock the company has become. Ensco has positioned itself as a premier dividend stock. Whether you're looking for dividend income or capital appreciation, Ensco has it all. The company is entering the final stages of its new build program that has delivered 20 rigs since 2004 and will deliver 6 more through 2016. The company expects to spend around $1.3 billion in 2014 on newbuilds, but this number falls to just $600 million in 2015. This will give the company additional financial flexibility to either build new rigs, pay off debt or increase dividends again. Ensco is in a great position with newbuilds coming online over the next several years and capital expenditures falling at the same time. Long-term investors can feel confident about adding Ensco at current levels and collecting a 5.9% yield while waiting for a turn-around in the industry. Ensco is a relatively safe and easy way to add yield to your portfolio.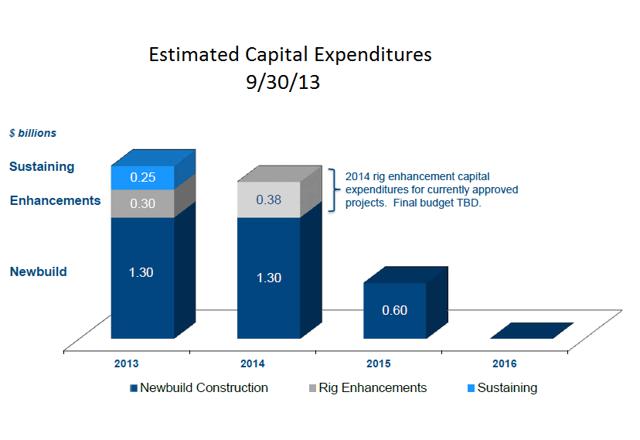 Seadrill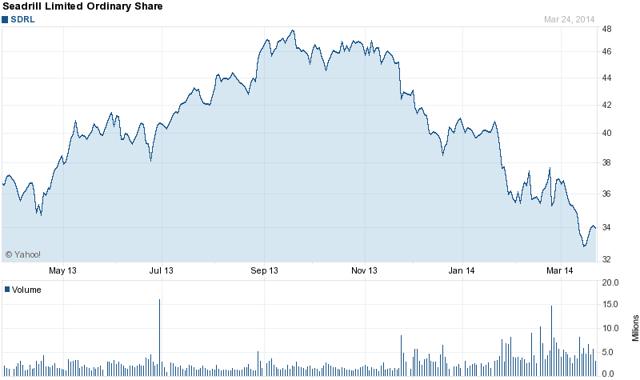 Seadrill offers an incredible 11.5% dividend yield. This is hard to ignore and investors looking to add yield to their portfolio may want to consider Seadrill. I've changed my tune on Seadrill recently based on its current price and outlook on sustaining its dividend. With the recent decline in its stock price to around $34/share the company has a P/E of just 6.3. This is a good entry point for investors wanting to limit downside exposure. In a market where finding value is extremely difficult, Seadrill offers too many positives to not be considered undervalued here. While the company is highly leveraged and only 3 of its 20 rigs under construction have long-term contracts, its $20.2 billion backlog is more than enough to sustain its quarterly dividend of $0.98 in the short-term. Of the $20.2 billion in backlog, the floater fleet represents $15.5 billion, the jack-up fleet represents $4.2 billion and tender units represent $500 million. In 2014, the floater fleet is 96% contracted and 17 of the 23 jack-ups have contracts extended past 2014. This makes the 2014 dividend almost untouchable. In the 4Q2013 conference call management said,
"The dividend increase reflects the improvement in operational results, solid order backlog and strong support received from the financing markets. The Board is highly confident that the dividend is sustainable in the coming years. As future units are introduced into the fleet operating results are likely to show strong growth. This combined with a more efficient debt structure as achieved by the term loan B financing create opportunities for future dividend growth."
In addition, the board stated they don't see a need in the current market to increase the quarterly dividend passed $0.98 since the dividend yield is so high. This confidence in the company's ability to sustain their dividend in the short-term should give investors a reason to buy into Seadrill at current prices and collect the 11.5% dividend yield through the end of 2014, and then reassess the situation. Fellow SA author, Casey Hoerth, has an excellent article covering Seadrill's dividend prospects over the next couple years that I'd recommend reading for a more in depth analysis.
| | | | |
| --- | --- | --- | --- |
| ($ Billions) | 2013 | 2012 | Y/Y % change |
| Revenue | $ 5.28 | $ 4.29 | 23% |
| Operating Cost | $ 3.24 | $ 2.69 | 20% |
| Operating Income | $ 2.10 | $ 1.79 | 17% |
| Net Income | $ 2.78 | $ 1.20 | 132% |
| EPS (diluted) | $ 5.52 | $ 2.34 | 136% |
While 2013 was an extremely successful year for Seadrill in terms of growth, it is important to note that Seadrill isn't an investment for the conservative investor. The company has its share of risk with over $11 billion in long-term debt and 20 new rigs being delivered over the next 3 years. If the majority of newbuilds had contracts in place, it'd be much less worrisome. Instead the company's leverage could turn around and bite them if rigs start coming off the line without contracts in place. I normally don't recommend buying stocks without a clear long-term profitability path, but I think Seadrill is a good short-term buy for the moderate to risky investor looking to add yield to their portfolio.
Conclusion
I believe the stock market is starting to peak and while I don't think a massive correction is on the horizon, I do think growth will slow and a minor correction may be looming. Because of this, I'm looking to add yield and downside protection to my portfolio and I believe the offshore drillers offer excellent value while proving attractive yields. Noble Corp, Ensco and Seadrill are all near 52 week lows where they have seen support and a bottom forming. All three companies have different attributes and risks, but all offer excellent dividend payments that can benefit portfolios during a peaking market. By buying into these stocks near 52 week lows, investors are buying downside protection and high yields.
I'm only a fan of Seadrill in the short-term as it remains to be seen what kind of rates the company's 17 uncontracted newbuilds will receive. However, I think a bottom may be forming on the stock and investors can cash in on their extremely attractive dividend yield at current prices.
Disclosure: I am long NE. I wrote this article myself, and it expresses my own opinions. I am not receiving compensation for it (other than from Seeking Alpha). I have no business relationship with any company whose stock is mentioned in this article.