Offshore drilling
The offshore drilling refers to the process of drilling for oil or gas extraction (minerals resources) through the sea bed called the continental shelf (the sea bed surrounding a continent at depths of up to about 200 meters). Subsequently, the process may also be applied to drilling in lakes, inshore waters and inland seas. The offshore drilling is much more challenging than land drilling, owing to the nature of the work environment but also its accessibility, and drilling depth. The last BP/RIG Macondo incident in the gulf of Mexico is a sad reminder of this situation.
There are many different types of facilities that require offshore drilling operations. These include bottom founded drilling rigs as jackups or swamp barges; joined drilling and production facilities either bottom founded or floating platforms; and deep-water mobile offshore drilling units (MODU) including semi-submersibles and drill-ships that operate in water depths up to well over 10,000 Ft.
In shallower waters, the mobile units are anchored to the seabed; however, in deeper water, over 5,000 Ft, the drill-ships stay at the required drilling site using a dynamic positioning.
Typically, an offshore drilling business owns and operates a "drilling fleet" that it is renting to the oil producer companies at a daily, monthly or yearly rate for a period of time set in advance. The day rate may go over $650K.
Outlook and forecast.
A report published in July 2013 called "Offshore Drilling Market - Global trends & Forecasts to 2018" (Completed by "Concise analysis of the offshore drilling Market - Global trends & Forecasts to 2018" released in February 2014), indicates:
The growing demand for energy, coupled with increasing investment in offshore exploration activities, will drive the global offshore drilling market to $121.1 billion by 2018, growing at a CAGR of 10.6% from 2013 to 2018. The factors that drive the growth of this market are sustained high oil prices, increased investment from oil and gas operators, and a surge in deep and ultra-deepwater activities. The maturity of onshore oil reserves now shifts the focus of operator companies towards deep water offshore areas.
However, recently the sector experienced a noticeable slowdown, because oil and gas operators are reducing momentarily their capital expenditure for 2014 and part of 2015; and the sector is experiencing a glut of new available drilling rigs that the market is trying to digest.
Consequently, offshore drillers are experiencing a drop in revenue because few older units are currently taken out of the market (cold stacked or scrapped); and over 45 new units are coming online. While capacity increases, the demand is flat or slightly downward, resulting in reduced utilization in day rates and ultimately lowering earnings. Rigzone indicated that the rig utilization went down from 87.1% to 82.3% in a year.
Noble Corp. was the first to announce that it was experiencing a "cyclical pause" in the market.
Roger B. Hunt, vice President of Noble said at the last CC on January 23rd, 2014:
Maybe an appropriate way to paraphrase the current state of the offshore industry is to define it as entering a cyclical pause. We know that past, more pronounced disruptions in the offshore cycle have been caused in many instances by a decline in client exploration and production spending, resulting from a deteriorating long-term outlook for crude oil prices, which led to a reduction in customer rig needs.
Transocean Ltd. is talking about a softness that can last as long as 18 to 24 months. Soon after, we heard the same comment from all the offshore driller operators.
Despite this continuing glut and demand slowdown, the signs of a rapid recovery by mid 2015 are already here. Backlog for the offshore drillers is at a high level, and demand is still healthy going forward. Seadrill said at its last conference call on February 27, 2014, that it is receiving more inquiries for 2015 and beyond.
Daniel W. Rabun CEO and President of Ensco Plc., said at the last CC on February 6, 2013:
...customer demand has remained healthy because the fundamental factors driving demand for drilling rigs are unchanged in terms of commodity prices, global GDP and offshore discoveries. The supply side is causing some contracting gaps, as David will discuss, but I don't sense we will see a long-term supply-demand imbalance.
Furthermore, Lawrence R. Dickerson CEO of Diamond Offshore (conference call on February 20, 2013):
Clearly, the ultra-deepwater market reflects some concern over the supply-demand balance for 2014. Dayrates have been under some pressure after what has been a prolonged period of market strength. We're seeing more prospective contracts in the range of 2 to 4 years and for 5-year opportunity. While we're down from the peak, we still see market rates that continue to be in the range that we're comfortable will generate ample returns on our newbuild projects.
and, Graham Robjohns CEO of SDRL at the CC on February 25, 2014:
this further supports the increase in future rig demand. Here you can see that the rig count has increased quite significantly over time but oil production from offshore has actually declined. And that clearly signifies an increased rig intensity required to produce the same amount of oil, which points of course to much increased rig demand moving forward.
Forecast
Offshore drilling sector has an impressive growth prospect despite this momentarily "pause." It is a growing business because oil and gas reserves are shrinking rapidly around the world, and the demand for energy is growing fast in the meantime. Almost all the big oil companies are struggling to keep their proved and probable reserves (P2) at a decent level, and are turning to the last opportunity left practically untapped: The deep-water and ultra-deep-water offshore drilling.
This actual climate has not changed the overall growth potential and the future demand, with increasing activities in Asia-Pacific, Brazil; US Gulf of Mexico (again) and West Africa.
Seadrill on February 18, 2014 signed a contract with the Pemex worth $1.8 billion and Transocean added $7.9 billion in 2013 including the five-year contract with Chevron (NYSE:CVX) (Conqueror to be delivered in 2016).
My best 5 Offshore drillers in a nutshell.
A) Diamond Offshore Drilling, Inc. (NYSE:DO)
Diamond Offshore provides drilling services to global energy industries, particularly oil companies. The current company was founded in 1989 but can be traced to 1953 when Odeco's Alden Laborde developed the first semi-submersible rig. Odeco, founded in New Orleans, Louisiana was purchased by Diamond Drilling. It specializes in offshore drilling in regions, as the North Sea and Gulf of Alaska. The company employs around 5,500 employees worldwide, and has three regional offices in Australia, Brazil and Scotland.
It has a fleet of 45 drilling rigs, including 5 under construction. Its fleet consists of 33 semi-submersibles, two of which are under construction, five dynamically positioned drillships, three of which are under construction, and seven jack-ups. Actual backlog is $6.8 billion.
Former CEO Lawrence R. Dickerson has just retired after over 30 years of service with the company and has been replaced by Marc G. R. Edwards. Mr. Edwards has spent most of his career with Halliburton (NYSE:HAL).
The company was founded in 1989 and is headquartered in Houston, Texas. Diamond Offshore Drilling, Inc. is a subsidiary of Loews Corporation.
Here is the last conference call transcript.
B) Ensco Plc. (NYSE:ESV)
The company offers offshore contract drilling services to both domestic and international oil companies. ESV has a large offshore drilling rig fleet (75 rigs). Its fleet portfolio includes 10 drillships, 46 independent leg jackups and 19 semi submersible rigs. It is aggressively investing in its fleet to compete in this highly selective offshore market.
Consequently, its newly built ultra-deepwater rigs have started work on a multi-year contract with previous customers. It received two new ultra-premium, harsh environment ENSCO 120 series jackups. Both ENSCO 120 series jackups were contracted in advance for a multi-year program. All these positive investments in its business take its backlog to $10.7 billion.
From the CC:
...Ensco has the largest number of premium jackups worldwide and our shallow water fleet posted 98% operational utilization in 2013.
It posted impressive record revenue and earnings in 2013, and increased its dividends twice by 33% and 50%, to now $3/share. Its strong balance sheet and borrowing capability (both its commercial paper program and revolving credit facility) will provide more flexibility for the company to make additional investments to get a competitive fleet.
Ensco plc. was founded in 1975 and is headquartered in London, the United Kingdom.
Here is the last conference call transcript.
C) Nobel Corp. (NYSE:NE)
Noble Drilling is one of the largest offshore drilling companies with a fleet that includes drillships, jackups, semi-submersibles and more. It has been leading the industry in deep-water projects since 1921. The company will celebrate its 93rd anniversary in 2014. Noble's ultra-deep-water project in the Gulf of Mexico, the "Noble Danny Adkins," operates in water depth of 12,000 feet and drilling depth at 37,000 feet per Rigzone.
Noble is a leading offshore drilling contractor for the oil and gas industry, with a fleet of 77 offshore drilling units. Noble is present all over the world, including the U.S., Alaska, the Gulf of Mexico, the North Sea, Brazil, the Mediterranean, the Middle East, West Africa, India, Malaysia and Australia. Noble is actually investing heavily as most of its peers.
The company started its operations in 2014 with the addition of three new ultra-deepwater drillships: Noble Bob Douglas, Noble Don Taylor and Noble Globetrotter II, plus the high-specification jackup, Noble Mick O'Brien in 2013. These newly added ultra-deepwater drillships and the high-specification jackup have added revenue. Meanwhile, in December 2013, Noble had a delivery of two more JU3000N jackups, the Noble Regina and Noble Houston Colbert. The company is expecting the delivery of five more rigs by the end of 2014. This addition will make Noble a premium offshore drilling rig's provider.
Interesting article here regarding Noble increasing its fleet size.
Noble is in the process of spinning off a part of the company. Here is what James A. Maclennan CFO said at the conference call:
As you know, we have announced our attention to spin off most of our standard specification business before the end of 2014. We will continue to incur both onetime and other expenses that relate to the spin-off and/or to Spinco, and we're in the process of finalizing the respective budgets for each company on a standalone basis.

In future quarters, we'll be better able to break out the spin-off-related costs to provide visibility into the impact of the spin-off on our G&A and other cost line. Even after the planned initial public offering, our consolidated financial statements and results will continue to include the combined results of Noble and the spin-off business until a complete separation is effected through the final distribution. We are targeting late 2014 for the spin-off to be complete.
Noble is headquartered in London, the United Kingdom.
Here is the last conference call transcript.
D) Seadrill Ltd. (NYSE:SDRL)
In 2005, the billionaire John Fredriksen founded Seadrill Ltd. Seadrill Limited provides offshore drilling services for energy companies worldwide. The company operates in three segments: Floaters, Jack-up Rigs, and Tender Rigs:
The Floaters segment offers services, such as drilling, completion, and maintenance of offshore exploration and production wells under contracts relating to semi-submersible rigs and drillships for harsh and benign environments in mid, deep, and ultra-deep waters.
The Jack-up Rigs segment provides services, which include drilling, completion, and maintenance of offshore exploration and production wells under contracts relating to jack up rigs for operations in harsh and benign environments.
The Tender Rigs segment operates self-erecting tender barges and semi-submersible tender rigs, which are used for production drilling and well maintenance.
The company owns and operates a fleet of 69 offshore drilling units As of Q3 2013 (20 under construction), which consist of:
Drillships.(15)
Semi-submersibles.(13)
Jack-ups.(32)
Tender rigs.(2)
Semi-tender rigs.(1)
Harsh-environment units.(11)
Ultra-deepwater units.(15)
It serves oil and gas exploration and production companies, including integrated oil companies, independent oil and gas producers, and government-owned oil and gas companies. The company has a strategic partnership with North Atlantic Drilling Limited (NAD). Seadrill Limited is headquartered in Hamilton, Bermuda. Seadrill has 7,900 employees.
Here is the last conference call transcript.
E) Transocean Ltd. (NYSE:RIG)
Transocean Ltd. provides offshore contract drilling services for energy companies worldwide. It offers deepwater and harsh environment drilling, oil and gas drilling management, and drilling engineering and drilling project management services, as well as logistics services. As of February 22, 2014, the company owned, had partial ownership interests in and operated 79 mobile offshore drilling units:
High Specification Floaters: Ultra-Deepwater (27)
High Specification Floaters: Deepwater (12)
High Specification Floaters: Harsh-Environment (7)
Midwater Floaters (22)
High-Specification Jack-ups (11)
The company also has 7 ultra-deepwater drillships and 5 high-specification jack-ups under construction or under contract to be constructed.
Transocean Ltd. was founded in 1953 and is based in Vernier, Switzerland.
Here is the last conference call transcript.
3 - Fundamental snapshot.(Table)
Ticker

Revenue

$ b

Debt

$ b

Dividend

$

EBITDA

$ b

shares

m

Backlog

$ b

Fleet
Fleet in process
DO
2.84
2.49

*0.50/3.5?

1.19
139.04
6.8
40
5
ESV
4.92
4.77
3.00
2.35
233.35
11.0
75
6
NE
4.12
5.56
1.50
1.98
254.14
10.7
77
5
RIG
9.48
*10.70
*3.00
3.51
361.02
27.0
79
12
SDRL
5.0
13.9
3.92
2.68
468.98
20.2
69
20
* RIG has ordered 2 new drillships expected to be delivered in mid 2017 and 2018 at a cost of $1.24 billion not included here.
* RIG dividend will increase to $3/share in 2014 pushed recently by Carl Icahn.
* DO has declared a special quarterly cash dividend of $0.75 per share of common stock and a regular quarterly cash dividend of $0.125 per share of common stock. The Board reiterated its stated policy of considering paying special cash dividends, in amounts to be determined, on a quarterly basis.
4 - Analyses discussion and recommendation.
These 5 offshore drillers have performed poorly since mid-November 2013 and lost between 15.9% to 26.7%. The street over-reacted when it heard the word "pause" and "cyclical slowdown." As always, some analysts were amplifying the negative momentum.
The downside was exacerbated by selling investors who started to doubt about the security of the high-paying dividends going forward. Companies, one by one, confirmed that dividends were safe, and even increased them again, recently. SDRL from 0.92 to 0.98 a quarter, RIG will be voting soon on a rise to $3/share a year, pushed by Carl Icahn. ESV DO and NE followed the trend.
Look at the chart since mid-November 2013: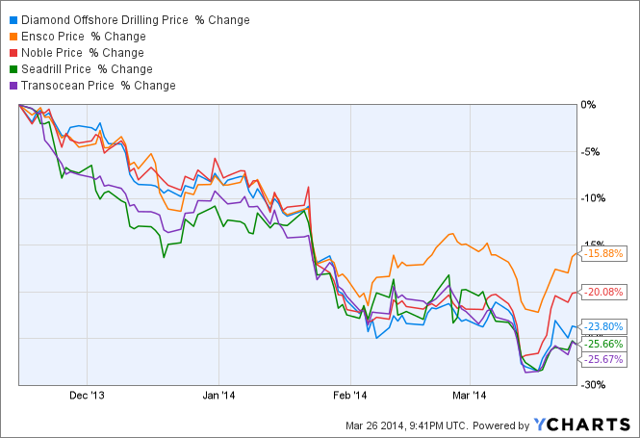 The market is focusing too much on the shorter outlook, in my opinion, and tends to ignore the long-term bright prospect of the industry, at a CAGR of 10.6% from 2013 to 2018. A simple look at the contracts backlog is showing clearly the growth strength potential.
It is true that we are in a over-supply environment right now, and reduced demand from big oil companies. Revenues will go slightly down until 2016 probably when demand is expected to rise. Clearly the market overreacted by punishing the sector and will react as well when the rebound will occur.
Here are the stock price today:
| | | | | | |
| --- | --- | --- | --- | --- | --- |
| Ticker | DO | ESV | NE | RIG | SDRL |
| stock price as 03/26/2014 | 46.82 | 52.06 | 31.75 | 40.47 | 34.25 |
Conclusion
This pause is a rare opportunity from a value investor's perspective to invest in long-term, and use this recent stock price weakness to build a portfolio at a discount to fair value. This climate is offering an excellent entry-point for any savvy investor with a time frame horizon of three to seven years. It will generate a steady return year over year.
Dividends are safe and quite generous. SDRL is giving a dividend of about 11.4%, RIG will give over 7.3%, DO is at 6.4%, ESV is at 5.8%, and NE is at 4.7%.
All these five stocks have an equal potential to go up in 2014, and neither should be disregarded nor eliminated. Of course, each company has its own weakness: a high level of debt, older and/or less competitive fleet, or some liability problem.
I own now Transocean Ltd. and Seadrill Ltd. because they have similar future strategy and seemed slightly better positioned to profit from the next rebound. Their dividend's rate is impressive.
Disclosure: I am long RIG, SDRL. I wrote this article myself, and it expresses my own opinions. I am not receiving compensation for it (other than from Seeking Alpha). I have no business relationship with any company whose stock is mentioned in this article.