Reuters has just received data from China that shows that the Chinese have imported 109 tonnes of gold from Hong Kong during the month of February - a very large amount considering that the gold price was rising fast during February. Additionally, many analysts had been citing the dropping Chinese premiums as a reason why the Chinese were less enamored with gold; this data makes a strong argument against this.
The import numbers from Hong Kong so far this year are showing that the Chinese are still very active buyers of physical gold even as the price rises. The monthly totals of Chinese gold imports from Hong Kong are the following: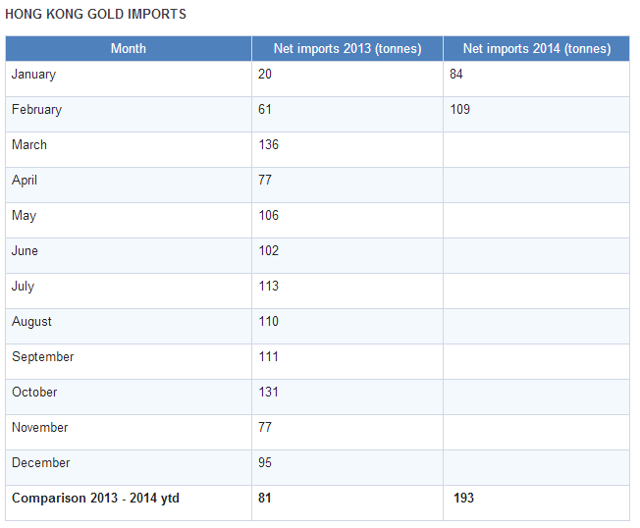 Not only did Chinese gold imports exceed 100 tonnes for the month, but they actually imported more gold in February than they did in January - when the gold price was significantly lower.
Another thing we find very interesting was that these imports were primarily done AFTER the Chinese New Year (which begun on January 31st). Sure, there are many dealers replenishing inventories (though I would imagine many of them bought significantly in January), but we would also point out that these imports were significantly higher than those seen last February when dealers were doing exactly the same thing. A more than 50% increase in physical gold imports year-over-year tells us that Chinese demand remains extremely robust.
The Dreaded Chinese Credit Crunch
But the most important thing we think investors should take out of this data is that it seems that the heavily cited Chinese credit crunch may not stunt gold demand after all. There are many analysts who believe that the Chinese credit crunch will hit gold demand hard since gold leasing is sometimes used by businesses to fund their short-term liquidity problems.
The argument is that Chinese businesses needing extra short-term cash would borrow gold from bullion banks or their Chinese equivalents, and then sell it on the market for Yuan or dollars that they need to keep businesses operating. They are essentially short selling gold for their business needs. But of course this works in reverse as they will be forced to buy the gold back later, thus putting upwards pressure on the gold price.
But more importantly, we see the Chinese gold imports signifying that if Chinese businesses are leasing gold back into the market, it is not being done in quantities that are flooding the market as evidenced by the large February import figures. We would have expected to see lower import figures if these quantities were large enough; there would be no need for imported gold.
The bigger question though is what happens when they start buying back these leases? If this gold leasing is still leading to Chinese demand over 100 tonnes per month, we would be curious to see how high demand would be when businesses are forced to buy back these gold leases.
Conclusion for Investors
We believe the Chinese February gold import numbers are a significant bullish signal for investors despite the pullback in the gold price, as they show Chinese demand is still strong - especially as February gold prices were mostly higher than current spot prices. Additionally, we think the fears of a gold sell-off because of the ongoing Chinese credit crunch are quite overblown, as there is no evidence of it in the demand for physical gold. We wonder if the analysts who are pushing this narrative are doing so because they are talking their books.
We believe that gold is one of the few assets that is underpriced, and the current drop in gold is a pullback that is an opportunity for investors. Thus investors should consider buying physical gold and the gold ETFs: GLD (NYSEARCA:GLD), PHYS (NYSEARCA:PHYS) and CEF (NYSEMKT:CEF). For investors looking for higher leverage to the gold price, they may want to consider miners such as Goldcorp (NYSE:GG), Agnico-Eagle (NYSE:AEM), Randgold (NASDAQ:GOLD), or even some of the explorers and silver miners such as First Majestic (NYSE:AG).
While nobody can be sure, we think the drop under $1300 will be short-lived as Chinese physical demand continues to be extremely strong and central bank buying is on the rise. We think the gold story is far from over, and what we are seeing is gold climbing the "wall of worry" that will soon lead to much higher gold prices. We advise investors to take advantage of the current prices, because we do not think they will last long.
Disclosure: I am long SGOL, GG, AG. I wrote this article myself, and it expresses my own opinions. I am not receiving compensation for it (other than from Seeking Alpha). I have no business relationship with any company whose stock is mentioned in this article.