Realty Income (NYSE:O) has the distinction of being one of the better long-term investments in the triple net REIT sector. The company has solid fundamentals, including an investment-grade credit rating, a diversified tenant base, and an attractive 5.40% yield.
Realty Income's equity offering: A clear buying opportunity
Late on Wednesday, Realty Income announced that it was offering 12 million (upsized from an initial 10.5 million) shares of its common stock via a secondary public offering. The shares were priced at $39.96, or about 3% below recent prices.
Total proceeds from the offering are expected to be about $459.5 million, with the company noting that it will use these funds to repay a portion of its $1.5 billion credit revolver.
Generally, secondary offerings are good opportunities to buy stocks at a discount. Realty Income's stock is likely to open trading below the offering price as traders take advantage of the increased volume. As of this writing, shares of the company are down roughly 3% to about $39.75 in pre-market trading.
Why buy Realty Income?
Long-term investors really have little reason to worry about Realty Income. As I noted in the intro, the company is fundamentally strong, with a solid balance sheet, 98% occupancy rate, modest dividend payout ratio of under 90%, and diversified rental tenant base.
No single tenant exceeds 5.2% of Realty Income's rental revenues. Furthermore, no single industry represents over 10.6% of rental revenue. In addition, unlike some of its shopping mall-focused peers, Realty Income focuses on freestanding, single-tenant commercial properties. These are then put on leases for 10 to 20 years with high-quality tenants, essentially locking in future cash flows.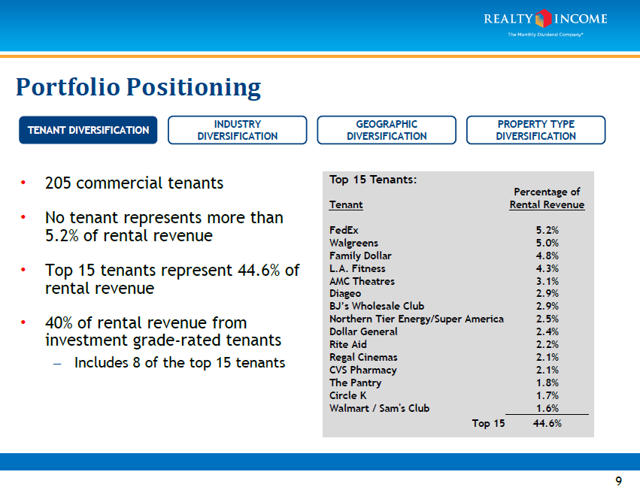 When looking at valuation, Realty Income is trading at about 15.5x its 2014 FFO, broadly in line with its sector peers. I would argue that Realty Income may actually deserve a premium to its peers, given its long record of monthly dividends. Since 2008, Realty Income's FFO per share has grown at around 7% annually.
Regarding dividends, there is a reason why Realty Income is known as the "monthly dividend company", with 525 consecutive monthly dividend payments, including 75 dividend increase since 1994.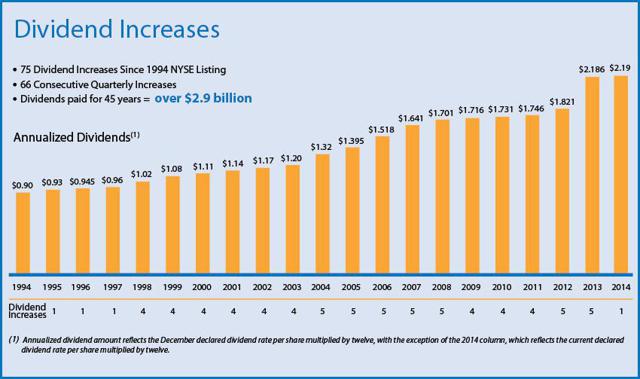 Conclusion
Realty Income is likely to start trading below $40 per share on Thursday, which is nearly 10% below where it started trading at the start of the month.
Yes, Realty Income's stock is very unlikely to post outsized total returns. However, for those looking for a source of consistent, lower-risk monthly income, Realty Income seems like a good pick.
Disclaimer: The opinions in this article are for informational purposes only and should not be construed as a recommendation to buy or sell the stocks mentioned. Please do your own due diligence before making any investment decision.
Disclosure: I am long O. I wrote this article myself, and it expresses my own opinions. I am not receiving compensation for it (other than from Seeking Alpha). I have no business relationship with any company whose stock is mentioned in this article.