The Federal Legalization of Medical Marijuana Comes to Canada April 1st
I first wrote about 22nd Century Group (NYSEMKT:XXII) for Seeking Alpha back in October 2013 and then followed up on XXII's progress in January 2014.
The point of my original article was that while many small companies boast the potential for multi-bagger returns, XXII's potential for big returns are actually very realistic versus most micro-caps I come across.
The credibility was supplied by a deal that XXII inked with $100 billion tobacco industry goliath British American Tobacco (NYSEMKT:BTI) whereby BTI paid an upfront royalty of $7mm (with many other milestone payments available) for the rights to license XXII's IP protected (XXII has 113 patents) technology globally.
And you know what happened? Those multi-bagger returns that I thought were possible have begun to materialize over the past few months, as the stock went from $1.00 to $6.35. The recent pullback could be a buying opportunity, as many fundamental catalysts are in front of us, and the stock is bouncing off long term trend lines.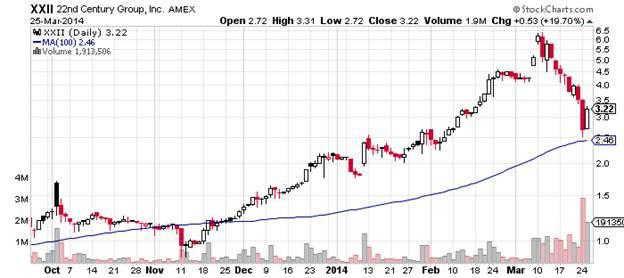 I would still view this as a higher risk, speculative opportunity, but one were the upside could be very significant.
As a reminder, XXII is a plant biotechnology company whose patented technology allows for the level of nicotine in the tobacco plant to be decreased or increased through genetic engineering and breeding. One of XXII's tobacco varieties has 95% less nicotine than the tobacco found in typical "light" cigarettes.
Red Sun, XXII's proprietary high-nicotine premium brand, has the lowest tar/nicotine ratio on the market at 7:1. Competing cigarettes typically have a ratio closer to 14:1. U.S. law currently prohibits companies from listing these ratios and making claims to a safer product. However, XXII is currently working on a modified risk cigarette that if approved by the FDA, will allow them to market it as safer.
In addition, tobacco companies in China are required to list all ingredients to increase transparency and awareness. The Chinese government is concerned about health risks to the world's largest smoking population and is actively seeking a solution; XXII is the solution.
The technology has potential in a number of ways. First, for happy smokers, XXII can provide an alternative that is not as dangerous to their health. Second, it provides people who want to quit smoking a much better chance of doing so.
In 2012, global cigarette sales totaled almost $700 billion, so XXII is looking to break into something massive; I expect them to obtain MSA admittance over the next several weeks, thus allowing for the onset of the sale of XXII's cigarettes into 46 states.
The Next Cash Crop - Marijuana
XXII's technology may hold the key to not just producing better strains of marijuana for recreational use, but actually pinpointing the genes necessary for treating a wide range of medical conditions.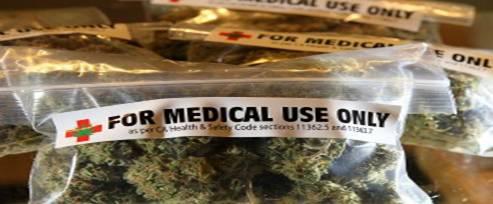 Image source: Getty
On its website, XXII describes its patented tobacco technology as follows:
Our proprietary technology allows us to regulate (decrease or increase) the biosynthesis of nicotinic alkaloids in plants through genetic engineering (Kajikawa et al. 2011; Todd et al. 2010). This enables us to regulate nicotine content in tobacco plants without adversely affecting other leaf compounds important to a tobacco product's characteristics, including taste and aroma

Our technology also enables us to regulate the production of other nicotinic alkaloids in tobacco plants to produce tobacco with a wide range of specific desired alkaloid contents and alkaloid profiles (proportions of individual nicotinic alkaloids).
If you click on the link above to the study Todd et al. 2010, you will note that one of the scientists involved in the study is Mr. Enwu Liu. Mr. Liu is the inventor of XXII's patented MPO technology. Mr. Liu has also been researching and experimenting with the same process on cannabinoids in the marijuana plant with a positive conclusion:
The expanding interest in the cannabinoids as therapeutic agents suggests that metabolic engineering of the cannabinoid pathway in microorganisms may be worthwhile as a means to produce cannabinoids of high purity, and to make novel derivatives via combinatorial biosynthesis approaches. With the identification of OAC and our demonstration of the efficient OA synthesis in yeast (Fig. S2), the molecular tools for manipulating cannabinoid production are increasingly available.
It appears that this technology that can alter the genetic makeup of the tobacco plant can be used to alter the genetic makeup of the marijuana plant, as well. The prospects for a company that has the technology that upregulates and downregulates all of the cannabinoids in the marijuana plant is interesting to say the least.
The ability to pinpoint how various strains interact with different illnesses and then make that strain with the same properties on a consistent basis is downright exciting. This will help to engineer higher quality and more specific benefits for patients using marijuana for medical reasons. It will also make a better, safer and more potent product for the recreational user.
Also of interest is an article from the doctor who first mapped the cannabis genome. He also happens to be an inventor of some of XXII's patented tobacco technology.
In 2011, Canadian botanist Jon Page, Ph.D, published his findings in regards to the sequencing of about 30,000 genes that make up the genome of Cannabis sativa in the journal Genome Biology.
Dr. Page's research lab at the National Research Council [NRC] in Saskatoon, Canada has been conducting tobacco research funded by XXII. This can be noted in previous press releases from the company.
XXII funded research and development at NRC thereby becoming NRC's exclusive worldwide licensee of this transcription factor technology and other technologies. XXII is further developing the technology, including producing novel commercial tobacco plant varieties.
Since Dr. Page and Mr. Liu are some of the leading scientists researching medical marijuana today, and both of them have already invented patented technology for XXII, one has to wonder about what other kinds of research that XXII is funding.
Also of interest is this article in Leaf Science with Dr. Jonathan Page from February entitled: "How The Cannabis Genome Got Mapped: Q&A With Dr. Jonathan Page."
The medical marijuana market is already huge and continues to grow rapidly. On April 1st, medical marijuana becomes federally legal in Canada. Perhaps XXII could enter that market with their relationships with these Canadian researchers.
Stocks with exposure to marijuana have been the place to be of late. These stocks aren't just on a tear, they are going crazy.
The Rapid Rise of Marijuana Stocks

Ticker

December Low

2014 High

% Increase from Trough to Peak

ERBB

$ 0.0015

$ 0.2160

14300%

ATTBF

$ 0.0300

$ 2.7800

9167%

EXMT

$ 0.0005

$ 0.0230

4500%

FITX

$ 0.0025

$ 0.1150

4500%

FSPM

$ 0.2200

$ 9.2000

4082%

RFMK

$ 0.0005

$ 0.0200

3900%

GRNH

$ 0.0300

$ 1.2000

3900%

HEMP

$ 0.0100

$ 0.3400

3300%

CBCA

$ 2.0000

$ 55.0000

2650%

MNTR

$ 0.3300

$ 8.9900

2624%

CANN

$ 2.4500

$ 64.6400

2538%

TRTC

$ 0.0700

$ 1.4200

1929%

VAPE

$ 2.3400

$ 41.2500

1663%

GLCO

$ 0.0100

$ 0.1600

1500%

CANV

$ 14.9000

$ 201.0000

1249%

MDBX

$ 7.1200

$ 93.5000

1213%

TAUG

$ 0.0100

$ 0.1090

990%

MCIG

$ 0.0900

$ 0.9220

924%

CBIS

$ 0.0300

$ 0.2980

893%

ENDO

$ 0.0200

$ 0.1800

800%

XTRM

$ 0.0100

$ 0.0880

780%

PHOT

$ 0.0900

$ 0.7780

764%

EDXC

$ 0.0600

$ 0.3590

498%

NVLX

$ 0.1100

$ 0.6200

464%

AERO

$ 1.9700

$ 10.4500

430%

MJNA

$ 0.1000

$ 0.4790

379%

MWIP

$ 0.1700

$ 0.6800

300%

NRTI

$ 0.0900

$ 0.3400

278%
What is going on with marijuana today reminds me of the dot.com days of the late 90s when every stock with dot.com in its name went ballistic.
There are dozens of bulletin board listed companies whose stocks are flying at the mention of them having anything to do with marijuana. While many of these companies will likely disappear like many of their predecessors did from the dot.com days, there will be real, credible companies that generate massive returns through harnessing the emergence of a new multi-billion dollar industry.
Companies with exposure to marijuana offer perhaps the best long-term growth opportunity in the market today.
According to a report (second edition of the State of Legal Marijuana Markets) there will be $1.43 billion worth of legal marijuana sold in the United States in 2013. In 2014 the report believes that total sales will increase by 64% to $2.34 billion.
This is a high rate of growth that won't be slowing down any time soon.
As of March 17, 2014 there are 15 more States with pending legislation to legalize medical marijuana. Currently there are 20 States where medical marijuana is legal (only 2 have legalized recreational use).
It seems pretty clear to me that we are going to continue to move towards greater acceptance of marijuana for medical purposes. And if we are going to do that, it only makes sense that we would want to provide the purest medicine possible and if possible, manipulate it to best treat patients.
And that is what XXII may be able to help with.
XXII might also be able to provide institutional investors with a credible high growth company listed on a national exchange that offers potentially significant exposure to marijuana.
Most publicly traded companies that have exposure to marijuana are penny stocks and aren't suitable for institutional investors as they are pink sheet or OTCBB companies. XXII is a significant company that also happens to have a $100 billion partner in British Tobacco.
XXII already has a huge opportunity with IP licensing and manufacturing within the tobacco space. Since it is a tobacco-focused company with upside optionality on marijuana, this is a company large institutions can invest in.
XXII's upside potential in marijuana, in addition to its now core business in tobacco IP licensing and manufacturing, makes for a uniquely attractive investment opportunity.
Marijuana stocks are hot to be sure, but like many investors, I wouldn't touch most of them with a 10 foot pole. 22nd Century offers a way to play marijuana through a debt-free company with a valuable IP that British American Tobacco has taken an interest in.
I've been wrong not to get long 22nd Century so far. As the stock has pulled back, I'm still kicking the tires, but am considering a position as part of a diversified portfolio.
Disclosure: I have no positions in any stocks mentioned, but may initiate a long position in XXII over the next 72 hours. I wrote this article myself, and it expresses my own opinions. I am not receiving compensation for it (other than from Seeking Alpha). I have no business relationship with any company whose stock is mentioned in this article.