Festival season is here for concertgoers, which means it is a good time to examine shares of live music operators. I have been on the record (here) discussing my bullishness on shares of Live Nation Entertainment (NYSE:LYV) due to its evolving ecosystem and global scale.
Now, Live Nation has a publicly-traded comparable in SFX Entertainment (NASDAQ:SFXE) which went public last fall. Since the IPO, shares of SFXE have gyrated capriciously and now sit well below the $12 IPO price, valuing the company at $680 million.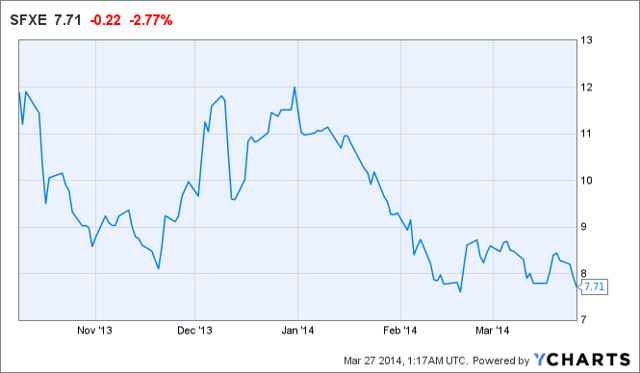 SFX Entertainment is a producer of live events and digital entertainment content focused in the niche electronic dance music ("EDM") sector. To wit, SFX owns a growing portfolio of live events that includes leading brands such as Tomorrowland, TomorrowWorld, Mysteryland, Sensation, Stereosonic, Electric Zoo, Nature One, Ruhr-in-Love, Disco Donnie Presents and Life in Color. SFX also operates Beatport, the principal online resource for EDM DJs and a trusted destination for the growing EMC community to discover and stream music, follow DJs and keep abreast of news, information and events. (source: Q3 10Q 2013)
The proceeds from SFXE's now busted IPO were used to acquire a number of concert operators and venue owners, as part of SFXE's strategy to roll up the various concert series and ticketing operators that feature EDM music. The roll up strategy for new concert venues has kept a brisk pace, with a number of 8-K filings, which have included:
Acquisition of B2S (it already owned a 50% interest) for ($14.3 million plus 400,000 shares of SFXE stock), which owns brands such as Decibel, Hard Bass, Thrillogy, Knock Out and Loudness.
Acquisition of 50% interest in Rock In Rio for $62 million.
In addition to rolling up various EDM music operators, SFXE recently acquired a ticketing business Flavorus for $18 million (and before that, PayLogic for $22 million). This is a move designed to emulate Live Nation's purchase of Ticket Master, thereby allowing SFXE to expand its relationship with the consumer by owning the ticketing process. At scale, a vertically-integrated model for SFXE should allow it to extract more value and provide it with pricing power. Flavorus currently has 5,000 partners and will allow SFXE to broaden its relationships among venue operators as well, potentially increasing deal flow for new acquisitions.
As one can see, SFXE has been particularly active in its acquisition strategy. In just the last few months, SFXE has spent around $120 million on acquisitions, considerably draining the $234 million in cash received from the IPO. To add firepower to its acquisition war chest, management priced $220 million in high 9.625% interest debt, which closed in February.
There are certainly a lot of moving parts as part of management's stated strategy. As such, modeling out future performance is nearly impossible, including changes to the capital structure from share issuances and debt offerings. However, investors should enjoy considerable revenue growth over the next several years on account of the acquisitions.
Is EDM A Fad?
One key risk (besides execution/integration risk from acquisitions) to the SFXE value proposition is to what degree is EDM a viable, growing music niche? I am not aware of any studies, which project future growth in this sector, but I do believe the industry is viable and has created a thriving subculture in the music scene. I, for one, frequent certain music festivals like Coachella and Sasquatch each year, and can attest to the incredible growth in recent years. For example, Sasquatch recently expanded to two separate weekends to handle the extra demand and Coachella has been rumored to expand to three separate weekends. Music Fest Northwest in Portland, Oregon recently adopted a festival format to drive more customer acquisition, rather than hosting shows at local venues around the city.
One thing that is driving the growth in live music is the ubiquity of new music found via digital channels. For example, web apps like Rdio, Spotify, Sound Cloud and others (such as SFXE's Beatport) provide artists with outlets to reach consumers. In my view, the new model for music monetization includes artists building a loyal following online, then attracting fans to live shows. No need to worry about piracy issues when users pay at the door (or e-ticketing property) to watch live music.
Building A Platform (Ecosystem)
If SFXE is successful in building a platform, I believe the operating model provides significant operating leverage and free cash flow generation. Live Nation is now firmly in the cash generation phase of its lifecycle, and I suspect it will take SFXE sometime before it reaches scale to benefit from the operating leverage in the live music business model. Until then, SFXE will likely be valued on revenue growth and will rely on the execution of its management team, which includes Robert Sillerman who founded and sold SFX Broadcasting for $2.1 billion in 1998.
While I generally like investing alongside entrepreneurs with successful track records such as Mr. Sillerman, I am a bit cautious investing in SFXE before seeing a few quarters of financial performance. Stated differently, investing in SFXE is a bit of a black box at the moment with minimal historical perspective from which to gauge the value of the holding company. That said, Mr. Sillerman is connected in the music industry, indicated by a content and marketing partnership with Clear Channel (NYSE:CCO). Clearly, each entity sees opportunity in capturing share in the nascent, but growing EDM music culture.
While shares have pulled back significantly from the IPO, there could still be some downside risk if execution is poor or if it turns out the purchase price of the various acquired assets was too high. As such, I'm staying on the sidelines for now but putting these shares on my watchlist.
Conclusion
I do not think the EDM subculture is a fad based on my personal experiences as a festival goer. Rather, it feels like the music industry is moving more towards a live music model to allow artists and labels to further monetize music content.
Discovery of new artists has never been easier with the proliferation of digital tools. Now with a growing platform of venues in which to perform, SFXE is offering artists a nice tour circuit to build their brands and fan base.
Using Live Nation as a target operating model, I believe SFXE does indeed have a substantial opportunity in the EDM space over the years to come. If Live Nation is indicative, SFXE should throw off considerable cash flow at scale. That said, there may well be a better entry point to own SFXE shares as a $680 million market cap is one-eighth the size of Live Nation with a smaller live music footprint at this point.
Disclosure: I have no positions in any stocks mentioned, and no plans to initiate any positions within the next 72 hours. I wrote this article myself, and it expresses my own opinions. I am not receiving compensation for it (other than from Seeking Alpha). I have no business relationship with any company whose stock is mentioned in this article.