The IPOs coming out the rest of the week will be interesting to watch after the lackluster debut yesterday of highly anticipated issues. Economics focuses on supply and demand and so does the market. As many public companies have been repurchasing their shares as they engage in financial engineering, many investors have been forced to look elsewhere for places to park their capital. With a rising demand for equity we have seen many IPOs met with strong demand and until this demand has been fed the IPOs will continue to attract capital. It is much like what happened in the late 1990s and early 2000s with internet and technology stocks. As many will remember, the demand drove that market for years and the crash only came once the demand started to taper off.
Chart of the Day:
Many panicked yesterday as the Nasdaq broke through the support around 4,100. That caused a quick sell-off and now the market is looking to make back that ground and hopefully have a decent recovery like the last time we tested a major support level (think 4,000).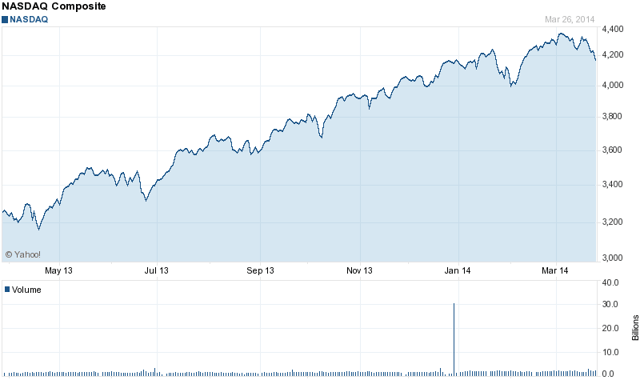 Source: Yahoo Finance
We have economic news today, and it is as follows:
Initial Claims (8:30 a.m. EST): Est: 330k Act: 311k
Continuing Claims (8:30 a.m. EST): Est: 2900k Act: 2823k
GDP-Third Est (8:30 a.m. EST): Est: 2.6% Act: 2.6%
GDP Deflator-Third Est (8:30 a.m. EST): Est: 1.6% Act: 1.6%
Pending Home Sales (10:00 a.m. EST): Est: -0.2% Act: -0.8%
Natural Gas Inventories (10:30 a.m. EST): Est: N/A Act: -57 bcf
Asian markets finished mixed today:
All Ordinaries -- down 0.50%
Shanghai Composite -- down 0.83%
Nikkei 225 -- up 1.01%
NZSE 50 -- up 0.03%
Seoul Composite -- up 0.70%
In Europe, markets are trading lower this morning:
CAC 40 -- down 0.25%
DAX -- down 0.15%
FTSE 100 -- down 0.49%
OSE -- down 0.81%
Breaking Up
Sometimes you have to break up in order to make up, and in Baxter International's (NYSE:BAX) case it means time to make up lost gains. This morning Baxter announced plans to split into two companies, one will focus on biopharmaceuticals while the other entity will focus on medical devices. If history is any indication, this should be a good move for shareholders as they will now have two horses in the race with sharp focuses on their respective markets.
After its strong run from the late 1990s and early 2000s, the stock has barely moved higher over the last decade. This break up should help improve results as each company will be able to better focus upon their businesses.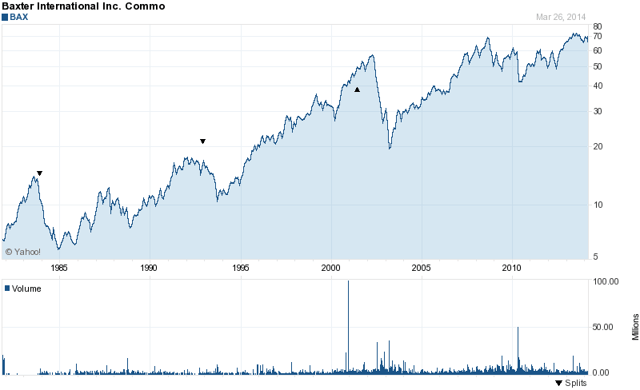 Source: Yahoo Finance
The medical devices company will be what is Baxter International, but the biopharmaceuticals company will be the spin out to shareholders. This plan still needs final approval from the Baxter board as well as favorable rulings on the tax status of the transaction to shareholders.
Biotech On The Run
Yesterday shareholders of Keryx Biopharmaceuticals (NASDAQ:KERX) rose not on news regarding their experimental drug and its effectiveness but on news that currently proposed legislation would benefit the company and its dialysis drug (assuming it is approved). The bill, as it stands now, would protect dialysis drugs and their makers until 2024 by preventing them from being lumped into a bundle of services that the government pays for.
The news, along with comments about the legislation from the company's CEO sent the shares up over 17% yesterday as investors reevaluated the valuation on the higher payouts from the government run Medicare program.
Satellite Hook-up?
In an interesting twist of events, reports that broke yesterday indicate that the major satellite companies here in the US might be looking to combine in the wake of the consolidation that has been occurring between their large cable competitors. The reports indicate that Dish Network (NASDAQ:DISH) chief Charlie Ergen contacted DirecTV's (NYSE:DTV) boss about a potential merger in response to Comcast's (NASDAQ:CMCSA) latest acquisition which would effectively make the company a national player in delivering television and internet to American homes.
Dish Networks is certainly in play, whether they are a buyer or seller remains to be seen but they will either combine with another content provider or get purchased for their spectrum assets.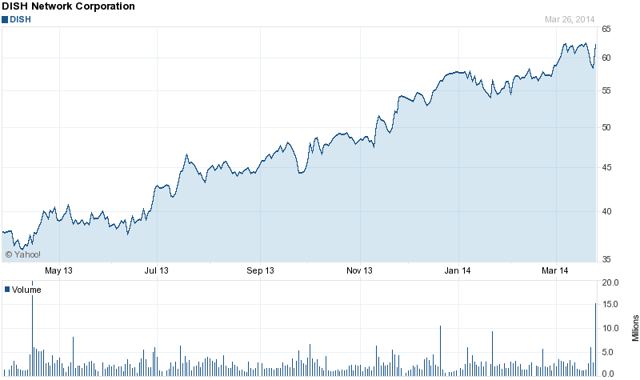 Source: Yahoo Finance
Both Dish and DirecTV saw their shares rise, with Dish actually hitting a 14-year intraday high on the session. With Mr. Ergen having missed out on every deal he attempted in the telecommunications market this might be the deal he needs to keep his company relevant as he continues to look for ways to monetize the large spectrum holdings Dish Networks holds. There have always been questions about the regulatory hurdles of a Dish Network and DirecTV deal, but if it went before the regulators at the same time as the Comcast deal does there is a better chance that both deals could be approved as it would create two large national players.
Disclosure: I have no positions in any stocks mentioned, and no plans to initiate any positions within the next 72 hours. I wrote this article myself, and it expresses my own opinions. I am not receiving compensation for it (other than from Seeking Alpha). I have no business relationship with any company whose stock is mentioned in this article.