I have been a holder of Devon Energy (NYSE:DVN) since it sold in the low $50s in 2013. The stock spent most of the last year mainly marking time. I added to my holdings on almost every dip, and Devon makes up one of my largest positions in the energy sector.
I believe the company can transform itself along the lines of Hess Corp. (NYSE:HES), which provided huge returns to my portfolio in 2013. Devon is finally starting to move up in a big way in 2014, even in a relatively flat and increasingly volatile market. I believe the company's and stock's best days still lay ahead.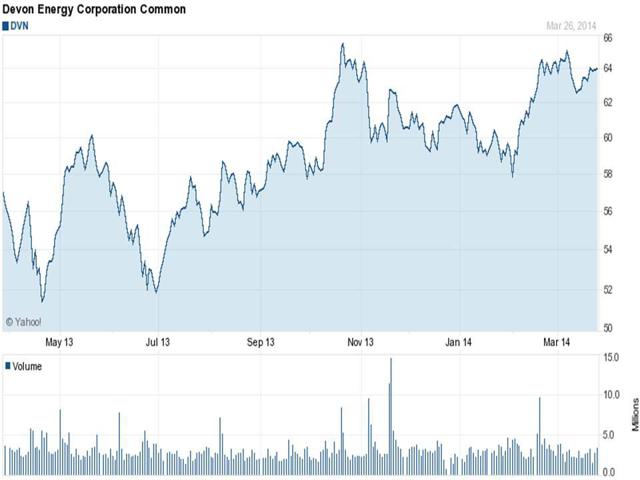 Recent Catalysts:
In early March, the company announced a 9% bump in its dividend payout. The shares now yield 1.5% at these levels. Also in March, Devon completed a merger of its midstream business with Crosstex Energy (XTXI). The combined company was then spun into general partner and master limited partnership securities, respectively -- EnLink Midstream LLC (NYSE:ENLC) and EnLink Midstream Partners LP (NYSE:ENLK) -- that will be controlled by Devon.
Devon announced in February it would sell some of its liquids-rich natural gas assets in Canada and six natural gas plants for $2.86B to Canadian Natural Resources (NYSE:CNQ). These properties produced the equivalent of 383M cubic feet of natural gas per day, 10,800 bpd (barrels per day) of light crude oil and 12,000 bpd of natural gas liquids.
This will allow Devon to allocate additional funds to grow oil production in its other assets so that oil makes up greater portion of overall production. The company made a $6B acquisition late in 2013 to increase its acreage in the fast-growing oily region of Eagle Ford. Oil production grew better than 20% in 2013.
Natural gas prices hit four-year highs in late January. Natural gas prices have fallen back some 10% since then, but are still much higher than at this time this year. This should bolster future cash flow from natural gas production as new hedges are initiated.
Valuation:
Devon has one of the best-projected earnings trajectories among the mid-majors. Earnings came in at $4.26 a share in FY2013. Current consensus calls for over $5.50 a share of profits in FY2014 and $6.30 a share in FY2015.
Revenues are expected to bump up ~20% this fiscal year and in the upper mid-digits in 2015. The shares are cheap at just over 5x operating cash flow and just over 10x 2015's projected EPS. The company has beat consensus earnings estimates for six straight quarters.
Summary:
Devon Energy is executing on its plans to transform itself to a more focused onshore North American E&P play. The shares are still attractive on a valuation basis, and I believe the best days are ahead for this company and stock. I booked ~60% gains on Hess last year on its successful transformation. I am hoping to do the same with my stake in Devon. BUY
Disclosure: I am long DVN. I wrote this article myself, and it expresses my own opinions. I am not receiving compensation for it (other than from Seeking Alpha). I have no business relationship with any company whose stock is mentioned in this article.