The IMF has now moved to supply Ukraine with the funds they need, but citizens there will see a steep rise in their energy bills. We did notice that Ukraine has been cutting off water and electricity to Crimea to create headaches for Russia, but this will not last for a multitude of reasons. The proverbial line in the sand has been drawn by the West here, and with that, it seems logical to us that both Russia and the US will allow tensions to ease.
We are holding our MLP positions still, but might look at the possibility of lowering our exposure to the sector, as interest rates appear headed higher. A move would not be taken in the next couple of weeks, but rather a few months down the road, and most likely at the end of Q3 or early Q4. We just need further data on the economy and how the Fed is leaning.
Chart of the Day:
Palladium continues to remain strong, and we are watching and waiting for the next fall. We were correct the first time, and think that this most recent spike will lead to another pullback, this one longer in duration. Remember, markets can always move against you for a longer period of time than you can go against them, and this is beginning to be a battle of attrition for the bulls and bears. Ultimately, we think a pullback occurs; a pullback that lasts for a few weeks, not sessions.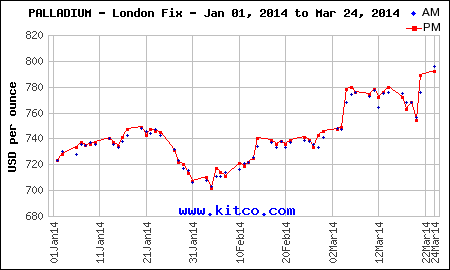 Source: Kitco
Commodity prices this morning are as follows:
Gold: $1,197.10/ounce, down by $6.30/ounce
Silver: $19.71/ounce, down by $0.07/ounce
Oil: $101.44/barrel, up by $1.18/barrel
RBOB Gas: $2.9358/gallon, up by $0.0269/gallon
Natural Gas: $4.467/MMbtu, up by $0.065/MMbtu
Copper: $2.991/pound, up by $0.0255/pound
Platinum: $1,398.00/ounce, down by $8.50/ounce
Bullish On Chesapeake?
This is actually one of the most popular questions we get from readers, either at the bottom of our articles in the comment section, via direct message or through email. It is not always an easy question to answer when speaking in general terms, because the answer can be pretty misleading if not put into context. So long term, are we bullish on Chesapeake Energy (NYSE:CHK)? Yes.
However, that statement needs to be qualified, because we are bullish on the entire sector and think that Chesapeake is well-positioned to benefit from an improving US economy. We also think that other E&P names will do better, including some that are right around the same market capitalization of Chesapeake. What we do like is that the company is simplifying its business model and getting rid of debt by spinning off assets, such as its in-house oil services company. The new CEO is making a lot of good moves that will ultimately benefit shareholders in the long term, but over the next year or so, we see little to move the stock in a way that would enable it to outperform peers. So yes, we like the name, but we think that there might be a better time down the road to place a buy order.
Steel Breaking Out?
It sure appears that some of the steel names are breaking out and set to move higher still if they can move through some levels which appear to hold resistance. US Steel (NYSE:X) has had a solid move higher after hitting the $24/share level, and is now hitting up against $28/share, a level we think could be a springboard if the shares can break through it.
We like US Steel, but AK Steel looks like it could run a bit further on a percentage basis during any breakout.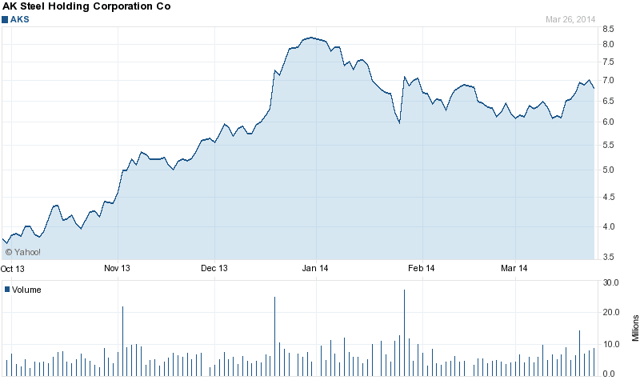 Source: Yahoo Finance
Better yet, AK Steel (NYSE:AKS) has also risen sharply lately, and it too appears set to test resistance. Looking at the chart, and factoring in recent economic data around the world, it would seem to us that AK Steel could have further to run if the shares can break above the $7/share level - a level which has proven time and again to be a strong resistance. For those looking for a trade in the commodity space, and specifically the steel sector, AK Steel looks like it might be the best bet, as it appears to have the most upside on a breakout.
Natural Gas
With natural gas seeing strong demand and storage supplies being drawn down still, it is our opinion that some of the low-cost producers might be a buy at these levels. Let us be clear, however, we are not bullish on natural gas prices at this time, as we believe they will continue to flatten out, so readers should not be buying the United States Natural Gas Fund (NYSEARCA:UNG) to try to profit. Instead, the focus should be on names such as Rex Energy (NASDAQ:REXX), which has acreage in both the Marcellus and Utica shales, and continues to have success in its drilling programs. The press release that the company issued yesterday after the market close also leads us to believe that this quarter and possibly the entire year will surprise investors (see press release here).
The recent chart looks ugly, but on the bright side, it does appear that we are near a low, if not already at it. It will be key to see if support holds.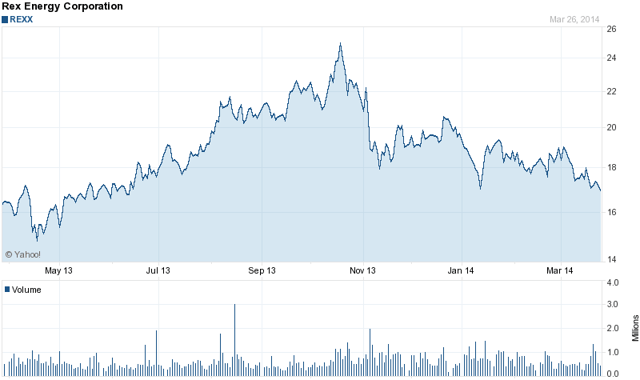 Source: Yahoo Finance
Names with low-cost production, which are growing their production bases, are the way to play commodities, and most certainly, the way to play the oil and natural gas E&Ps.
Disclosure: I have no positions in any stocks mentioned, and no plans to initiate any positions within the next 72 hours. I wrote this article myself, and it expresses my own opinions. I am not receiving compensation for it (other than from Seeking Alpha). I have no business relationship with any company whose stock is mentioned in this article.