In last week's FOMC statement, the Federal Reserve indicated it will be further tapering its bond buying program by $10 billion per month, a reduction to $55 billion. Also, in her own statement last week, Federal Reserve Bank Chairman Janet Yellen surprised the markets by hinting that the Federal Reserve Bank may also begin to raise its prime lending rate six months sooner than most bankers and market analysts had expected.
In addition to these changes at the Fed, last week The Conference Board Leading Economic Index, the LEI, was reported to have increased .5% overall in February. This overall increase in the LEI, along with its current sector by sector balance, indicate that an increase in economic activity may be on its way in several months. Increased economic activity often spurs the demand for money, which also tends to put upward pressure on interest rates, ceteris paribus. This too could impact bond market prices.
After spending several days digesting this important fundamental news, the long bond market rallied strongly on Friday, and is now challenging key technical resistance this midweek. Resistance occurs in the $109 price area measured by the popular iShares 20+Year Treasury Bond TLT ETF. Yesterday's TLT closing price was $109.44.
Long bonds have failed to rallying past this key resistance level in four attempts since late July last year. Yesterday's positive bond market price action was critical support for bond market bulls. The long bond may now be ready to break out from this key resistance level and begin a run to the upside.
Yesterday's positive price action included upside momentum in many of the key bond market cycles followed by traders and investors. In some cycles, it also included additional upside price momentum pivoting as well. The important weekly cycle, the monthly cycle, the two-month cycle, the quarterly cycle, the annual cycle, the two-year congressional cycle, and the four-year presidential cycle are each currently projecting positive upside price momentum going forward. Holding gains above the $109 level the remainder of this week, and into next Wednesday, would be a very positive setup for the long bond.
Yesterday's strong and timely price action, and its positive directional implications for long bond market prices, especially within the popularly watched and traded quarterly cycle, are highlighted in the charts that follow.
TLT ETF 3-month Hourly OHLC Quarterly Perspective
With Quarterly Cycle EchoVector (White)
Bi-Monthly Cycle Momentum EchoVector (Yellow)
Monthly Cycle Momentum EchoVector (Peach)
Tri-Weekly Cycle Momentum EchoVector (Grey)
Bi-Weekly Cycle Momentum EchoVector (Yellow)
Weekly Cycle EchoVector (White)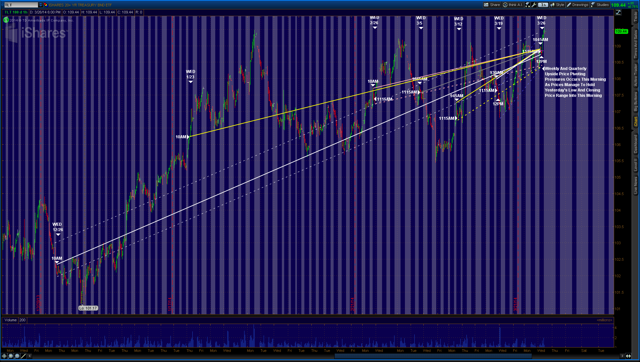 TLT ETF zoom of the chart above to show the 1-month hourly OHLC perspective and other weekly cycle perspectives within the current quarterly cycle of the chart.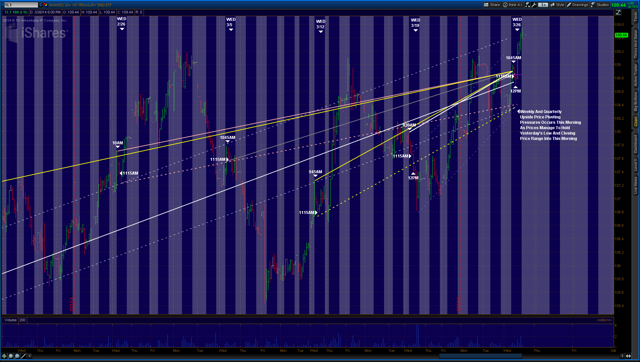 To view the longer annual cycle, congressional cycle, and presidential cycle perspectives, which highlight how bond prices are coming into positive price uplift periods in each, see this past Monday's article titled "Long Bond Treasury Cycles, Current Price Resistance And Fed Chairman Yellen's Comment Impact."
Disclosure: I have no positions in any stocks mentioned, and no plans to initiate any positions within the next 72 hours. I wrote this article myself, and it expresses my own opinions. I am not receiving compensation for it. I have no business relationship with any company whose stock is mentioned in this article.