Facebook (NASDAQ:FB) shares have mounted an impressive rally since hitting the $22.67 low in June 2013 (see Chart). In valuation terms, investors have enthusiastically bid up the value of the company from $58 billion at its lows in June 2013 to $185 billion at its $72.59 peak just two weeks ago. While a three-fold top-to-bottom move in about ten months is certainly impressive, it is all the more unparalleled given its size. Only Apple's (NASDAQ:AAPL) move from $90 in early-2009 to over $700 in late-2012 is comparable, rising six-fold while adding ~$540 billion in market-cap in about three-and-a-half years.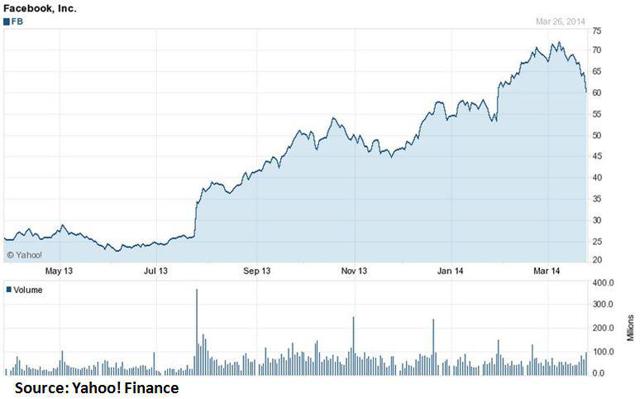 Since hitting the peak, Facebook shares have fallen off ~17% at Wednesday's $60.39 close, giving back more than $31 billion in valuation. While value investors will still almost certainly balk at its current valuation of 36x fwd. P/E, 17x fwd. EV/ EBITDA and 8.0x fwd. PSR, based on year 2015 projections, the shares could soon be approaching buy territory for many GARP (growth-at-a-reasonable-price) investors like ourselves.
With analysts projecting five year fwd. growth rates in the 31.8% range, it gives Facebook shares a PEG (P/E over growth) ratio of between 1.0-to-1.1 based on next 5-year earnings projections. But there is no agreement in the investing community on how to calculate the PEG ratio, whether to use current or projected P/E ratios, or whether to use current, next year or next 5-year growth rate projections. So alternatively using the current P/E of 68.6 and its TTM (trailing-twelve-month) growth rate of 66.0% gives us a PEG ratio of still between 1.0-to-1.1. Generally, GARP investors look for PEG ratios of less than 1.0, so Facebook shares are rapidly approaching buy territory, especially if the market weakness continues going forward.
Besides a valuation and detailed fundamental analysis, we also consider an analysis of the moves of leading institutional money managers as imperative before pulling the trigger on a stock. On our site, GuruFundPicks.com, we track the collective or consensus buying and selling of over 330 of our hand-picked leading Wall Street fund managers, based on their latest 13-F and SC 13D/G 5% ownership filings. Their ownership change over multiple quarters, and net buying and selling, both in shares and in number of funds, and the percent outstanding shares held by these leading funds, especially when compared to similar sized peers in the same industry, is like reading tea leaves. It gives us the extra edge, increasing the probability of making the right decision, and in many cases saving us from making a wrong decision on a stock.
The collective or consensus buying and selling activity of these leading fund managers in Facebook in the latest 4Q/2013 is shown in the Table below.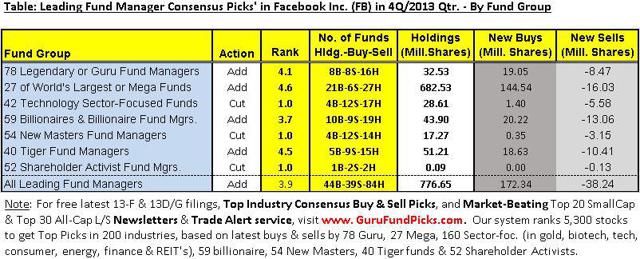 Our hand-picked 330+ leading fund managers collectively own 776.65 million or 30.5% of the outstanding shares. In comparison, these leading fund managers own a far greater proportion of the outstanding shares in peer mega-cap tech companies, averaging at about 39.1%. This includes their collective ownership of 35.9% of Apple, 34.3% of application software provider Oracle (NYSE:ORCL), 41.3% of telecom equipment company Qualcomm Inc. (NASDAQ:QCOM), 42.0% of internet search, content and services giant Google (NASDAQ:GOOG), and 42.0% of computer networking company Cisco Systems Inc (NASDAQ:CSCO). This under-ownership by leading funds in Facebook leaves room for further accumulation by them in the future, especially if they get a chance to accumulate shares once again at lower levels.
Among leading funds, 79 legendary or guru fund managers, those with a long-term record of consistently beating the markets, including the likes of Warren Buffett, Steven Cohen, Chase Coleman and others, were the most bullish, collectively adding 10.59 million shares or 48% to their prior quarter holdings of 21.94 million shares. Also, 27 of the world's largest or mega funds, with combined assets under management of well over $30 trillion, were bullish, adding 128.51 million shares or 23% to their prior quarter holdings of 554.02 million shares. Besides guru & mega fund managers, billionaires and tiger fund managers were also bullish on Facebook, adding 19%-20% to their prior quarter holdings in the company. Collectively, all 330+ leading fund managers added 134.10 mill. shares or 21% to their prior quarter holdings of 642.55 million shares.
The largest leading fund holders of Facebook shares are:
Mutual fund company FMR or Fidelity Investments, with $1.6 Trillion in AUM, that holds 141.79 million shares, including adding 23.64 million shares in 4Q'13;
Investment management company Vanguard Group, with $2.1 Trillion in AUM, that holds 86.31 million shares, including adding 27.59 million shares in 4Q'13; and
BlackRock, the world's largest and most prominent asset manager, with $3.6 trillion in assets under management, that holds 80.29 million shares, including adding 16.26 million shares in 4Q'13.
Besides the most recent 4Q'13, our database of Consensus Picks' activity by leading fund managers shows that they accumulated Facebook shares in six out of the last seven quarters, since its IPO in May 2012, as illustrated in the Table below.

Leading fund ownership of Facebook in just the last 2 quarters has gone up by 63.4% or 297.32 million shares from 479.37 million shares two quarters ago, at the end of June 2013. In our experience, this 63.4% increase in leading fund ownership in just two quarters is uncommon and significant, especially when coming on top of accumulation in three of the prior four quarters, conveying in no uncertain terms the bullishness of leading fund managers on Facebook shares. Overall, about a quarter of 330+ leading funds own Facebook shares, an increase from the 61 leading funds that owned it just two quarters ago.
As illustrated in the Table, the stock has generally traded in the 1.0 to 1.4 PEG range since its IPO, based on 2 years out forward earnings and an estimated annual growth rate based on analyst projections for earnings two years out. At Wednesday's end-of-day close of $60.39, shares trade at 1.0-1.1 PEG ratio, thereby approaching the lower end of the valuation range at which Guru funds have accumulated shares in the past. The stock is also approaching 20% correction off of recent highs, equal to the maximum correction that shares have suffered in the run-up from last June, and it is also not too far from its 200-day moving average in the $48 range.
We believe that concern over the strategy and valuation of recent acquisitions, including the $19 billion purchase of WhatsApp and $2 billion purchase of Oculus, combined with the market weakness, will continue to push shares lower in the interim, giving investors to accumulate shares at lower levels. Meanwhile, the long-term fundamentals continue to remain attractive, with valuation approaching the bottom of its historical trading range, while it continues to gain traction and market share in the online ad market. We believe that shares can be safely accumulated if prices fall into the mid-$50's, at which point downside would be limited to ~10% while the upside is easily at least in the $75 range, based on a target PEG ratio of 1.4, giving us a favorable risk-to-reward ratio of over 3.0. As a strategy, we would start accumulating shares here, buying a third, and then adding a third every time price drops another $3 to $5 towards the 200-day moving average, currently in the $48 range.
Disclosure: I have no positions in any stocks mentioned, but may initiate a long position in FB over the next 72 hours.
Business relationship disclosure: Business Relationship Disclosure: The article has been written by the Hedge and Mutual Fund Analyst at GuruFundPicks.com. GuruFundPicks.com is not receiving compensation for it (other than from Seeking Alpha). GuruFundPicks.com has no business relationship with any company whose stock is mentioned in this article.
Additional disclosure: Additional Disclosure: Use of GuruFundPicks' research is at your own risk. You should do your own research and due diligence before making any investment decision with respect to securities covered herein. You should assume that as of the publication date of any report or letter, GuruFundPicks, LLC, has a position in all stocks (and/or options of the stock) covered herein that is consistent with the position set forth in our research report. Following publication of any report or letter, GuruFundPicks intends to continue transacting in the securities covered herein, and we may be long, short, or neutral at any time hereafter regardless of our initial recommendation. To the best of our knowledge and belief, all information contained herein is accurate and reliable, and has been obtained from public sources we believe to be accurate and reliable, and not from company or persons who have a relationship with company insiders. Also, in our preparation of this article, we referred investor resources such as Zacks.com, Marketsmith and Sentieo.