In March 2014, Facebook (NASDAQ:FB) announced it will acquire Oculus VR, a maker of virtual reality glasses for gaming, for $2 billion in a cash stock deal. The deal is expected to close in the second quarter of 2014. In this article, I will discuss the fundamentals, rewards and risks associated with this deal.
Fundamentals
1) EPS dilution
The deal involves $400 million in cash, and 23.1 million shares of Facebook's common stock valued at $69.35 per share. The stock portion of the deal is based on the average closing price of the 20 trading days preceding March 21, 2014. The deal includes for an additional payment of $300 million in cash and stock, which will depend on the achievement of certain targets.
Last month, Facebook acquired WhatsApp for $12 billion in Facebook stock, and $4 billion in cash. The Oculus acquisition will further lead to EPS dilution.
2) Revenue
Oculus VR sold 60,000 units of the first development kit at $300 per unit, totaling $18 million in revenue. In February 2014, the company had to stop production of this version as demand exceeded company's expectations, and few components used in the development kit were no longer manufactured.
In January 2014, Oculus VR showcased the prototype of its virtual reality headset at the annual Computer Electronic Show (or CES), after making improvements to latency and blurring, as well as adding a new positional tracking using an external camera. The Rift Development Kit 2 can be pre ordered for $350 and it will be shipped in July 2014. If I assume that Rift Development Kit 2 sells at least 100,000 units in 2014, then it can generate $35 million revenue this year.
Rewards
1) Access to virtual reality market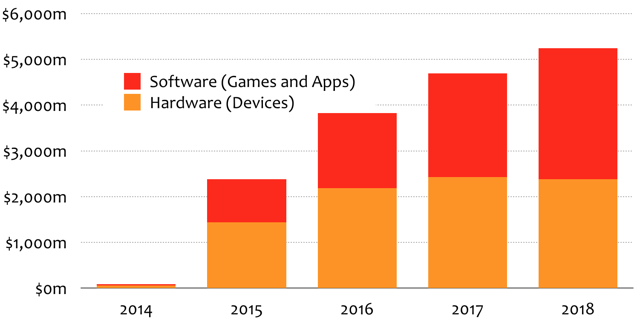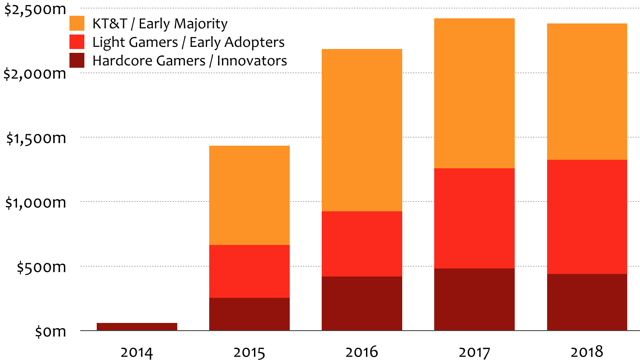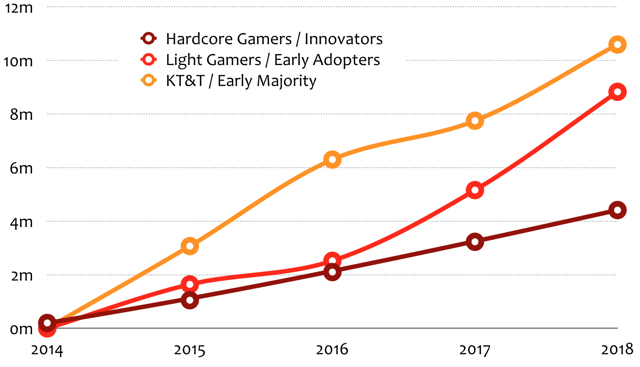 Source: Kzero, Note: KT&T indicates Kids, Tween, and Teen
Virtual reality can be applied in gaming, shopping, education, and communication. This market, composed of hardware devices and software, is expected to touch $5.2 billion in 2018 from $90 million in 2014. Although hardware unit sales are expected to increase over this period, price per unit is expected to decrease as competition increases in this market. Oculus VR's business is focused on gaming. Through this acquisition, Facebook has gained access to the emerging virtual reality market.
2) First mover advantage
Oculus VR started with Kickstarter campaign in September 2012, raising $2.4 million. In 2013, the company has received $91 million in total through Series A and Series B funding. Oculus VR has first mover advantage in the virtual reality market. Through this acquisition, Facebook has provided Oculus with the capital that can enable it to compete with new players in this market.
Risks
1) Product success
The Rift Development Kit 2 headset is yet to reach the customers. The virtual reality market is an emerging market. The future of this acquisition depends on the growth of this market, as well as the success of Oculus VR's products.
2) Competition
In 2013, Sony (NYSE:SNE) sold more than 4.2 million PlayStation 4 (or PS4) consoles. In March this year, Sony announced the development of Project Morpheus, a virtual reality system that will take PS4 to a new level of experience. Morpheus features head mounted display and works with the PlayStation camera to deliver a virtual reality experience. Morpheus adopts 3-D audio technology that recreates stereoscopic sounds. Developers will be able to create Morpheus content for PS4 platform.
Microsoft (NASDAQ:MSFT) has sold 3 million Xbox units in 2013. The company may also launch a virtual gaming experience feature for Xbox products. Thus Oculus may face competition from the existing gaming players.
Conclusion
I would conclude by saying that the virtual reality market is an emerging market with significant growth potential as well as competition. If Oculus succeeds in developing a dominant position, then this deal will enable Facebook to enhance its revenue and diversify its business in the long run. If the virtual reality market doesn't grow or if Oculus VR's products fail, then this will lead to failure of this deal.
Disclosure: I have no positions in any stocks mentioned, and no plans to initiate any positions within the next 72 hours. I wrote this article myself, and it expresses my own opinions. I am not receiving compensation for it (other than from Seeking Alpha). I have no business relationship with any company whose stock is mentioned in this article.