Arkansas has a lot to offer - decent weather, lakes and forest, inexpensive housing. But, it's the state's regional banks that should draw investor's interests. Three banks stand out: Bank of the Ozarks (NASDAQ:OZRK), Home Bancshares (NASDAQ:HOMB), and Simmons First National Corporation (NASDAQ:SFNC). Each has set on a course of aggressive acquisitions. In aggregate, they have made an astounding 27 acquisitions since 2010 (SFNC-2 live, 4 dead; OZRK-4 live, 7 dead; HOMB-7 dead, 2 live, 1 bankruptcy). Outside their Arkansas home base, each has focused on different regions of the country to make their acquisitions. OZRK has gravitated to Texas, the Carolinas and Georgia. HOMB has focused on Florida. SFNC has purchased Missouri and Kansas properties. (I've always gotten the feeling they got into one small room and divided up the country.)
However, the three financials are all keenly active in consolidating Arkansas banking. It has been tit for tat. Home Bancshares bought Liberty Bank. Soon after, Bank of the Ozarks purchased Summit Bancorp. Simmons First National Corporation just announced it is buying Delta Trust & Bank. No wonder: Otherwise, Simmons First might have been left standing at the curb as it watched Home Bancshares and Ozarks drive away with all the banking goodies left in Arkansas.
Delta definitely is appetizing. It's a $430 million asset 9-branch Arkansas bank with a large and profitable Trust department, an excellent efficiency ratio, a strong ROA and maintains stellar credit quality. Simmons First is paying 1.65X TBV, a bit pricey but this is a quality financial.
I've set a buy rating for Ozarks and Home Bancshares. What should investors do about Simmons First ?
Simmons First is certainly the cheapest of the three on a P:TBV basis. However, this is a case where the "relatively" low valuation should not lure investors in. Simmons First lives and breathes M&A, but it may be reaching the end of its acquisitive ways for a simple reason: Its balance sheet is strained. Tangible equity was already stretched with TCE/TA at 7.2% before the Delta deal. Delta is being purchased with $56 million in stock and $10 million in cash. The emphasis on stock makes sense, because SFNC cannot afford more cash. Unfortunately, the $4 million merger expenses cannot be done in stock and the cash burn will likely curb any more takeovers - even all stock deals - without going to the equity markets to raise money.
Simmons First is at a disadvantage to cash-rich Ozarks and Home Bancshares in another way: Its stock currency is by no means as strong. Simmons First trades at a 2X TBV while Ozarks and Home Bancshares go for north of 4X TBV. The Delta deal was done at 1.65X TBV. Future acquisitions are going to require heavy share dilution unless Simmons First can expand its TBV multiple. Ozarks and Home Bancshares have the luxury of both a highly valued stock and strong TCE/TA - they have plenty of fire power. While Simmons First swears its capital constraints won't keep it away from the shopping aisle, I am not so sure. Moreover, Simmons First has to compete with better healed Ozarks and Home Bancshares for both customers and takeover targets.
The High Cost Disadvantage
For way too long, cash has been eaten away by some pretty gross inefficiencies. For instance, its 7 community banks operate under different charters - a situation inherently inefficient. Moreover, the bank has too many branches. Its 131 branches hold $3.7 billion in deposits. Their Main Street, Pine Bluff office has $420 million in deposits, leaving a scant $25 million of deposit on average to each of the other 130 branches. Twenty-nine branches hold under $15 million in deposits, suggesting a heavy dose of branch consolidation would be in order. These problems have been going on for years. The efficiency ratio has been running in the 70s for years, finally hitting 79% for 2013. While merger costs play a role, Ozarks and Home Bancshares maintain efficiency ratios in the 40s despite their heavy M&A.
This has put the bank at an operational disadvantage. Simmons First generated $23,600 of normalized net income per employee in 2013, well under Ozark's $74,400 and Home Bancshares $54,000 (sourced from 10ks).
Despite giving lip service to getting its costs under control, the company didn't tackle these elephants in the room - it was running 7 separate bank charters and keeping open way too many branches. In fact, Thomas May, their previous CEO, noted the problem in 2009:
As you well know the efficiency ratio has been impacted at least to some degree by the number of locations that we have compared to our relative size. Likewise, it has been impacted by the model that we have of the company and the acquisitions that we have done since 1995.
Finally, it looks like Simmons First is taking needed action. The bank plans on putting its 7 banks under one charter this August, an important step in the right direction. In addition, Simmons First intends to close 27 branches, all in Arkansas. Although long overdue, SFNC seems to have a credible plan to gain control of its burdensome noninterest expenses. While the move is necessary, terminating 27 branches will pressure their bottom line in the short-term.
Inefficiency And High Cost Has Led To Stagnation
Escalating noninterest expenses (up 29% since 2009) have eaten away at the bottom line as net income fell $2 million, or 8%. That's despite the completion of 5 acquisitions. Tangible equity has flat-lined since 2009. Operational inefficiencies have knocked down the company's ROA and ROE to a sub par 0.64% and 5.3%. Without more acquisitions, investors will likely focus on the bank's lack of execution.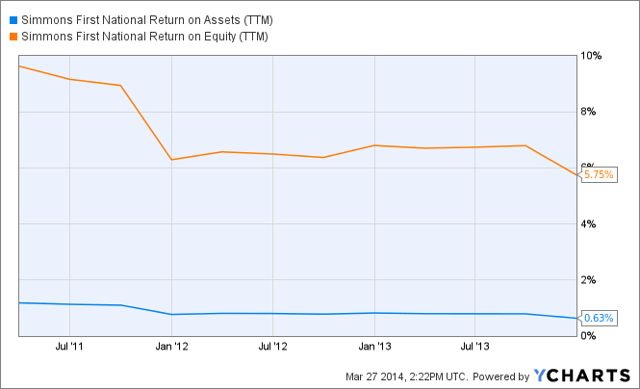 Bottom Line
Until Simmons First can work out a solution to its stretched balance sheet , the Arkansas bank should bag its bank shopping. However, the bank deserves kudos for its plan to streamline operations. The closing of 27 Arkansas branches and the consolidation of its 7 banks into one charter should help bring costs in line with its competitors. While there is much to like about SFNC, the bank needs to digest its acquisitions, close branches, and shore up its tangible equity. Investors should AVOID Simmons First for now but I would keep an eye on this one. If SFNC makes good on its pledge and builds some more tangible equity, this avoid suggestion will quickly morph into a buy.
Disclosure: I am long OZRK, HOMB. I wrote this article myself, and it expresses my own opinions. I am not receiving compensation for it (other than from Seeking Alpha). I have no business relationship with any company whose stock is mentioned in this article.
Additional disclosure: The opinions in this document are for informational and educational purposes only and should not be construed as a recommendation to buy or sell the stocks mentioned. Past performance of the companies discussed may not continue and the companies may not achieve the earnings growth as predicted. The information in this document is believed to be accurate, but under no circumstances should a person act upon the information contained within. We do not recommend that anyone act upon any investment information without first consulting an investment advisor as to the suitability of such investments for his specific situation.