Yes, we've heard the news and seen all the leaked photos and reports of the new (ahem, alleged) iPhone 6. We get it. It has a bigger screen and few other bells and whistles. But, sorry to tell you, Apple (NASDAQ:AAPL), most of this has already been done by Samsung's (OTC:SSNLF) Galaxy S IV and the HTC One, which both run on Google's (NASDAQ:GOOG) Android system.
At some point soon, there's going to be a limit to what can be accomplished with a smartphone. Google and its hardware partners are already working on the next generation of smart devices, including smart watches (second gen version by Samsung due out shortly) and the infamous Google Glass. Apple seems far behind in this respect.
We understand that a lot of people still own iPhone 4 and 4S and are waiting for a reason to refresh and that iPhone 6 will give them a very compelling reason to do so. So, yes, Apple will get a pop but is it enough to make a case for investing in that stock now? Or is your money better invested in Google? Let's take a closer look.
Here are one year charts of GOOG and AAPL: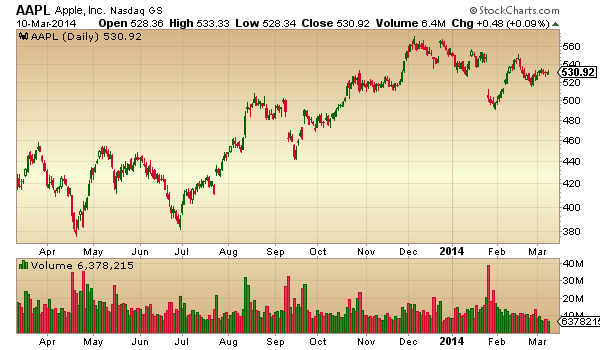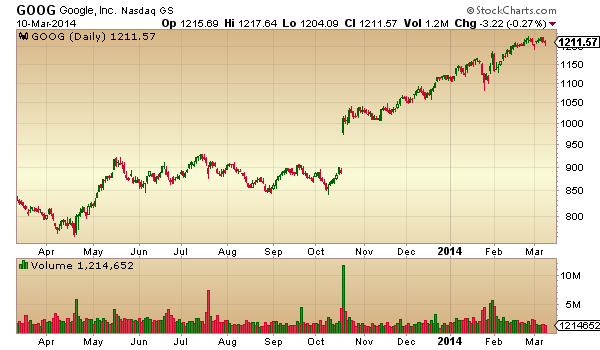 From a technician's viewpoint, here's what we see:
AAPL had a pop from August to December, which is not unexpected as it coincides with the iPhone 5 refresh
AAPL crossed above its 200 day Simple Moving Average [SMA] for the first time in August 2013 and continued to stay there for the remainder of the calendar year
GOOG continued to stay above its 200 day SMA for all of 2013
GOOG had a pop just after Q3 earnings, which, again, is not unexpected when you look at seasonal chart patterns for this stock. It has had a significant move to the upside in four of the last five years after Q3 earnings release.
So, what does all this mean? It means that investors are continuing to put buying pressure on GOOG and seem ambivalent about AAPL. They want to see just how great the new iPhone 6 will be before investing their money in a tired growth story.
When we look at some of the fundamentals, here's what we find:
Cash Per Share:
GOOG - $176.41
AAPL - $45.43
The numbers above, as per Google's most-recent 10-K and Apple's most recent 10-Q, do not take into account any long-term marketable securities. We understand that Apple has a mountain of cash sitting in long-term investments, which we find somewhat disconcerting from a growth perspective. $118B of its total $158B is in long-term marketable securities. On Google's end, almost all of its $58B+ is in current assets. This shows Google's willingness to be more nimble in acquisitions and deploying cash for growth strategies. We recognize that some of Google's growth strategies may not have worked out as well as expected (i.e. Motorola). However, we feel that risk of failure comes with aspirations of growth.
Dividend Per Share:
AAPL - $12.20/share
GOOG - NIL
On first blush, this is clearly a win for AAPL. But is it really? I suppose that depends on your investing objectives. For someone like my parents who would want a relatively stable investment, AAPL would be a better fit. It would throw off at least $12 in cash per share to them every year and, considering the stock's almost-perfect beta of 1.01, would be a less volatile investment than GOOG with no dividend and a slightly higher beta of 1.15.
From a growth perspective, we feel that there is much to be interpreted from these numbers. It shows that AAPL is running out of investing opportunities and being forced to return cash to investors. They have had a well-publicized stock buyback program and activist investors such as Carl Icahn, whom we hold in high regard for their ability to foresee future trends, are forcing them to face the fact that their growth story may be coming to an end.
GOOG has had no inkling to declare a dividend. Some pundits have hypothesized on why it would be beneficial for them to do so. We understand that. We understand that declaring a dividend would bring in a new type of investor (i.e. my parents) and that demand for the stock may be waning, as we noted the topping action currently forming on the daily chart (see below or click here for the video).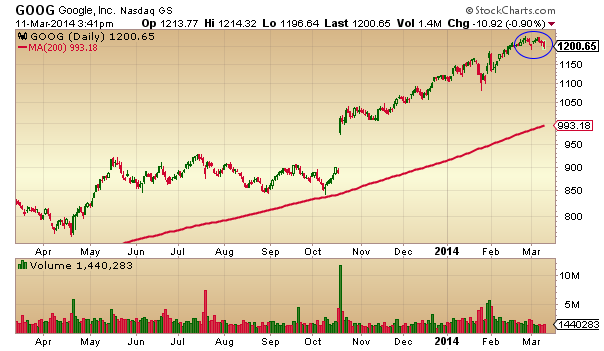 So, yes, we recognize the benefits of declaring a dividend for GOOG. However, as we saw with its recent acquisition of Nest Labs, Google's ambitions and prospects for growth are still strong. With their $3.2 billion investment in Nest, they bought a significant presence in the growing area of smart home services. Investments like these are the reason for GOOG to keep its cash and be ready to write a check when the right opportunity comes up.
EPS (Per Most-Recent Company 10k):
GOOG - $38.13 - Class A Fully Diluted
AAPL - $39.75 - Fully Diluted
This looks like another clear win for AAPL. In this case, we'll concede from a value perspective because we'd much rather pay $531.00 per AAPL share and have $39.75 of earnings than pay $1212.00 for nearly the same earnings. It's the theory that Warren Buffett espouses whereby the question becomes how much would you pay for a share in a company if you knew what the amount of return was per share. In this case, AAPL clearly is the winner.
So, why would you even consider investing in GOOG when the EPS argument is so clear? Let's look a bit more deeply into what has been happening with each company's EPS over the years. Here's a summary:
GOOG

AAPL

2011

$29.76

2011

$27.68

2012

$32.31

2012

$44.15

2013

38.13

2013

$39.75
Whenever we notice a drop in earnings, as we did with AAPL from 2012 to 2013, it always causes concern. To us, you can't have a growth story that has an asterisk, as AAPL does with the earnings drop. GOOG, on the other hand, has had a wonderfully consistent upward trajectory, which we find to be a good indicator of continued growth.
Revenue Growth:
GOOG and AAPL have both been on a tear when it comes to growing their revenue. From the chart below, you can see that both stocks would qualify as a growth story.
Look at the trajectory of the respective stocks from 2011 to 2012. Revenue at GOOG increased from $37.86B to $49.96B, or 32%. AAPL revenue, from 2011 to 2012, increased by 43.6% , as it went from $108.6B to $155.97B. But, the interesting part of the story comes in the next fiscal year as Apple's revenue growth, year over year, decreases to 9.6%, while Google's growth decreased to 19.8%. If we compare the relative drops in growth rates, we see a fascinating story unfolding. Apple's growth dropped from 43.6% to 9.6%, a decrease of 78%, while Google's growth rate drop was only 38.1%. This provides a compelling argument to us that GOOG is better positioned to withstand any downturns in the future.
After having looked at all of these factors, we've come to the conclusion that Apple's iPhone 6 will have to have an unbelievable performance if it's going to help the company become a growth story again. But, we just don't see that happening in the fast-changing world of mobile device hardware. We'd rather take our chances with GOOG and its ambitions of world domination.
Disclosure: I am long GOOG.
Business relationship disclosure: Business relationship disclosure: The article has been written by TradingWins.com, Head Trader. TradingWins.com is not receiving compensation for it (other than from Seeking Alpha). TradingWins.com has no business relationship with any company whose stock is mentioned in this article.