By Julian Murdoch
Last time I wrote about junior gold miners, the Market Vectors Junior Gold Miners ETF (NYSEARCA:GDXJ) had just started trading. I wrote the following:
For my money, GDXJ appears to be the better indexing mousetrap, as it reaches internationally for relevant companies regardless of exchange, sensibly weights them and caps any overexposure ... GDXJ — or its index, at least — seems to be about as solid a pick-and-shovel ETF play as you can get.
And the rest of the universe seems to agree: Investors have piled into the fund, with its assets under management now up to $1.17 billion. But was I right?
Gold ETFs Compared
Certainly much has changed for the fundamentals of the fund's associated metal. Since November 2009, gold itself has had a bumpy ride: swinging from $1,150 an ounce up to $1,250 an ounce. That $1,250/oz level is one of those psychological numbers that many folks consider either a breakout number (the sky is the limit) or a bubble sell price (it can't possibly go higher). As expected, we've got analysts on both sides, with some calling $1,250 a "frothy" price and others claiming it as a springboard to $2,000/oz. In fact, Sprott Asset Management's Charles Oliver has sworn to shave his head if the price of gold doesn't break $2K in the next two years.
So let's look at how the volatility in gold has affected three major ETF plays since last November: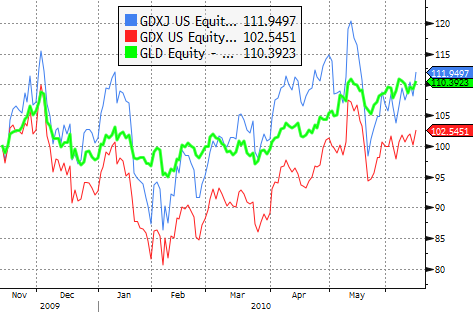 The green line on this chart is the SPDR Gold Trust (NYSEARCA:GLD), and there's little question that it has outperformed the large-cap miners, represented in red by the Market Vectors Gold Miners ETF (NYSEARCA:GDX). That fact has not gone unnoticed by investors: Whereas GDXJ has pulled in $1.4 billion in net asset flows since it launched, GDX, the far more established player, has pulled in only $1.2 billion. (Of course, both of these pale in comparison with the $7.5 billion in net flows to GLD, but what's a few billion among friends?)
But how do we interpret GDXJ's seesaw performance? Right now, it's the clear winner. But in May, GDXJ went from outperforming bullion by 20 percent to falling 6 percent behind, only to bounce right back into the lead again in June.
Indeed, that volatility is really the story of GDXJ. The old adage about buying miners is that you're getting leveraged exposure to the underlying metal, and in terms of volatility, that's certainly been the case here. And you'd expect GDXJ to be more volatile than GDX in any case, since junior minors are speculative plays, often counting on a big find to make their numbers. The larger, more established global miners are all about managing their operations for maximum profitability — a very different skill set, with a far less rolling-the-dice pattern of returns.
This shows up quite clearly when you look at the relative volatility of the two funds: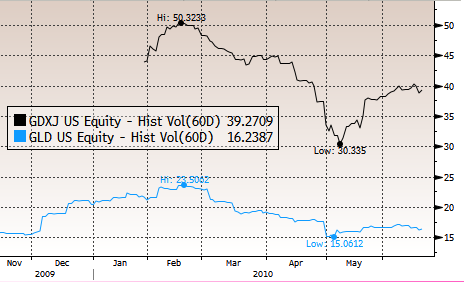 For all its craziness over the last year, gold has been a relatively low-volatility investment, consistently lower than most other "risky" asset classes (hence the idea of going to gold during risky times). GDXJ is consistently the most volatile way to play gold, averaging twice GLD's 60-day historical volatility since launch.
But does that extra risk really translate into a better play on gold? Or is it just another play on the equity markets?
The answer lies in the correlations:
Correlation1 of Daily Returns, since 11/11/09

GDXJ

GDX

GLD

S&P 500

Russell 2000

GDXJ

1

0.938

0.75

0.606

0.559

GDX

0.938

1

0.779

0.467

0.434

GLD

0.75

0.779

1

0.182

0.15

S&P 500

0.606

0.467

0.182

1

0.942

Russell 2000

0.559

0.434

0.15

0.942

1
1Correlation measures the statistical relationship two funds have with one another. A correlation of +1 means the two securities always move together in lockstep; a correlation of -1 means the two securities always move oppositely of each other. A correlation of 0 means the two securities are entirely unrelated.
The implication of this short little time series is pretty clear: GDX gets you more direct exposure to gold (with a correlation of 0.78 versus 0.75), and GDXJ gives you substantially more exposure to the equities markets, both small- and large-cap.
Of course, daily returns are only one way of skinning the correlation cat. If you look at the returns over rolling weekly periods, you get similar results:
Weekly Returns, since 11/11/09

GDXJ

GDX

GLD

S&P 500

Russell 2000

GDXJ

1

0.955

0.744

0.777

0.728

GDX

0.955

1

0.784

0.637

0.601

GLD

0.744

0.784

1

0.36

0.304

S&P 500

0.777

0.637

0.36

1

0.932

Russell 2000

0.728

0.601

0.304

0.932

1
In this case, GDXJ is even more strongly correlated to the equity markets (although, admittedly, so is GDX). GDX also retains its stronger correlation to the price of gold itself.
All of this brings us back to the conclusion we've made here quite a few times before: Pick-and-shovel plays are company bets, not commodities bets. Yes, both miners' indexes will respond to big swings in the price of gold. But they will tend to behave like the equities they are.
Back in May, GDXJ investors experienced this firsthand.
During the two-week bear market of May 12 to May 20, the S&P 500 sold off 8.5 percent, and gold investors smugly stomached their 4.6 percent bitter pill. But GDX investors lost 12 percent, unable to gain support from either their gold or equity pedigree.
And GDXJ? It fell almost 19 percent in just six trading days.
That's the object lesson of GDXJ. Yes, theoretically, it may be a superior construction for tracking the fate of the precious metals mining sector than GDX. But you better pack the motion sickness pills if you're hopping aboard this train.
Disclosure: No positions