Tesco (OTCPK:TSCDY), one of the largest retailers in the world, was able to capture almost 30% of the UK grocery market during the last decade. However, its market share is falling -- only 28.7% in 2014, according to the Kantar Worldpanel's data -- and the fierce competition, strengthened by the discounters Aldi and Lidl, threatens a permanent margin decline. These developments led to a significant decline in the stock price: the current price of about 290 pence for a London-listed share is 33% down from the 2007 peak, although sales have grown by more than a half.
Tesco's £38B of property make it one of the largest property developers in the world. According to some 2007 data, it was second only to Wal-Mart (NYSE:WMT). The current market cap of £24B, coupled with less than £7B of net debt means that Tesco trades at a 25% discount to the market value of its property. It is very tempting to view the situation as "buy the property, get the retailing operations for free". The purpose of this article is to split Tesco into two parts, the property developer (Developer) and the retailer (Retailer), and then analyze if one indeed gets Retailer for free. (Note that Tesco reports its data in GBP and conforms to IFRS in its financial statements.)
Although my analysis is based on the reported financial data, Tesco does not offer the "split view" of the company, and so, the analysis only contains estimates of certain key quantities. I encourage the readers to take a critical stance and do their own due diligence. I will not focus on changes in the strategy of the retailing operations, unless it is relevant to property development. (More on the recent changes in the business strategy can be found in my article and in various company presentations.)
Imagine that Retailer has sold all of its property to Developer, and immediately leased it back. The crucial point of the analysis is to determine a realistic value of the rental payments flowing from Retailer to Developer. Tesco owns about £4B of investment property, which is leased to third-parties; we will use this as a model for the property sold to Developer. The historical data are presented in the following table. (Information regarding investment properties is scattered throughout annual reports, which are available from Tesco's website; in particular, the rental income and related expenses are usually given in Note 3. There are good reasons to avoid looking much further back into the historical data: the management was different, the strategy was different, and certain acquisitions in 2008 and 2009 render the reported data incomprehensible for my purpose, at least for me.)

As can be seen from the table, pre-tax rent ranged from 7%-9% in the last five years. We will assume that Retailer leases the property from Developer at an 8% rate. Another key point is splitting the reported depreciation of property, plant and equipment between Developer and Retailer. Although Tesco does not report precise numbers for maintenance capital expenditure, some guidance is available on Slide 84 in a recent presentation: about £1.1B will be spent on the existing stores. The total depreciation of PP&E was £1.4B in 2013. We will assume that the maintenance expenses for the property owned by Developer are equal to 75% of the depreciation (we exclude amortization of intangibles here). The rest of the estimated maintenance capex (equal to 25% of D&A, this time with amortization included) is charged against Retailer's earnings, reflecting maintenance of fixtures, software, etc. Note that there is a large-scale five-year program of store refreshes going on (Slide 51), hence, we can expect that smaller maintenance expenses will give a boost to earnings after 2017.
Another reason why 75% is a reasonable estimate stems from a comparison with Wal-Mart. Both Tesco and Wal-Mart are efficient large-scale property developers and operators. The economics of retailing is similar in UK and in the US, hence, we can look at the numbers reported by Wal-Mart, and assume something similar holds for Tesco. According to the 2013 annual report, Wal-Mart's capital expenditures were $12.9B in 2013. A table on page 26 of the report says that $4.3B of $8.3B of Wal-Mart US capex was spent on new stores, so at most $4B count as maintenance. For Wal-Mart International, precise numbers are not disclosed, but the store expansion is much more rapid than in the US, and so, we can estimate that at most $2B of $4.6B count as maintenance. Altogether, the estimated Wal-Mart maintenance capex is at most $6B. Compared with the D&A of $8.5B, the maintenance capex stands at about 70%. (I would like to thank Early Retiree for a great series of articles on WMT. You can find more interesting details on Wal-Mart's capital expenditures there.)
We are ready to present Developer's financials; everything is summarized in the following table.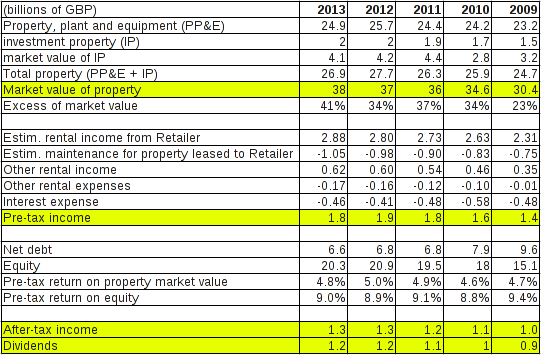 A few words about debt and liabilities are appropriate. Tesco operates with negative working capital, because it receives cash for sold products sooner than it pays its suppliers. In other words, inventories are financed by accounts payable, which are a sort of free money to Tesco, something similar to Berkshire Hathaway's float. This is common among food retailers, for instance, Wal-Mart also benefits from this no-cost way of financing inventories. As a consequence, Retailer does not need to borrow anything for its normal operations. Therefore, I put all the debt on Developer's balance sheet and all interest expenses in its income statement. Tesco's financials are slightly obscured by Tesco Bank being consolidated with the rest of the group, but the bank is still rather small, and its impact on this analysis is not material.
After looking at the financials, a potential shareholder should ask "What's in it for me"? As usual, the answer is both dividends and capital appreciation. Tesco paid about £1.2B in dividends in 2013, approximately as much as Developer's after-tax profits. (We assume a 30% tax rate, in line with the tax rate for the whole company.) Developer's equity has increased at a more than 7% CAGR, and the market value of the property has grown at a 5.6% CAGR. Definitely not bad. Dividends have grown too, but not in 2013. Naturally, if all Developer's profits are distributed as dividends, the growth has to come from Retailer. Its financials presented in the following table require some explanation.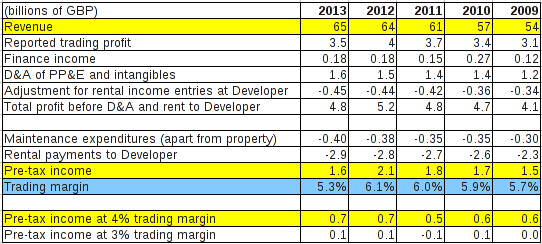 I have decided to take the reported trading profit as a basis for estimating the income of Retailer. According to the reconciliation in Note 2 of the annual reports, trading profit can be expressed as the profit from the trading operations, with all the property profits, finance costs, tax payments, impairments and one-time restructuring costs excluded. We will adjust it in the following way:
We add finance income to reflect Tesco Bank's operations;
We add depreciation and amortization on both PP&E and intangibles, and then deduct 25% of D&A as an estimate of maintenance capital expenditures;
We deduct net rental income earned by Developer on investment properties;
We deduct rents paid to Developer.
The resulting number is the net pre-tax income of Retailer.
The last three rows in the table are very important in evaluating Tesco. The trading margin has ranged between 5.3% and 6.1% in the last five years, but the decline in like-for-like sales indicates that such high margins are not sustainable. In fact, a price war among UK retailers has already started: most of them offer to match competitors' prices, and the discounters are aiming to go even lower. We do not want to delve into pricing strategy details here, and will confine ourselves to the financial implications.
The last row of the table shows what the profit would be if Tesco operated at a 3% trading margin (note that it is about a 250 bp decline from the historical values). Actually, the profit will be zero; retailing operations just break-even. Let's compare this with competitors. Sainsbury operates at a margin of about 3.5%. If we cut it by 300 bp, Sainsbury's (OTCQX:JSAIY) profits would crater, and the dividend would have to be significantly reduced. According to its latest press release, the operating margin of Morrison (OTCPK:MRWSY) fell to 4.9% from 5.4%. Tesco reported a trading margin of 4.93% in the interim 2013/4 financial statements, and I expect a slightly smaller number in the next April annual report. The conclusion of the comparison is that Tesco's prospects in case of margin cuts are not worse (and perhaps better) than its competitors'; the management has definitely abandoned the 5.2% UK margin target, and that should stop the reduction of market share.
Potential returns for a pessimist
In a pessimistic scenario, the price war will result in an immediate and permanent decline of trading margin to 3%. Retailer will then operate at breakeven until 2017, when all the stores will be refreshed and maintenance expenditures will decline, freeing some cash to build new stores. We are being pessimistic, so we assume that the store refreshments will lead to no increase of market share. (The stores already refreshed indicate something like 5% sales boost on average.) In the meantime, Developer will maintain the property and payout at 5% dividend. Let's assume that prices (and expenses) will increase by 1%-2% a year. (Although we can expect inflationary increases in rents and dividends, one cannot count on it in the short term. A proof is provided by the chart in a WSJ article.)
Apart from increasing the debt load, there are two sources of financing for new property development. The first is to sell existing property and reinvest the proceeds. The management of Tesco has announced that they will cut back the sale and leaseback program and expect the proceeds to be immaterial after a few years; nevertheless, they retain the option to sell at least some of the most appreciated property. If Retailer is generating zero profits on average, with Tesco's reach, there are always locations where profits can be made. Another incentive to enlarge operations is provided by the negative working capital: more retailing means an increase in net current liabilities (about £6B at present) and a corresponding increase in non-current assets, i.e. more property -- that's the second source of financing. I believe that although both of these financing sources are modest, they can easily provide a 1%-2% growth of Tesco's operations in the foreseeable future.
Put together, the expected returns are 7%-9%, with a possible dividend cut in this pessimistic scenario. (The dividend policy is to distribute at most 50% of underlying earnings.) Note, however, that one can buy the company for less than £24B and get about £31B worth of property (£38B of market value less £7B of net debt). There is a 25% margin of safety to shield the investor from property price declines and other unfavorable developments. So, the risk of a real loss of the invested capital is pretty small.
Potential returns for a cautious optimist
An important aspect of owning a retailer is a partial inflation protection. If Tesco is able to increase prices, it's good for me as a shareholder; if not, it's even better for me as a consumer. In the role of an optimist, I will estimate that the value of Developer's property will increase by about 2%-3% a year, together with rental income, and that Retailer will be able to match this growth by price increases.
Assuming a 4% trading margin, Retailer will generate about £0.5B of after-tax earnings, which can be reinvested into more property. The company targets 12%-15% returns on invested capital, and has achieved them in the preceding years; if we assume a stable leverage ratio, a 12% return on retained earnings sounds as a bare minimum, even if we are cautious. (Note that our table shows ROE of only 9% for Developer. The discrepancy between Developer's and Tesco's ROE is caused by not counting Retailer's earnings into Developer's ROE and the Retailer's negative working capital. Indeed, the equity of our imaginary Retailer is negative.)
The reinvestment of £0.5B at a 12%-15% return leads to additional £60-75M of rental income, which translates into a 5%-6% growth of Developer's earnings (and, in turn, the same growth of Retailer's earnings). The estimated growth rate is well in line with the management's target of "mid-single digit trading profit growth".
Put together, an investor can expect a 5% dividend yield, coupled with a 7%-8% long-term growth.
Tesco and Berkshire Hathaway
The most famous shareholder of Tesco is Warren Buffett, owning it via Berkshire Hathaway (BRK.A, BRK.B). He initiated his stake in 2006 for a price larger than the one offered at present (you can find some details in various online articles). He increased his stake in 2009, 2010 and also in 2012 after a 15% stock price decline caused by Tesco's first profit warning in decades. Currently, Tesco is on sale for a price about 20% lower than what Buffett paid. However, Berkshire has decreased its stake in Tesco from about 5% to less than 4% in 2013.
Charlie Munger claimed that "Tesco is God Almighty in England" in 2011, when discussing Tesco's ailing US venture "Fresh & Easy". Well, its present UK struggles indicate it is not so, and Berkshire has probably changed its opinion, too. Although one of the strongest messages of Warren Buffett is to rely on your own judgment, his selling is definitely not a positive indicator and can wiggle investor confidence. On the other hand, Buffett has decreased his stake in P&G even more, and this does not imply that P&G has become a lousy business. Anyway, if you are targeting long-term returns above 15%, follow Buffett and look elsewhere.
The threat of Amazon
Amazon has two powerful weapons in retailing: the large scale of its operations allowing it to lower costs, and a carelessness about making a profit. Only the second one threatens Tesco; essentially everything Amazon does in UK can be replicated by Tesco, who also has the necessary scale and budget. In addition, Tesco has more experience with food retailing, and also has distribution infrastructure already in place; its relationships with suppliers, together with established own-label product ranges should give it a competitive advantage. Amazon is even more established in the US than in UK, and it doesn't look like Wal-Mart was dying because of Amazon's competition -- it is successfully investing billions in new stores.
Conclusion
The expected long-term total return is 8%-13%, according to my estimates. Tesco already trades at a 25% discount to the market value of its property, and this does not even put full value on its trading operations. Assuming a 4% trading profit margin, the trading operations are worth additional £4B at a conservative 8x net income multiple; this corresponds to a 40% discount to the fair value. Consequently, the risk-reward profile is very favorable, and I am willing to put more money into the stock.
While I am counting on returns that are yet to be achieved over many years in the future, Tesco's stock also offers a short-term appreciation potential. Despite declining margins and like-for-like sales, the trading profit in 2013/4 is expected to be roughly the same as in 2013. With P/E ratio of about 9, the company is priced for a disaster, thus, even a moderately good short-term development can lead to a nice jump in the stock price.
Although I claim that shares trade at a 30%-40% discount to the fair value, I do not think the entire gap will close anytime soon. More than half of the gap comes from property appreciation, and this can be turned into cash only by selling the property. This will be done at a pace of about £500M a year, even if Tesco returned to the historical levels of the sale and leaseback program. Nevertheless, closing just half of the gap means a nice 25% upside; one gets paid 5% a year to wait for it, and in the meantime, Tesco will build more properties to earn profits on.
(The shares can be bought in the OTC market; one ADS corresponds to three London-listed shares. Be aware of the ADR manipulation fee of about 2 cents per ADS, charged two times a year when the dividends are paid.)
Disclosure: I am long TSCDY, WMT, BRK.B. I wrote this article myself, and it expresses my own opinions. I am not receiving compensation for it (other than from Seeking Alpha). I have no business relationship with any company whose stock is mentioned in this article.