Opening:
Last night, news flew in that Baxter International (NYSE:BAX) is splitting into two companies. Investors are being rewarded in early morning trading as shares are up nearly 10% on over 800k shares.

Baxter is planning on having two companies, one that will be focused on biopharmaceutical drugs and the other with a focus on medical products. The plan is that Baxter will make a tax-free distribution of shares in the biopharmaceuticals business to its shareholders in mid-2015. From here, shareholders are free to divest or hold both shares.
Breaking Down The Two Sides:
Biopharmaceuticals draws all of the news and attention, while it is the medical-products business that actually has higher sales. Baxter's biopharmaceuticals division had 2013 revenues of $6B while the medical products division had over $9B worth of sales.
Biopharmaceuticals Division: Develops treatments for hemophilia and other bleeding disorders, immune deficiencies, burns and shocks.
Medical-Products Business: IV Solutions and nutritional therapies, drug-delivery systems and administration sets, premixed and other injectable drugs as well as inhalation anesthetics and hospital-based biosurgery products. (I)
Current Baxter CEO Robert Parkinson is set to lead the medical-products company while Ludwig Hantson will run the biopharmaceuticals company. The latter is current president of BioScience.
A Closer Look: Medical Products Division
(Source)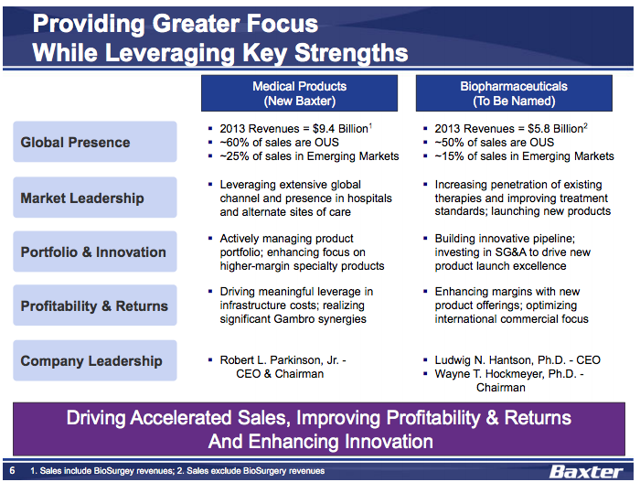 Baxter is pushing for the split as it can improve sales, profitability and returns for both companies separately more so than it would as one joint operation.
(Source)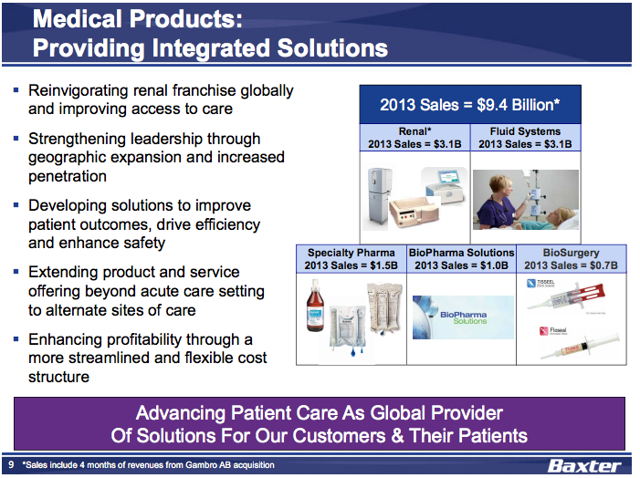 There is more than meets the eye with regard to Baxter's medical products division. Moving forward, the medical products division is targeting several key markets.
BioSurgery, 2017 Market Potential: $17B
Anesthesia, 2017 Market Potential: $1.2B
Nutritional Therapies, 2017 Market Potential $3.5B
For BioSurgery, the medical products division is leveraging a greater hospital presence to reach more surgeons while expanding their geographic reach and new line of products.
For Anesthesia, the MP division is offering all three modern inhaled anesthetics to create a sustainable competitive advantage while investing in clinical data to enhance patient outcomes.
Lastly, for nutritional therapies, the MP division will offer a comprehensive parenteral nutrition portfolio with several clinically differentiated products. They will meet unmet needs to improve patient outcomes while enhancing safety and administration of medications while minimizing costs.
(Source)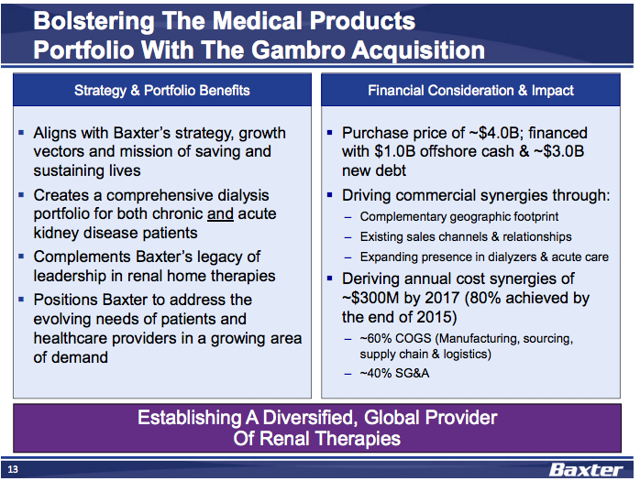 One of the most interesting part about the MP division is Baxter's $4B acquisition of Gambro that will be a part of the MP division. This acquisition creates a comprehensive dialysis portfolio for chronic and acute kidney disease patients and compliments Baxter's leadership in home related therapies. By 2017, Baxter is projecting that the acquisition will drive cost synergies of around $300M.
A Closer Look: Biopharmaceutical Division
(Source)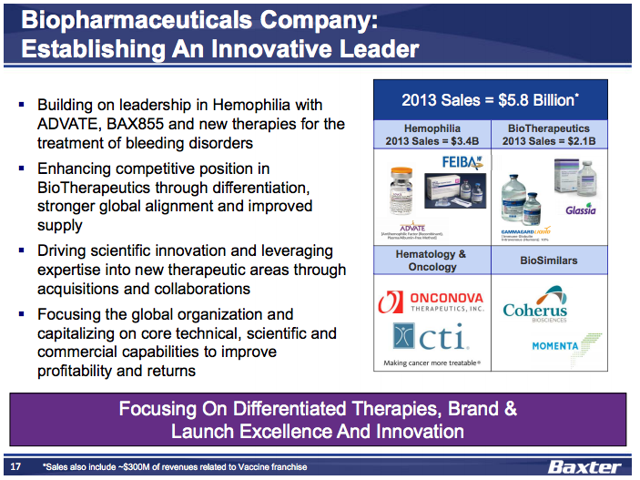 Baxter is positioning its biopharmaceutical division to build upon its leadership in Hemophilia drugs for bleeding disorders while also focusing on BioTherapeutics, Hematolgy & Oncology and BioSimiliars.
(Source)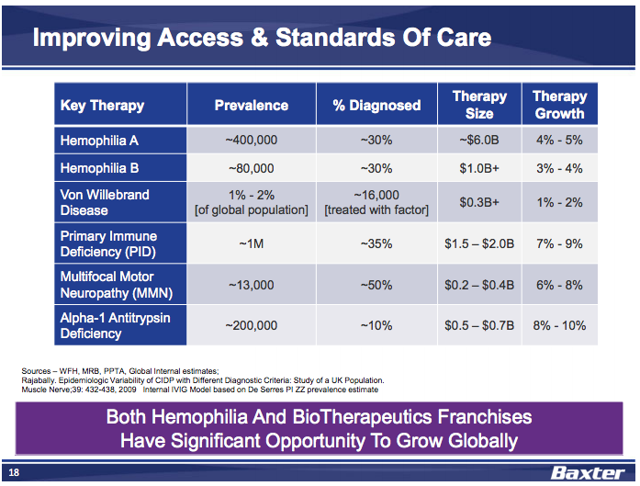 Baxter's Bio division has room to grow - across the board as well. All of Baxter's Bio division's targeted diseases are estimated to grow globally in the coming years.
(Source)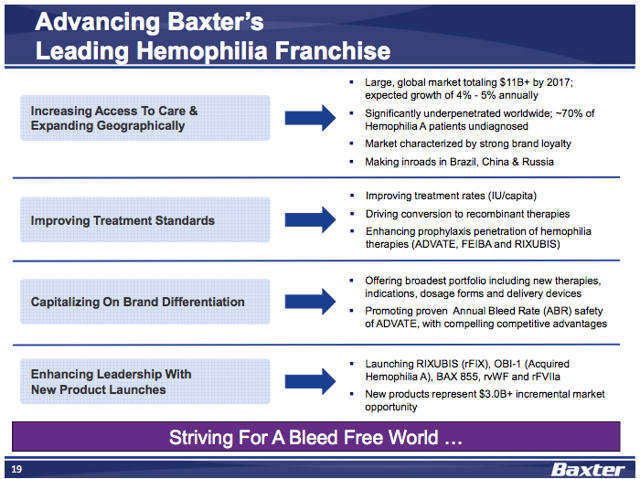 The Bio division is moving to increase its footprint to treat Hemophilia. With increased access to care globally, brand differentiation and new product launches - the bio division should see continued gains in the treatment of Hemophilia. One of Baxter's key drugs to treat Hemophilia is ADVATE.
(Source)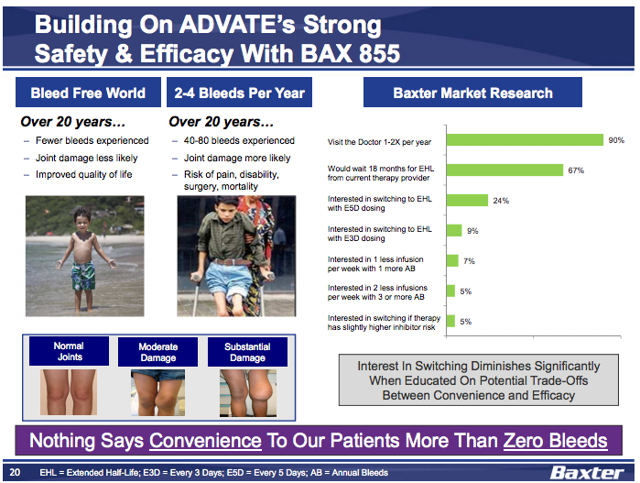 ADVATE is already established in the marketplace, although the Bio division is striving to increase the safety and efficacy of ADVATE with BAX 855. The division has shown research that demonstrates that when patients are educated as to the trade off risks between convenience and efficacy, interest in switching largely diminishes.
(Source)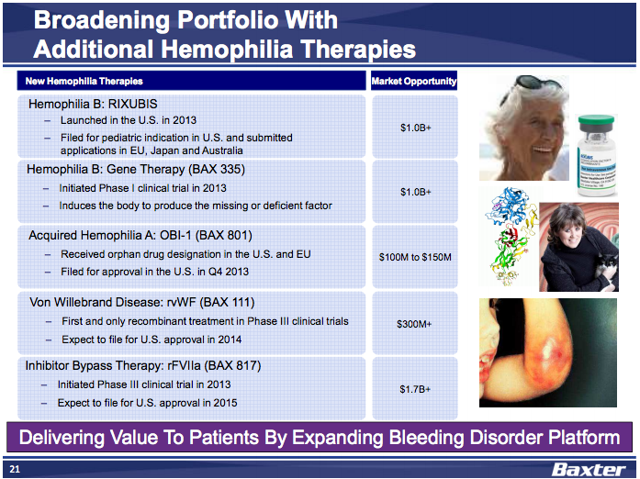 The Bio division is not stopping there. There are five set market opportunities for three different types of Hemophilia, Von Willebrande Disease and Inhibitor bypass therapy that the division is targeting. The market opportunity for all of these together is over $4B in size. Of course it will be easier said than done, and the bio division will have to execute flawlessly.
(Source)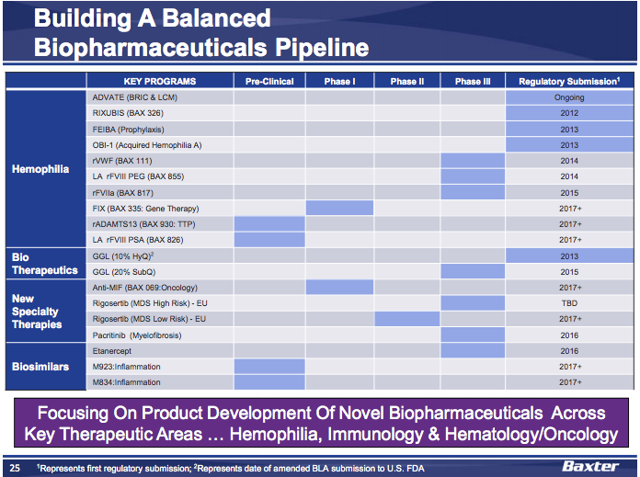 The Bio division also has other items in the pipeline. They are expanding their Hematology and Oncology divisions, as they received EU marketing rights from Onconova for Rigosertib. They are also undergoing development for Pacritinib - two phase III programs are underway to treat this severe bone marrow disorder. The Bio Division is also partnering with Coherus BioSciences on etanercept, a treatment for autoimmune disorders.
Conclusion:
Baxter's shareholders will receive shares in the biopharmaceutical company in mid-2015, the ratio has not yet been determined. The company does not expect the transaction to have a material impact on 2014 financial guidance, although it may incur one time charges. Baxter is still subject to market and regulatory conditions and needs final approval by Baxter's board of directors.
Baxter is positioning both companies to be sustainable and more profitable over the long term, more so than as one joint company. The easiest and most logical item would be to hold the parent and sell the spin-off, as the parent has a track record in the market of performing well after a spinoff (see chart below). Although the to be spun off company is a bio company that has a significant pipeline ahead of itself with several fruitful market opportunities - so I would suggest holding both when issued.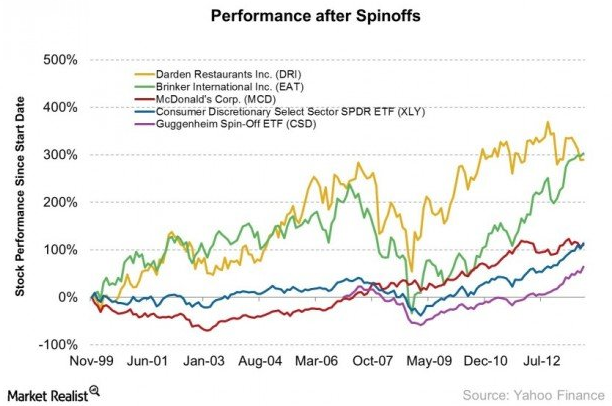 One parallel could be when Xylem (NYSE:XYL) was spun off from ITT Corporation (NYSE:ITT). Xylem was an interesting water play, and it still is. Although over the long haul the parent, ITT, has a higher share price today. Although with bio-techs, the proof is in the pipeline. If the Bio side holds significant promise, it can outperform the medical products division over the long haul - or could be a buyout target by a larger player.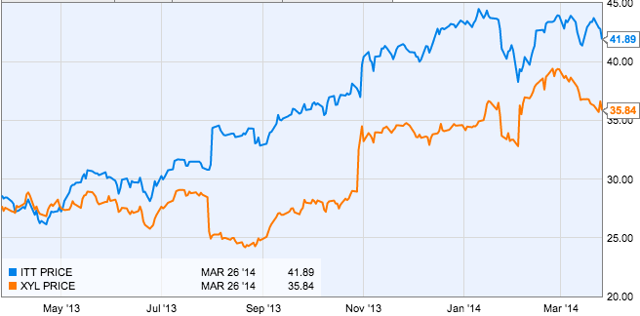 Disclosure: I have no positions in any stocks mentioned, and no plans to initiate any positions within the next 72 hours. I wrote this article myself, and it expresses my own opinions. I am not receiving compensation for it (other than from Seeking Alpha). I have no business relationship with any company whose stock is mentioned in this article.
Additional disclosure: This article is informational and in my own personal opinion. Always do your own research and contact a financial professional before executing any trades.