I'm biased against those propaganda writers who publish misleading information about 3D Systems and additive manufacturing. The power of the Internet is such that a false rumor can be taken as the gospel truth. If the propaganda writer is adept enough in using half-truths, misinformation campaigns can either make 3D Systems shoot up or down.
Writing in English is very hard for me, it is not my native language. However, I have a strong vested interest that DDD doesn't fall prey to disinformation. I do not seek to distort the market through anonymous fear mongering.
Yes it is my agenda that DDD should go up, but here are my three reasons why the short-run on 3D Systems offers shrewd investors a good opportunity to buy on the dip, and/or a swing trade. My near term scenario for DDD is downward and brave investors can profit both from DDD's ascent and descent.
1. HPQ's Vaporware Threat?
The bearish attitude inspired by the threat of Hewlett-Packard (NYSE:HPQ) with its rumored entry 3D printing ambition is going to continue so DDD and other 3D printing companies will suffer further drops in the near term.
The original propaganda about HPQ's 3D printing announcement this coming June was already denied by more recent sources. A post on HP's website made it very clear that HPQ's announcement over 3D printing will not be this June but tentatively set for the end of the fiscal year. Reading the post convinced me that HPQ's 3D printing ambition is still, according to HP Labs' Martin Fink's words, in prototype status.
Chuck Hull and 3D Systems are not going to let HPQ's "vaporware claim" of faster printing speed and better output quality steal market leadership from DDD. 3D printing is manufacturing, the technology to come up with inkjet-like 2d printing speed for additive manufacturing is years away. Chuck Hull and his team, in my opinion, are working hard to come up with better printers too.
2. Misconceptions About 3D Printing
I would like to point out that additive manufacturing should not have been given the alias 3D printing. Some people still don't get the concept. Miscategorization and misinformation will only drive some gullible DDD investors to panic and dump their shares, which is just fine for people like me waiting to make a re-buy of cheaper DDD shares. Buying put options also will let savvy traders ride the shorts.
Here are some myths I would like to dispel.
Limited Materials?
Additive manufacturing supports a lot of production technology and various materials aside from resins, and a few metals. Google will give a lot of hits if you type in 3D+printing+materials. 3D printers are using PLA, polycarbonate, steel, wax, silver, titanium (Yes titanium!), glass filled polyamide, photopholymers, etc…
One only has to go to the sites of 3D Systems and Stratasys (NASDAQ:SSYS) to find out that these two leaders of industry have existing additive manufacturing technology which allows multi-material production using just one product. Stratasys has the Objet Connex 500 and 3D Systems has the Projet 5500X.
Source: Stratasys
Complex Usability?
It takes time to learn but it is not hard to create 3D digital files for manufacturing. One doesn't need to be an AutoCAD expert to quickly design and print a complex object. There is a lot of free easy-to-use 3D modeling free programs like Blender, 3Dtin, 3DCrafter, LeoCadd, etc.
There's a huge library of ready-to-use 3D models that can be starting files for 3D printing. Those who do not want to waste time learning 3D modeling software, 3D Systems has Scan-to-Print solutions. Intel and its partners are also coming up with notebooks and tablets with a built-in Intel RealSense 3D camera later this year. Tablets with a RealSense 3D camera will allow even nursery-age kids to scan real world objects for output to 3D printers.
3D Systems has already released the iSense, an accessory that can be attached to the iPad. The iSense will let some of the 200 million iPad owners to quickly scan objects for quick conversion to 3D models - or reading for additive manufacturing.
Strength?
Additive manufacturing or 3D printing is being used to produce parts for mission-critical purposes. Aerospace and military bigwigs will not be using 3D printing technology if the outputs are not up to the highest strength and reliability standard. A combat helicopter manufacturer gave 3D Systems a multi-year contract in 2010.
Yeah that was four years ago, long before 3D printing was famous, that's how long the military trusts the reliability of 3D Systems products. The U.S. Air Force even rewarded 3D Systems a $2.95 million cash reward for its contribution to the F-35 jetfighter.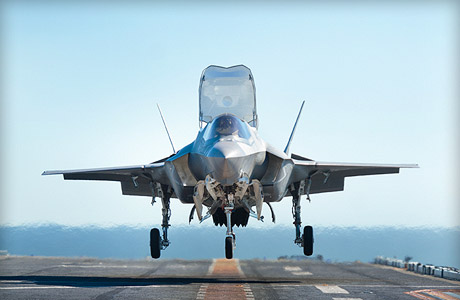 Source: Lockheed Martin
3D Systems and Stratasys are producing additive manufacturing products that are trusted by aerospace and defense industries. There is no doubt that additive manufacturing produces very strong and reliable components and parts.
3. Misconceptions About 3D Systems
Patent Expiry? More Competition?
The expiration of 3D Systems' essential patents on laser sintering will not kill the company's overall gross margins. This issue is being blown out proportion by DDD shorts to accelerate the downward trend of the stock. I suggest old and new investors of DDD to download the 10-K of the company so they will understand why I'm dismissing the patent expiration of laser sintering.
3D Systems has more weapons on its arsenal and more patents on its library that will keep the competition eating the dust. It has hundreds of patents outside of laser sintering and DDD has six other technologies for additive manufacturing. Aside from Selective Laser Sintering (NASDAQ:SLS), DDD has these other weapons to defend its leadership position:
Stereolithography printers
Sinterstation Pro SLM Direct METAL sintering
Multijet Printing (MJM)
Plastic Jet Printing (NYSEARCA:PJP)-Based Printers
It is highly fallacious to claim that DDD will suffer from more competition because the company's patents on laser sintering expired. Yes, it will give rise to cheaper 3D printers, but I doubt if it will lead to dirt-cheap 3D printing materials. Even the Chinese will have a hard time coming up with dirt-cheap material prices which will drive 3D Systems to bankruptcy.
Just like the old 2D printing industries, companies will make most of their money from the repeat sales of additive manufacturing materials. MakerBot is still a great success despite of the FDM patents expiring years ago.
The 3D printing industry winners will be those that can offer the best printers/materials at the right price. Some will bet on Stratasys, HPQ, GE, but my bet is DDD. Chinese copycats can come up with cheaper printers but, just like the iPhone, nobody can beat top quality and long years of experience.
3D Systems has been in business for more than 30 years. It knows how to build additive manufacturing products like nobody else.
Artificial Growth? Inorganic Growth?
Like what the great Andreas Hopf always remind me, 3D Systems' acquisitions of so many small companies is bad. It increased the number of shares and made integrating all these new subsidiaries very hard.
I disagree, M&A is actually good for the company's future.
I suggest that people read The Art of War so you will understand that it is better to make allies out of potential/current enemies. Dilution of stock value is good if it prevents unnecessary warfare, thus ensuring bigger future prosperity. I used this technique to enjoy a lot of MMORPGs from 2003-2007. I built a guild and recruited other guilds/players with bribes of game money/weapons/armor. I made many real dollars selling boss-drop weapons and armor because I lead the strongest guild.
Peacemaking early in the game, when all are low-levels, ensures faster leveling, farming of equipment, and overall success of the server population. I commend Abe Reichental for his mastery of the carrot-than-stick approach to recruit allies. It is easier for my guild to win new recruits if I just bribe their leaders +9 weapons or +9 armor, rather than killing them all repeatedly. Waste of time and bad publicity.
There's strength in numbers. Acquisitions gave 3D Systems more technology and more talented employees. I wish Abe or Hull can persuade David Reis to join the DDD guild too. 3D Systems + Stratasys is a killer combination that will insure both companies' investors a solid future.
Growth, organic or inorganic, is still growth.
Conclusion
I have refuted some of the most annoying lies and misconceptions about 3D Systems. I can provide more legitimate replies to other issues but I'm tired. This is one of the longest SA articles I ever did.
I accept that DDD's fall will go unabated in the near term but I'll be using this bearish mood to make small purchases to add to my DDD position. Yes, I'll swing trade and buy options too. I'll ride the shorts but I'm long DDD.
Here are some pertinent charts that I find necessary to always include for new investors who are not yet familiar with DDD. 3D Systems is not at fault for the high DDD price in January.
A pump and dump may have happened, I'm not really sure. But my background on mathematics and advertising convinces me that there was something fishy about the bullish run of DDD from October 2013 to early January 2014.
After Citron Research published its negative report on 3D Systems on January 24, DDD fell sharply. Please read this explanation why I thought Citron Research ignited a wildfire of negativity over DDD.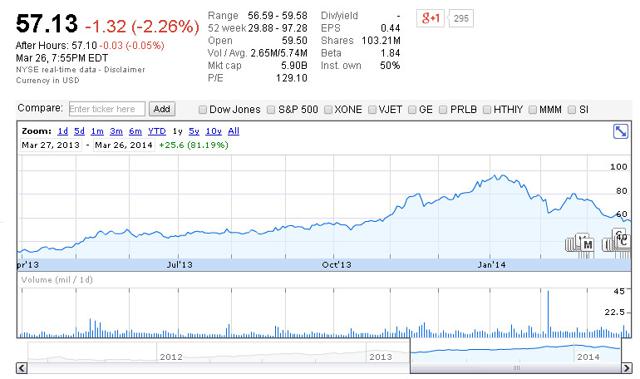 DDD's double digit revenue growth over the years is not fake. It is also making money for the last three years.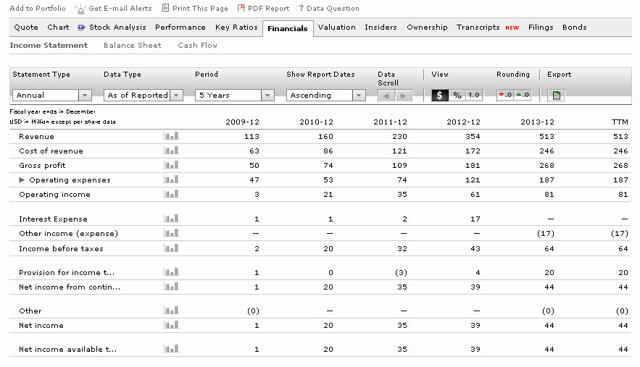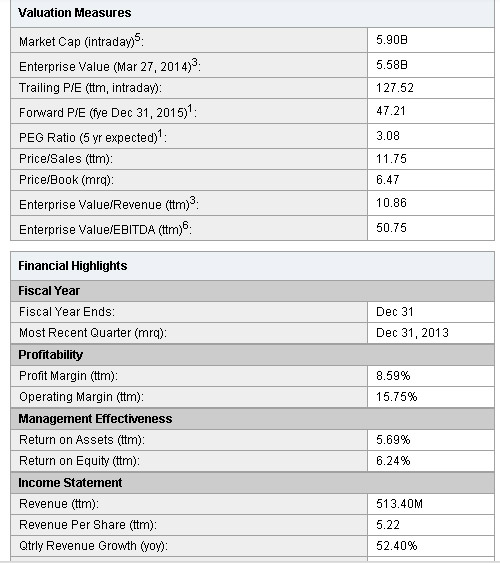 Source: Yahoo Finance
It's March 27, 2014. A 52-week low for DDD was $30 on March 27, 2013. The shorts' percentage of float should be higher than 30% already. Buy on the dip, hold and be patient. DDD will rise again once the shorts get bored shorting the stock and make another manipulative bull run.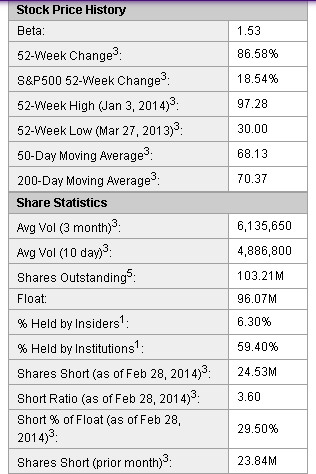 Source: Yahoo Finance
Disclosure: I am long DDD. I wrote this article myself, and it expresses my own opinions. I am not receiving compensation for it (other than from Seeking Alpha). I have no business relationship with any company whose stock is mentioned in this article.
Additional disclosure: I might also buy SSYS soon.