With interest rates remaining at very favorable levels, and many corporations sitting on many millions and in some cases billions of dollars in cash, the environment for takeovers remains ideal. With the tech sector seeing above average growth, it seems that this is one of the best areas to invest in for takeover deals. Companies like Facebook (NASDAQ:FB) are able to use stock as currency and also have considerable amounts of cash available to make deals happen. Facebook recently announced a deal to buy Oculus Rift for about $2 billion as well as WhatsApp for around $19 billion.
I have been focused on researching tech companies that appear poised for a buyout. One of the most likely takeover targets I found was Jive Software (NASDAQ:JIVE), which trades for just about $8 per share. I find a deal extremely likely for Jive Software because it has (recently) hired an investment banking firm to represent it in a potential deal and also because the CEO Tony Zingale previously sold two other tech companies to Hewlett Packard (NYSE:HPQ) and Nortel Networks. To read more about Jive Software, see this article. In my continued research, I have found some other potential tech takeover targets, which include Brocade Communications Systems (NASDAQ:BRCD). This company recently made a list of 44 top takeover targets, which was published by Morgan Stanley (NYSE:MS). Another recent article details why Ernst & Young believes 2014 could be a "blockbuster" for mergers and acquisitions in the tech sector. Let's take a closer look at Brocade Communications below:
Brocade Communications is a manufacturer of data storage and networking equipment. This sector has a number of much larger companies, and that is one reason why Brocade Communications (by acquisition) could be an attractive way to enter this space or increase market share in this industry. It has a market capitalization of about $4.4 billion, which makes it an "affordable" target for many major tech companies.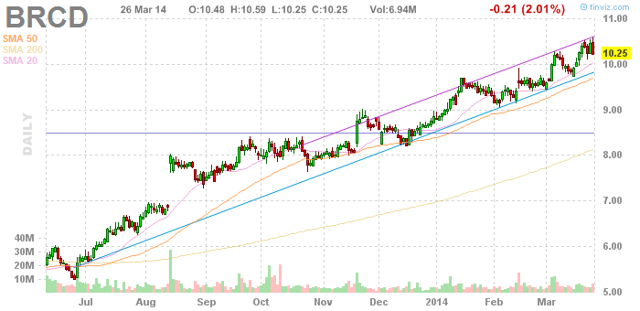 As the chart above shows, Brocade Communications' shares have been in a solid uptrend. For the past several months, this stock has been worth buying on every pullback and that trend could be poised to continue. In spite of the strong stock performance, the shares and the company are still offering value to investors and potential suitors.
Brocade Communications has a strong balance sheet with around $1 billion in cash and about $599 million in debt. This financial strength reduces potential downside risks for investors and it makes the company more attractive as a potential takeover target. The stock also looks cheap based on earnings estimates of about 83 cents per share for 2014 and 87 cents per share for 2015. That puts the price to earnings ratio at just around 12 times earnings, which is a relative bargain when compared to the average of 16 times earnings for the S&P 500 Index (NYSEARCA:SPY).
The potential downside risks for this stock seem limited at this time, however, investors should consider that many rivals are much larger and have more financial resources for research and development budgets. Another risk is that the stock has had a nice run and that is why I would wait to buy on a short-term pullback. However, the long-term future looks bright and the uptrend could continue for this stock since the valuation is still below the market average. Any takeover offer would be a real bonus for investors and because the CEO Lloyd Carney sold the last two companies he led, a deal for Brocade Communications might be more likely than many investors realize. Mr. Carney led Xsigo Systems, which was acquired by Oracle (NYSE:ORCL) in 2012, and Micromuse, which was sold to IBM (NYSE:IBM) in 2005. Since the CEO has a history of making deals, it would make sense to consider that there is an above average chance that Brocade Communications could be acquired in 2014.
Here are some key points for Brocade Communications, Inc.:
Current share price: $10.25
Earnings estimates for 2014: 83 cents per share
Earnings estimates for 2015: 87 cents per share
Annual dividend: none
Data is sourced from Yahoo Finance. No guarantees or representations are made. Hawkinvest is not a registered investment advisor and does not provide specific investment advice. The information is for informational purposes only. You should always consult a financial advisor.
Disclosure: I am long BRCD, JIVE. I wrote this article myself, and it expresses my own opinions. I am not receiving compensation for it (other than from Seeking Alpha). I have no business relationship with any company whose stock is mentioned in this article.