By Carla Fried
If you happen to believe in the concept of being compensated for the risk you're taking, junk bonds aren't looking very appetizing right about now. Collin Martin, senior fixed income research analyst at the Schwab Center for Financial Research, recently pointed out that the option adjusted spread for junk bonds is near a seven year low. That's not just because of the firming in Treasury yields compared to a year ago; just as important is the downward pressure on junk yields as income chasers have flooded the market over the past few years. As shown in this chart, the payout for the SPDR Barclays High Yield Bond etf (NYSEARCA:JNK) has been in a bit of a free fall.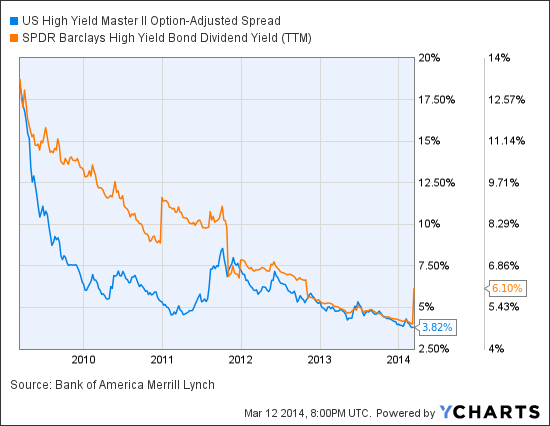 US High Yield Master II Option-Adjusted Spread data by YCharts
Today's low junk yields increase the risk that a backup in yields from their abnormally low levels would pressure junk total returns. And Martin throws some cautionary cold water on the notion that you can nimbly get out ahead of time, pointing out that in 2011 the Barclays U.S. Corporate High Yield Bond Index took an 11% price hit in just two months. His suggestion is get out while the getting is good:
"Investors with a more conservative or moderate risk tolerance who have been reaching for yield in the sub-investment grade market might consider moving up in credit quality."
That said, better credit comes with a big yield trade-off. The iShares Core U.S. Total Bond ETF (NYSEARCA:AGG), which tracks the Barclays Aggregate index of taxable bonds, has a 12-month trailing yield of just 2.2% or so.
If you're after income, municipal bonds remain one of the better value pockets within fixed income. The iShares S&P National AMT-Free National Muni Bond ETF (NYSEARCA:MUB) has a 2.7% trailing 12-month yield. And that's before factoring in the taxable equivalent yield. Even at a low 28% federal tax bracket, that's the equivalent of 3.75%. For high-income investors in the top 39.6% federal tax bracket, that's a 4.5% taxable equivalent yield. Sure that's still below the 6% trailing 12 month payout for the leading junk ETF, but we're talking two different risk profiles.
Yes, all munis got knocked around last year as Detroit and Puerto Rico headlines added to pressure from rising rates.
But it's worth noting that a lousy stretch for high grade munis is nothing like a lousy stretch for corporate junk, which trades like a volatile stock. Here's the lousiest of lousy stretches: the big selloff in all markets following the Lehman bankruptcy in September 2008: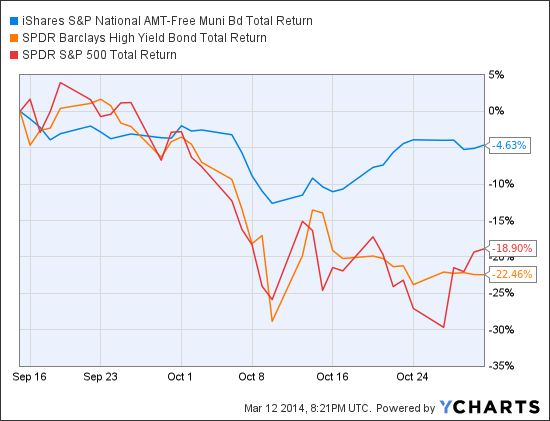 MUB Total Return Price data by YCharts
Given the low yield on junk today and its stock-like behavior in down markets, perhaps you might want to swap out your junk allocation for some stocks with above average yields and valuations that suggest they won't need to take a deep fall at the next correction.
Chevron (NYSE:CVX) not only has a 3.5% current dividend yield, the dividend payout has more than doubled over the past five years. During that bad stretch in the fall of 2008, Chevron stock fell 7%. Moreover, from the 2007 stock market peak to the early March '09 bottom, Chevron in fact lost less than the iShares High Yield ETF.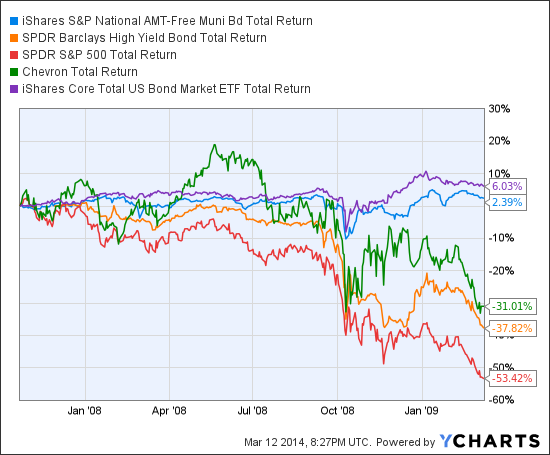 MUB Total Return Price data by YCharts
In terms of valuation, Chevron's trailing 12 month PE ratio is hovering near 10.
If you're looking for more income, Philip Morris (NYSE:PM) has a current yield around 4.75% and has delivered impressive dividend growth. Its trailing PE of 15 is in line with the market.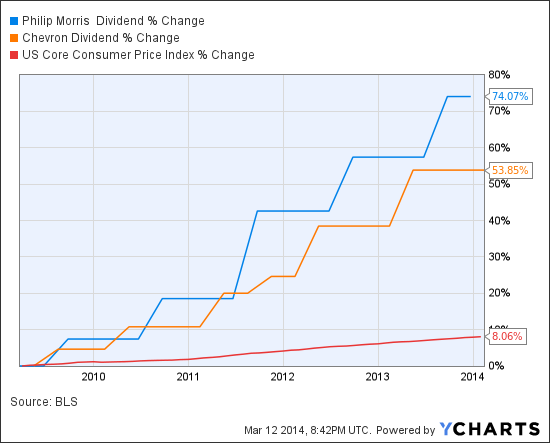 PM Dividend data by YCharts
In terms of future growth potential for the dividend, Chevron has an edge as its current payout ratio near 30% is just half that of Philip Morris.
Disclosure: None.