Endovascular devices maker ev3 Inc. (EVVV) announced that the U.S. Food and Drug Administration (FDA) has formally accepted the Pre-market Approval (PMA) application for the company's "Pipeline Embolization Device" for treating large, giant and wide-neck cerebral aneurysms (a brain vascular disorder). The FDA also granted an expedited review and processing of the PMA.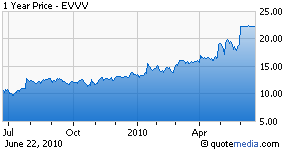 ev3 filed the final module of its PMA application for the Pipeline Embolization Device with the FDA on May 18, 2010. The module contains a comprehensive review of the positive clinical data, which achieved safety and effectiveness endpoints.

A cerebral aneurysm is a condition manifested by the dilation of a blood vessel in the brain due to weakness in the wall of a cerebral artery/vein. If left untreated, the bulging vessel can pressure the surrounding brain tissues/nerves or may leak or rupture, resulting in brain hemorrhage.

Currently, surgery and endovascular treatments are widely used to treat cerebral aneurysms. However, these are associated with risks such as potential damage to surrounding blood vessels, disease recurrence and post-operative stroke. As such, there remains a major unmet medical need for the treatment of cerebral aneurysms.

Based on the clinical study results, the Pipeline Embolization Device appears a safe and effective alternative to the existing treatment options for treating cerebral aneurysms. ev3 envisions the worldwide market for aneurysm treatments to reach roughly $350 million by 2013.

ev3 is a medical devices company focused on catheter-based or endovascular technologies for the treatment of vascular diseases and disorders. The company manufactures and markets an extensive variety of products, including stents, embolic protection devices, thrombectomy devices and balloon angioplasty catheters. ev3 competes with larger players such as Boston Scientific (NYSE:BSX), Medtronic (NYSE:MDT) and C.R. Bard (NYSE:BCR) in the endovascular space.

ev3 is slated to be acquired (expected by end-July 2010) by Dublin-based healthcare product maker Covidien plc (COV). The transaction is worth $2.6 billion. The merged entity is expected to become a leading endovascular player with strong positions in both the peripheral vascular and neurovascular markets.