The Boeing Company (NYSE:BA), together with its subsidiaries, is one of the world's major aerospace firms. The company operates five segments: commercial airplanes, Boeing military aircraft, network and space systems, global services and support and Boeing capital. The company announced its extraordinary 2013 financial results back in January and the company's showed growth in every segment. The purpose of my article is to determine whether or not the company's stock, at $123.67, is worth buying.
Recent Results:
Total net revenues for 2013 were $86.6 billion compared to $81.7 billion in 2012. Revenues increased by $4,925 million due to higher new airplanes deliveries in 2013, and going forward the demand for new airplanes remains strong due to economic growth and the increasing propensity to travel due to increased trade between different countries will further boost the company's revenues in the coming years.
Earnings from operations were $7.9 billion compared to $7.2 billion last year. The increase in earnings was the result of higher earnings in the commercial airplanes segment, and going forward analysts expect that new production volume as well as improved profitability per plane will further increase the company's earnings in 2014.
Earnings before income tax were $6.2 billion compared to $5.9 billion last year. This increase was primarily from less interest and a debt expense of $56 million in 2013 due to lower weighted average debt balances.
Industry Outlook:
The long-term outlook for the industry remains positive because passenger travel demand remains strong due to better economic conditions for businesses and increasing demand of tourism in emerging markets. Asia Pacific economies continue to show positive growth. Intrinsic strength and progressive trade agreements among the region's countries will result in more trade which will drive more demand for business and leisure travel in the coming years.
Key indicators of growth (2012 to 2032):
World Economy (GDP) grows 3.2% per year.
Number of airline passengers grows 4.1% per year.
Airline traffic and cargo traffic grows 5% per year.
The company forecasts a long-term demand for 35,280 new airplanes worth about $4.8 trillion in the next 20 years. Approximately 14,350 of these new planes will replace older and less efficient airplanes and buyers will prefer newer planes like the Boeing 777X. Over the next decade by 2023, commercial aircraft annual production levels are expected to increase by 25%. Being a leader in the airplane manufacturing industry, with over 43% market share in global commercial airplane deliveries in 2013, I believe that the company will get most of the benefits from future demand for airplanes and will further increase its market share in the industry.
New plane: Boeing 777X
Back in November 2013 the company launched its new 777X with great success. The new plane features a new composite wing, new engines and folding wing-tip that deliver greater efficiency and significant fuel savings. This plane will be the most efficient twin engine jet with 12% lower fuel consumption and 10% lower operating cost than the competition. The company already secured 259 orders worth about $95 billion and expects to have more orders in the coming years as the company is in discussion with many other buyers who have shown interest in this model. I believe that future demand for this new airplane will remain strong in the coming years because forecasted oil prices will have an upward trend in the next 20 years.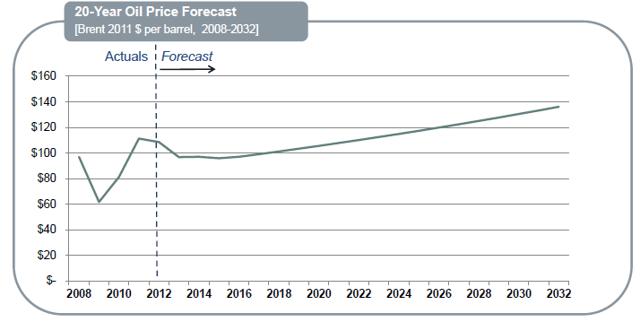 Source: Bombardier- aerospace 2013.
So these higher prices will lead to more demand for fuel efficient commercial airplanes like the Boeing 777X in the coming years.
Asia Pacific and the Middle East:
Growth in passenger travel demand will be mainly driven from countries such as India, China and the U.A.E. By 2032 Asia Pacific and Middle East airlines will carry more traffic compared to other regions. With strong demand in international travel Asia Pacific airlines will need 12,820 new airplanes worth about $1.9 trillion. The company is generating about 37% of its revenues from the Asia and Middle East regions so future growth in these markets will increase the company's revenues in the next 20 years. The interesting fact is that all of the buyers of the company's new planes are Emirates, Qatar Airways and Etihad Airways so the company expects more orders from these countries where buyers show more confidence in Boeing.
Conclusion:
Future demand for the industry and increasing demand of passenger travel in countries like China where the company has a strong footprint will further enhance the company's position in these markets. Overall, Boeing's future position seems to be strong and is backed by a strong backlog position, future demand for the 777X and projected revenues of 2014.
The P/E is 17.03 compared to the industry average of 20.42 which shows that the stock still has extraordinary upside potential. The current price is a good entry point for buyers to take part in the company's future earnings. I recommend a strong buy rating.
Disclosure: I have no positions in any stocks mentioned, and no plans to initiate any positions within the next 72 hours. I wrote this article myself, and it expresses my own opinions. I am not receiving compensation for it (other than from Seeking Alpha). I have no business relationship with any company whose stock is mentioned in this article.