Up until Q1 of 2013 (ending June, 2013) BlackBerry (BBRY) accounted for sales recognizing hardware revenue in the period the devices were shipped to carriers and title was changed. BlackBerry accounted for revenue based on expected sales prices minus expected returns.
However in Q2, BlackBerry changed the way it recognizes revenue. Since management was unable to estimate the sales price and the rate at which phones were returned, it began recognizing revenue once the device sold through to the end consumer. However, the return period lapses.
To get a feeling of what I mean, below is an illustration showing graphically what I described above and why we might see a surprise revenue spike to the upside tomorrow.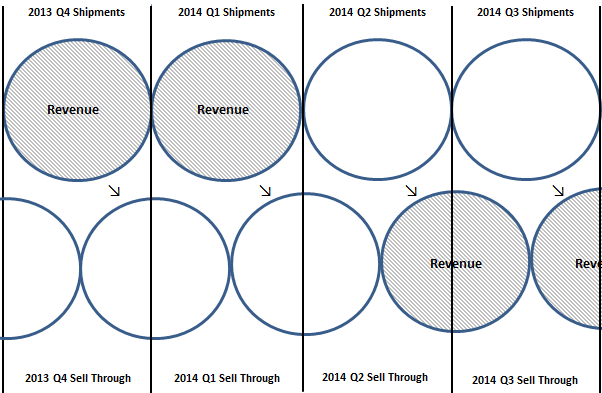 In Q1 and Q2, revenue was recognized in the period devices were shipped. It could eventually be sold through to the end customer in a later quarter but revenue was already recognized on those devices.
In Q2, 5.9 million devices were sold through, however only 3.7 million of them were recognized as revenue because the 2.2 million were already recognized as revenue from previous shipments.
As you can see above, to be recognized as revenue the devices had to be shipped and sold through to be recognized as revenue.
However going forward, the period in which devices were shipped will no longer be important, only when the devices are sold through to the end user, regardless of the period in which it was shipped.
This surprise uptick in revenue should have happened last quarter, however I think it didn't because channel inventory was not cleared. This quarter however I think channel inventory has been cleared, and as result, the revenue data should represent full normalized hardware revenue.
Makes sense?
Bottom line
While I do not expect BlackBerry to register a profit, or even beat the consensus estimate of $0.55 loss per share (although it might). I do expect the company to register higher revenue than the consensus estimate of $1.11 billion for the quarter.
We will find out of this theory makes any sense tomorrow.
Disclosure: I have no positions in any stocks mentioned, and no plans to initiate any positions within the next 72 hours. I wrote this article myself, and it expresses my own opinions. I am not receiving compensation for it (other than from Seeking Alpha). I have no business relationship with any company whose stock is mentioned in this article.