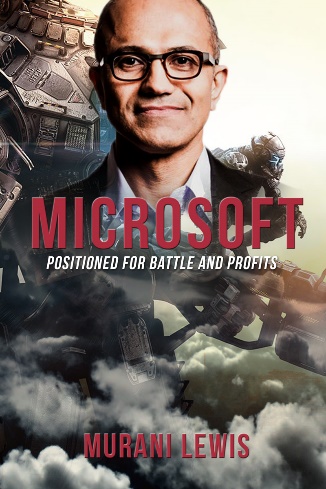 In a world where competitors are clearly aiming to push Microsoft (NASDAQ:MSFT) to the sidelines, the complete opposite appears to be shaping up. As much as quality and care of design language is a part of Apple's (NASDAQ:AAPL) DNA, the ability to persist through growing pains and breakthrough to profitability is in Microsoft's DNA. Satya Nadella may be a new CEO, but his track record is a catalogue of success stories. Before becoming Microsoft's third CEO, Nadella previously served as vice president of Microsoft's Cloud and Enterprise group, and has worked on the company's cloud offering for the last seven months. The Cloud and Enterprise group was one of the fastest growing and profitable segments for the entire company growing into a multi-billion dollar per quarter division. Office and Office 365's SaaS subscription model, teduced licensing fees for OEMs and the release of the XBox One have Microsoft positioned for battle on multiple fronts and to rake in profits moving forward.
Taking On All Comers as the Device Agnostic King of Productivity (Office & Office 365)
Did you know that one of the leading domain registry sites, GoDaddy, is now offering customers the opportunity to use Office 365 for their back end and email needs? The significance of this partnership is that GoDaddy has in the neighborhood of 12 million customers and growing. That is a large pool of potential customers who can add multiple user subscriptions for each account. Better yet, the availability on platforms such as the Apple's iPad and Android means a business customer can have the confidence of working with Office 365 on their favorite device and managing their website from the same device.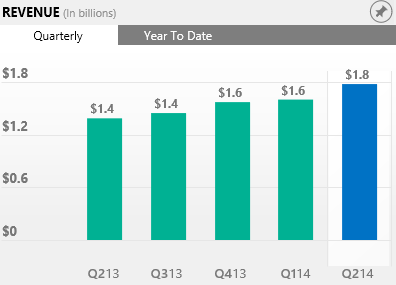 "Cloud Services revenue grew $315 million or 107%, due mainly to higher revenue from Commercial Office 365." - FY2014 Q2 Financials via Microsoft Investor Relations
I find it reasonable to project that revenue for the Commercial Other division will top $2 billion by FY2014 Q4. This will be buoyed by the partner announcement of Microsoft's new Enterprise Mobility Suite (EMS). That suite is a licensing bundle for large enterprise customers who need to centrally manage iPads, iPhones, Android devices, Windows devices and more.
The launch of Office for iPad, announced earlier today, March 27, 2014, opens up the very real expectation that revenues for Microsoft's Devices & Consumer Licensing division can grow revenues and profit year-over-year. Word, Excel and PowerPoint will be available in Apple's App Store at 11 am PT. During FY2014 Q2, Office revenue declined $244 million or 24%, reflecting the transition of customers to Office 365 Home Premium as well as continued softness in the consumer PC market. The iPad is a growing market that more than makes up for a softening PC market. In the most recent fiscal quarter ending December 28, 2013 Apple sold 26 million iPads. Microsoft is positioned to charge forward in fresh waters filled with users who have proven to pay for a product that is worth the cost. What is even more impressive is that Microsoft managed to get into the iPad market first before Google (NASDAQ:GOOG) introduced its own suite of enterprise focused offerings.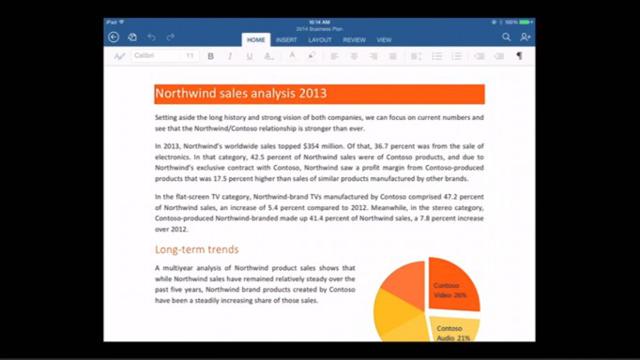 Screenshot of Office for iPad courtesy of Windows Phone Central.
"Web, phones, tablets, PCs - Office 365 will be everywhere from here on out."
- Microsoft CEO Satya Nadella
Licensing and Market Share
According to credible reports, Microsoft has essentially dropped licensing fees for Windows Phone in emerging markets and struck deals with popular and fast growing Indian OEMs. A potential deal with Micromax is currently being worked out. Looking back at history, there is no shortage of objective evidence that supports the theory that this will result in a significant increase in the adoption of Windows Phones by OEMs.
If you have to pay patent fees for using Android but using Windows Phone is free, which way do you turn? The same logic and motivation that caused OEMs to gravitate to Android en masse now applies to Microsoft's Windows Phone offering.
Microsoft's newly announced EMS will allow Microsoft to pursue the per user licensing model that has proven so lucrative over the years for MDM services such as BlackBerry with its device management services.
Microsoft and Dell have just signed a patent licensing agreement for Android and Chrome OS. This just adds to the already very profitable Android patent licensing War Chest that has turned into a billion-dollar revenue stream of its own.
XBox One and the Big Launch Window
The new XBox One with "Titan Fall" bundle is Microsoft's attempt to garner the "Mario effect" that Nintendo rode to console dominance. The unique game helps emphasize the most forward leaning aspects of the XBox One console.
Now that the big launch is out of the way, Microsoft has dug into its previous strategy of attacking the competition, Sony's PS4, at the pricing level. Recently, Microsoft cut the prices to its Titan Fall XBox One bundle to $449 in its Microsoft stores and other retailers. Proving a $60 value at the time of purchase, Microsoft is leveraging the first real differentiating title for the XBox One console to substantive results. Sales of the XBox One were boosted 96 percent week over week in the UK. Now that pricing is no longer a big differentiator that Sony can hang its hat on, look for Microsoft and its major marketing budget to kick into high gear and drive substantive units.
Nobody is safe now that Microsoft and its massive resources have been focused by Satya Nadella to do things, not just because it can, but because it must. When Satya Nadella was announced as Microsoft's new CEO, it was viewed as the safest pick. The ramping up of product releases and service updates suggest that sentiment was wrong. Satya Nadella has managed to push a quicker, cloud and mobile first initiative that far exceeds what the market was expecting. Based on the recent moves to deliver Office for iPad first and not wait on the "Gemini" Office release to hit Windows devices first, the quick cadence software and services that are being released and/or updated, and the focusing of Microsoft's collective talents in a market that has quickly become cloud and mobile first shows Nadella and Microsoft are positioned for battle and profits.
Disclosure: I have no positions in any stocks mentioned, but may initiate a long position in MSFT, AAPL over the next 72 hours. I wrote this article myself, and it expresses my own opinions. I am not receiving compensation for it (other than from Seeking Alpha). I have no business relationship with any company whose stock is mentioned in this article.