By Carla Fried
The Leuthold Group recently highlighted an important shift in the world of dividend investing. For starters, it noted that the "golden age of dividend payers" that began in 2009 has abated since last spring. As shown in this chart, the WisdomTree Dividend ETF (NYSEARCA:DTD) outperformed the SPDR S&P 500 ETF (NYSEARCA:SPY) through April 2013.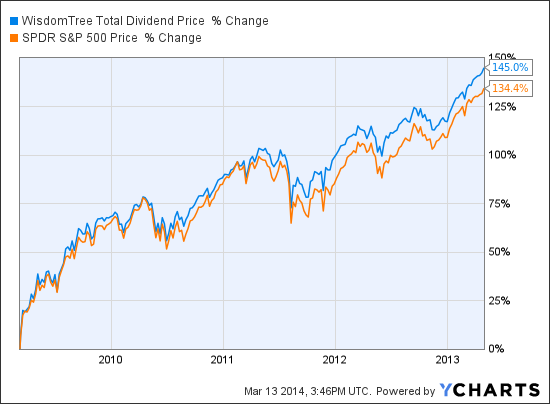 DTD data by YCharts

And that's on price alone. Add in the dividends and the WisdomTree Dividend ETF's total return is near 180% compared to 155% for the S&P 500 ETF.

But since then the story has flipped: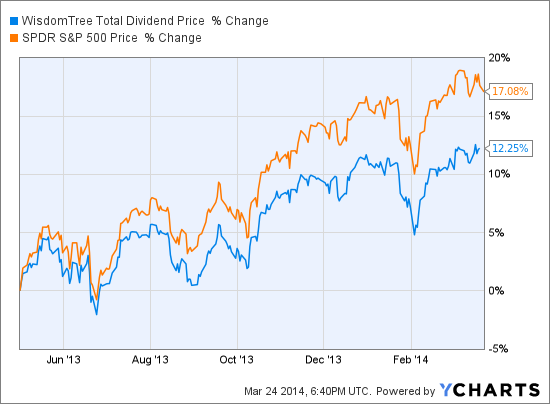 DTD data by YCharts

But as Leuthold went on to explain, one important pocket of dividend investing is quite alive and well: dividend growth. The WisdomTree Dividend Growth ETF (NASDAQ:DGRW), launched in April 2013, has handily outperformed the more yield-oriented WisdomTree Equity Income ETF (NYSEARCA:DHS), and is keeping pace with the S&P 500.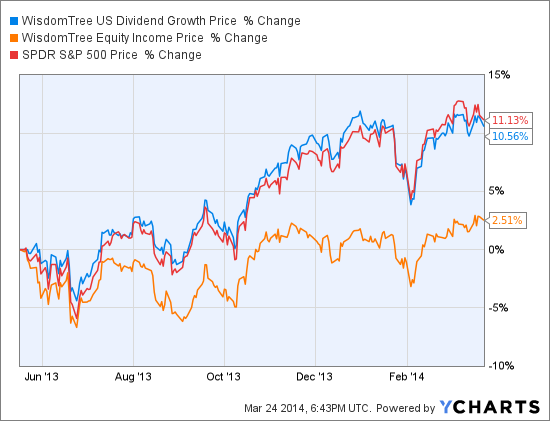 DGRW data by YCharts

That sparked Leuthold to return to a dividend growth screen it had looked at in 2011. The screen starts with companies with market caps of at least $1 billion that have a dividend yield of at least 3% (to keep pace with inflation) but no greater than 10% (a sure sign of some fundamental distress). Next, the payout ratio must be below 60%. Any higher and you have to start worrying if the company will be able to keep healthy dividend hikes coming, as well as reinvest in the business. The final requirement is that there must have been at least five dividend hikes in the past 10 years.

From there, Leuthold ranked the survivors on a variety of metrics designed to tilt toward companies with the best odds of sustaining their dividend. That part of the screen included Leuthold's proprietary Company Quality ranking that dives into metrics including return on equity (ROE) and leverage, as well as looking at dividends and earnings growth potential, and current valuation. Companies were also ranked based on how much cash flow from operations is needed to cover the dividend; a lower percentage obviously being better.

Among U.S. based firms, gas and oil driller Noble Corporation (NYSE:NE) had the highest composite Dividend Sustainability score. (YCharts Pro's Noble rating is also rated Attractive.) A 5% dividend yield will certainly please the income seekers. It also sets up to keep dividend increases coming, though don't expect 'em yearly, as there have been five increases over the past 10 years. The general payout ratio is below 40%. And cash from operations relative to the dividend payout does indeed speak to sustainability: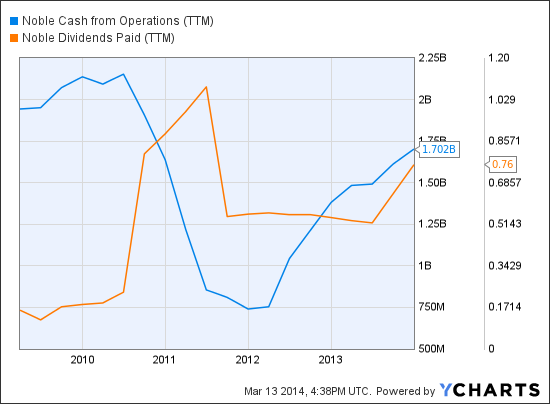 NE Cash from Operations (TTM) data by YCharts

Moreover, Leuthold's 5-year normalized PE for Noble is below 10; YCharts' PE 5 also shows that today's valuation is also below its below its five-year high.

Chevron (NYSE:CVX) came in second in the "Americas" region in Leuthold's ranking. Chevron was the only Americas company to raise its dividend in each of the past 10 years. (In fact, as recently covered at YCharts, Chevron is one of 54 Dividend Aristocrats—S&P 500 companies that have increased dividends for at least 25 consecutive years.)

And we're not talking small increases either as the dividend has grown more than 50% over the past five years, yet there's plenty of room for more strong growth: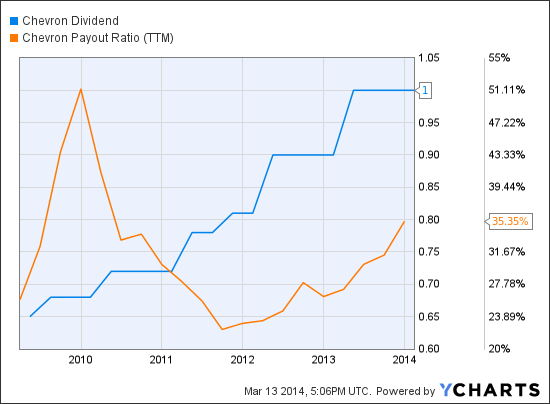 CVX Dividend data by YCharts
For the overall winners you'll have to venture abroad. Noble only ranked 20th best in Leuthold's global dividend growth screen, and Chevron came in at 36th. The top three came from Asia: Industrial and Commercial Bank of China Limited Class H (OTCPK:IDCBY), CNOOC (NYSE:CEO) and Punjab National Bank.
Disclosure: None