AirWatch has Strengthened VMware's MDM Offerings
The competition for VMware (NYSE:VMW) is growing and to strengthen its position VMware recently acquired AirWatch for $1.5 billion. Complementary to VMware's portfolio the mobile solutions provided by AirWatch expanded the product portfolio to 500,000 customers and 75,000 partners. This combination added 10,000 customers globally and has provided a strong customer base for VMware. So far this acquisition looks valuable as AirWatch has been growing by nearly 40% quarter on quarter. AirWatch's mobile device management possesses software tools required by IT organizations to manage, monitor, and secure mobile devices in their enterprise. The mobile devices shipment is expected to reach 2 billion in 2014 and a large proportion will be used by employees at work. For VMware this expansion in the MDM market is very good move because the MDM market will reach $1.6 billion in 2014 and will still only account for 30% penetration in North America and much less elsewhere. For the current fiscal year AirWatch's expected contribution would be around $80 million. If AirWatch maintains its growth between 30% and 35% then by the end of this decade the company will be generating around $600 million to $650 million for VMware.
Desktone's Addition and Horizon DaaS did the Job for VMware
Another recent acquisition by VMware is Desktone in order to improve its desktop-as-a-service (DaaS) offering to the business users. By bringing Desktone's innovative platform in-house, VMware will be able to accelerate the delivery of DaaS through its network of over 11,000 VMware service provider partners. This addition will improve customer offerings and will improve the overall future earnings from existing products of VMware. VMware is major player in the virtualization market and recently launched Horizon desktop-as-a-service (DaaS), a cloud-based desktop service that delivers virtual desktops running on VMware's vCloud Hybrid Service. Through Horizon DaaS VMware will successfully compete with Amazon's (NASDAQ:AMZN) WorkSpace service. The Horizon DaaS is priced at $35 per month which is the same amount Amazon has said it will charge and reportedly it has beaten the WorkSpace as a big company to release their DaaS offering.
Tremendous Performance and Strong Financial Results
VMware's performance remained quite impressive and continued to grow throughout 2013. The fourth quarter and fiscal year results were strong. The company successfully generated $5.21 billion in annual revenues with a good growth rate of 13%. The fourth quarter revenues were $1.48 billion with year-over-year growth of 15%. Earnings were bolstered by renewal contracts and demand for new management and automation software tools. The results reflect the fact that VMware has maintained the growth which is a good indication that company can maintain its future earnings growth too.
The net income showed a tremendous growth of 62% and generated $335 million in earnings compared to $206 million in the fourth quarter of 2012. The impressive earnings resulted in healthy diluted earnings per share of $0.77 compared to $0.47 in the same quarter of the previous year. The net income for the entire year was $1.01 billion or $2.34 per diluted share, boosted by 36% compared to 2012. Healthy and increased profit margins played a major role in the significant income growth. The interesting aspect for investors is that the profits are growing faster than the sales and this is a good indication for potential investors.
VMware has been bundling its core vSphere virtualization software and vCenter management tools with newer vCloud cloud management offerings and the strategy appears to be paying off. The Pivotal spinoff seems to be good strategic move because excluding Pivotal's results the earnings growth increased to 20%. VMware is operating in a competitive environment however the company's management tools for cloud are selling very well despite the fact that OpenStack, Windows plus system center, CloudStack and other alternatives are available.
VMware only launched vCloud hybrid services in the U.S. in 2013 and a beta version in single data center in the U.K. The customer response to the U.K public beta version shows that the program has gained tremendous popularity. Recently the company expanded in the key European regions to enhance its market reach. VMware only recently released its vCloud Hybrid Service to its North American Channel partners but will offer it to others throughout 2014. When the company comes-up with the improved version in the U.K and Europe It can be expected that company will successfully add more growth.
VMware has quite a strong balance sheet and it is getting stronger as the company's net income grows at a faster pace. The profits and also the cash flows are showing significant growth. The operating cash flows were $2.54 billion reflecting an increase of 34% from 2012 and the free cash flows for the year were $2.19 billion reflecting an increase of 32%. The short-term liquidity is also strong as cash, cash equivalents, and short-term investments were $6.18 billion and unearned revenues were $4.09 billion by the end of 2013. Currently VMware is not paying dividends but as the cash flows position strengthens further the dividends can be expected in the future.
India is Emerging as an Attractive Cloud Market
The Indian cloud market is in its start-up stage and possesses a lot of potential for market leaders to penetrate. VMware's decision to invest $120 million in India is an initiative to capture this growing market. The research firm Gartner estimates that the cloud services market in India will grow by 29.8% in 2014 to reach $550 million from $423 million in 2013. The software as a service (NASDAQ:SAAS) will grow faster by 30.3% reaching $218 million in 2014. IT spending on public cloud services in India is expected to reach $1.3 billion in 2017.
Conclusion
VMware's total return of 35.55% has outperformed the S&P total return of 22.44% and Citrix systems (NASDAQ:CTXS) total return of 13.25%. The accelerated growth in growth in 2013 has put the company on the growth track and the 2014 outlook is very strong.

Source: ycharts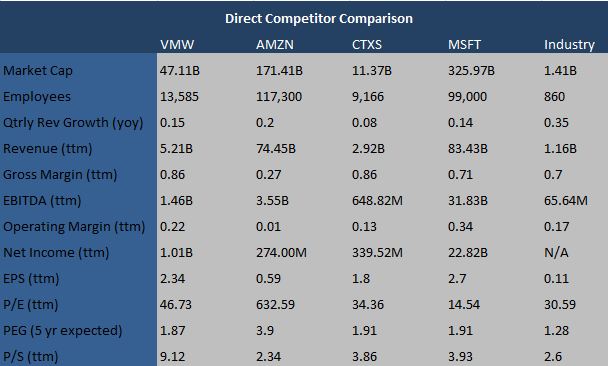 Source: yahoo finance
The company has set its 2014 full-year projections between $5.94 billion and $6.10 billion similar to or slightly higher than analysts' expectations. The forecast for the full-year operating margin is 31%. Going further, the company anticipates healthy growth of 15% to 20% for the 2015 to 2016 timeframe. The current P/E is 46.73X which may look a bit pricy but considering the 5 year average growth of 16.55% this P/E seems reasonable because investors are confident about long-term earnings growth. The stock is more attractive with the forward P/E of 25.85X and compared to the industry and competitors VMware looks fairly valued. VMware's growth and return prospects are bright and I give this stock a buy rating.
Disclosure: I have no positions in any stocks mentioned, and no plans to initiate any positions within the next 72 hours.
Business relationship disclosure: The article has been written by a Gemstone Equity Research research analyst. Gemstone Equity Research is not receiving compensation for it (other than from Seeking Alpha). Gemstone Equity Research has no business relationship with any company whose stock is mentioned in this article.