Weight Watchers International (NYSE:WTW) is selling at very silly prices. The company is well known for its 50-year-old program which helps people lose weight.
According to the company, 69% of adults over 20 years old are overweight and 33%+ are obese. Over $100 million Americans would like to lose weight. Further, over the last 20 years the company's system has been clinically studied 80 times. For example, a 2013 study by Baylor College of Medicine found that "overweight and obese adults following Weight Watchers loss significantly more weight at six months than those who tried to lose weight on their own" (10-K, p.2). Many other studies say variations on that same theme.
I could go deeper into this but the point is that Weight Watchers has a special place in the industry -- it is respected, recognized, efficacious, and very well known. It has that ever elusive "mind share." On top of that, the company is very profitable. With the stock currently in the tubes, one might expect that the company has recently suffered losses -- but its 2013 net income was $204 million (an earnings yield of 17.8%). Those earnings were backed up by very strong free-cash-flow of $260 million (a FCF yield of 22.8%).
In 2014 guidance, management estimates that GAAP earnings will be around $70 million (a yield of 6%). That estimate likely contains certain one-time items and other accounting adjustments. I would personally, however, expect free-cash-flow to remain fairly robust.
Our contention is simple: Weight Watchers is not going away. As we will argue in more detail below, we think there is a very good chance long-term earnings (as measured by free-cash-flow) remain well over $150 million -- a figure which could support the share price.
On a whole, we see the security selling around $2 billion in a less fearful market (and for much more if the operating declines cease). We believe the current price action has to do with (1) recent negative guidance, (2) recent negative revenue and operating trends and (3) the corporation's debt levels. Despite management's dire guidance, however, the company's business model is still likely to produce strong cash earnings.
Let us take a look.
Operations
Weight Watchers earned its reputation due to its philosophy and business model. Their business model, particularly their old meetings business model, is all about human connection combined with method, habit and science. They appear to have a monopoly on this strategy.
Weight Watchers is large enough that many people probably know how they make their money. But for those not in the know, here is a crash course. First, let us separate the business into three segments: (1) meeting fees, (2) merchandise and branded food, and (3) web/tech. (There are also royalties and other revenue but let's ignore that for now.)
For the last three years, revenue results look like so:

Meeting fees, the largest category, is falling. Product sales are also falling. But internet revenue (think other tech too) is growing. Let us first talk about meeting fees.
According to the 10-K, around 75% of meeting fees fall into the category of "Monthly Pass." Here is the stated economics for the monthly pass:
With Monthly Pass, members receive unlimited access to meetings at a discounted monthly price plus free access to Weight Watchers eTools, the Internet weight management companion for Weight Watchers meetings members... For example, in the United States, Monthly Pass is sold for $42.95 per month (approximately $9.91 per week) as compared to the average "pay-as-you-go" weekly fee of $14.00. Under the terms of Monthly Pass, a fee is charged automatically to the member's credit or debit card on a monthly basis until the member elects to cancel. (10-K, p. 3)
These meetings are all about "group support" in the effort to change lifestyle habits. It is easy to be cynical about this since the corporation seeks to earn a profit from this activity. But the group meetings are the foundation on which Weight Watchers was built. As the "History" section of their 10-K describes, founder Jean Nidetch:
…attended a New York City obesity clinic and took what she learned from her personal experience at the obesity clinic and began weight-loss meetings with a group of her overweight friends... Under Ms. Nidetch's leadership, the group members supported each other in their weight-loss efforts, and word of the group's success quickly spread. Ms. Nidetch and Al and Felice Lippert, who all successfully lost weight through these efforts, formally launched our business in 1963. (10-K, p. 10)
These meetings are the cornerstone of the group support philosophy. I cannot stress how important this segment of the business is -- without it, the competitive advantages and the structures which make Weight Watchers special are lost. In fact, much of the corporation's future success rides on the group support system of Weight Watchers. It is the source of their high quality branding and it is the reason their new web apps can command high premiums. (Accordingly, there has been some talk about free weight loss apps but I think any weight loss program which does not have the group support back bone of Weight Watchers is at an enormous disadvantage and will not persist in their competition. Furthermore, Weight Watchers has already developed an efficacious system; it is a relatively straight forward to build technology on top of that. Management is currently addressing what they have called a "bifurcation" between the old business and the online business -- see "Structural Administration" below.)
Recent metrics in their meeting business have been negative. The enrollment trend is negative and paid meeting weeks have declined y/o/y. The lower attendance in the meetings has resulted in fewer in-meeting product sales. We can assume that much of the decline in the "product sales" category is largely due to a lower rate of attendance.
Basically, almost every operating metric was down across 2013 except online paid weeks (although that too finally declined in Q4 2013). Here is the 10-K's 2014 guidance:
Given the lower starting active base at the beginning of fiscal 2014 versus the beginning of fiscal 2013 and the weak recruitment environment continuing into 2014, management expects declines in paid weeks in fiscal 2014 to be higher than the declines experienced in fiscal 2013. Management expects Online paid weeks in fiscal 2014 to decline at a higher rate than that experienced in the second half of fiscal 2013...Given these expected negative trends, management expects revenues to decline at a higher rate in fiscal 2014 than that experienced in fiscal 2013. (10-K, p. 39)
Not so good. This is one of the reasons why the stock has fallen to $20 a share. Now with more negative news coming down the pike -- in particular a difficult Q1 comparison -- it might be wise to wait and see if we get better future opportunities to invest. However, actually timing something like that is very difficult to do.
Anyways, the 10-K continues and basically states that Weight Watchers is going to cut costs as one of their main reactions to this whole thing. Apparently, the company had used a significant amount of professional outside services which is a trend the new management wants to stop. At the same time, one has to wonder whether maybe the heavy and effective advertising of the last few years is simply fading away leaving a core base of customers. The theory would be that, once WTW sheds the non-serious customers, meeting week declines and paid week declines would slow or cease.
The way I see it, Weight Watchers is best served if they can keep individuals in their system for as long as possible. The individuals they attract via television advertising may be less serious about losing weight. It is the individuals whom find Weight Watchers via research or word of mouth who are more likely to be sticky customers and therefore more profitable to Weight Watchers. A person, to be effective at losing weight, has to really dedicate themselves to the task -- and Weight Watchers is a lifestyle change, not simply a weight loss diet or program.
Therefore, given the amount of narrative the business gives to the burst in enrollment via advertising -- specifically the 30%+ growth in paid meeting weeks in 2011 attributable to "strong marketing and public relations activities" -- it is possible that Weight Watchers attracted a large amount of non-serious dieters. If they did, these people wouldn't stick around since Weight Watchers is, again, a lifestyle program.
Operations - Online
Due to increased competitive pressures, including the impact of the increasing consumer trial of activity monitors and free apps in the commercial weight loss category, and less impactful marketing...management anticipates negative recruitment trends to continue in 2014. (10-K, p. 39)
Anyways, I am going to be a bit dismissive about this threat. WTW is an old and efficacious program. A "free app" can certainly help some individuals, but they lack the support of Weight Watchers International assets. Further, the world of "free" apps may be slowly closing as individuals come to terms with the fact that you get what you pay for. If it is free -- you're the product.
The online segment earns an excellent business -- operating margin of 58% in 2013 -- because it sits on top of (1) group meetings, (2) research, (3) proprietary tools and (4) the other intellectual assets of Weight Watchers.
In the long run and assuming quality execution by their engineers, Weight Watchers has a huge advantage over other competitors due to their branding, their legacy and their resources. These advantages seem likely to translate into long-run revenue growth in terms of online tools and apps.
Buybacks and Debt
Take a look at the company's debt. It is clearly large relative to the company's most recent earning power.
Debt: $2.358 billion
Earnings 2013: $204 million
FCF 2013: $260 million
Years to pay off debt with 2013 earnings: 11.5 years
Years to pay off debt with 2013 FCF: 9 years
The company had under $1.25 billion worth of debt in 2012 when they decided to do a tender offer to buy back common stock. The offer basically allowed their controlling shareholder, Artal Holdings, to sell some of its stake while keeping its controlling position.
On February 23, 2012, the company started an auction which resulted in a repurchase at about $82 per share. (Remember, today the shares trade at $20.)
In total, they repurchased 8.8 million shares at $82 ($721 million) from the public and 9.5 million shares at $82 ($779 million) from Artal Holdings. For this they increased their debt by well over a billion -- and today the share price is weighed down by this debt.
In total, the transaction -- having occurred only two years ago -- represents an investment loss of about $1.13 billion. The "investment managers" at WTW lost a cool $1.13 billion in one trade.
And yes, the corporation is currently selling for about the same amount of money that it lost in the stock market between 2012 and today. This line of reasoning assumes we think of a corporation's stock buy backs as an investment -- which they certainly are. Anyways, this is a good example of share buybacks failing to benefit shareholders. And now the company has $2.358 billion in debt.
Management
Controlling shareholders can be a blessing or a curse. In this case, we lend towards blessing: Artal's managers pay close attention to the corporation and it is unlikely to become a private fiefdom for the executive corporate managers. Thus far, most of Artal's actions lead me to think they have been a good steward -- that is, except for their participation in the tender offer.
In any case, with the poor operating metrics coming out of the corporation, a change up was initiated. Leaving the corporation was CEO David Kirchoff. He was a bonafide Weight Watchers member (he even has a weight loss blog here). Thus we have a somewhat new management team:
CEO James Chambers - Joined July 30, 2013
CFO Nicholas Hotchkin - Joined August, 20, 2012
President Jeanie Lemmens - Joined 2006 and was made president in May 2013
The old CEO was a Weight Watchers member -- he embodied the core business in that way. The new CEO, however, still seems to get it. He has instituted various policies to better combine the efforts of the old core business model with the growing opportunity in the online/tech business.
Structural Administration
The company's new management noted that the web/tech side had been separate from the meeting side of the business. This structural separation failed to take full advantage of both segments capabilities. This is likely one reason for the change in "reporting segments" that is to start Q1 2014. Up through 2013, the company reported on two segments: (1) online and (2) the old core meetings and product business. Starting this quarter, the company has moved to a geographic segment reporting model. This change in reporting mirrors an underlying change in administration at the corporation.
The Debt
We believe the debt is too large in general but it is not a current risk for the common stockholder due to the corporation's high cash flow business model. Presently, the company has $2.089 billion of debt due 2020. About $298.5 million is borrowed on its revolver due 2016.
Business Valuations
We created a model for this article to see what sort of future the company is facing. The model isn't designed for prophecy but for helping to set rational negative expectations. If you're feeling bearish on this stock -- this is supposed to make you think. It is constructed assuming a so-so future for the online business and a future of lower revenue and lower operating margins on the core business. Specifically, it is set up to deal with these ranges and assumptions:
Core business revenue of between $650 million and $1 billion (currently: $1.19 billion in 2013)
Core operating margin of -3% to 12% (12.9% in 2013)
Online business revenue between $400 million and $650 million ($526m in 2013)
Online business operating margins of 30% to 60% (58% in 2013)
Interest expense of $125 million (from management guidance)
Tax Rate of 39%
Anyways, given those ranges, we can create a spectrum of possible future earning powers. If we assumed every combination was equally probable -- the old assumption which makes much of finance and economics work -- then we can state some "probabilities."
Given all the combinations above (in our case, 1800), only around 24% result in a consolidated corporation in which earns less than $70 million a year. Only 1.8% of the cases constructed resulted in the corporation actually losing money.
Around 30% of outcomes result in a consolidated corporation which earns more than $150 million a year. In 10% of cases, the corporation made more than $200 million.
If the corporation wasn't facing disapproving creditors, then $70 million a year could, in theory, support the current share price. In my opinion, if this corporation can earn $150 million, then it would be able to support its share price and its current debt load.
The ranges which we use above are pretty negative from the outset. Right off the bat we are assuming a $200 million revenue decline on the core business.
In reality, the core business' revenue will, in my opinion, likely to stay above the $1 billion mark. Furthermore, I doubt the future corporation will lose money (in terms of operating margin) on the core business. In my opinion, earnings much greater than $150 million are probable in long term and I would personally expect earnings significantly higher than that.
Take a look at the corporation's historic free-cash-flow: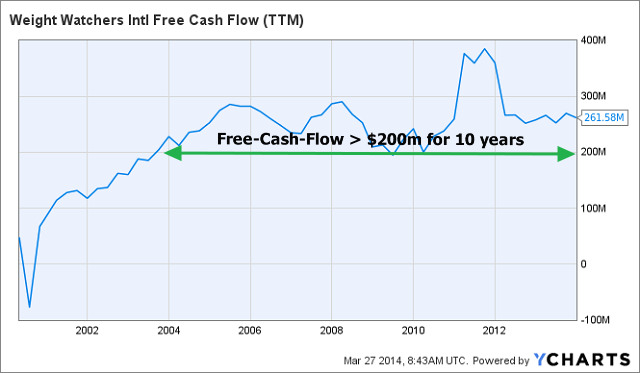 For each of the last ten years, the corporation has produced more than $200 million in free-cash-flow. Given that the business model is intact -- albeit, currently shrinking -- this record provides strong evidence of the corporation's long-term earning power.
The company continues to have pricing power and the current market difficulties it faces are likely temporary in character. Further, from a total addressable market standpoint, WTW is a market leader in a growing market. Even under situations where margins decline and revenue declines, the corporation's future earnings would most likely be able to support the share price at around today's valuations.
Conclusion & Valuation
Today's price is lower than the bottom it reached during financial panic: the low of 2008 was around $1.25 billion and, as of this article, it sells for around $1.115 billion. For simplicity, if this corporation sold at a long-term PE of 13 and earned $150 million, it would be worth around $1.95 billion (a 75% upside from today's prices).
This requires a commitment by the corporation to lower its debt levels. But I believe if the company commits itself to the core of Weight Watchers, the debt will not be viewed as a problem long term.
As long as WTW focuses on helping people lose weight, I think WTW will be around a long time. When people really want to change their life, they go for what works and they use the cost itself as a personal incentive.
Note on the speculative downside -- it is entirely possible that this stock sheds another $5 to $6 on the share price before it rebounds. But, then again, the future is also unknowable. Just don't be surprised if that is what happens.
Note on the speculative upside -- it seems around 40% of the float is sold short (as of 3/14) so there is some potential for a short squeeze.
Addendum #1 - Brand
Now that you've heard my comments about the corporation and the possibilities of value, I want to make some comments on the Weight Watchers brand.
The testimonials on the internet are extremely favorable because, surprise, surprise, many people have successfully lost weight with Weight Watchers. The way I see it, if the company continues to help people lose weight, making money really should be easy. Don't let the social-mobile-bubble mindset make you think a free social media app will destroy WTW's business.
David Kirchoff, the old CEO and Weight Watchers member, in his farewell address writes:
"During my 14 years at Weight Watchers, I've seen so many people change their lives that I've lost track. I've had the pleasure of watching people accomplish what they never would have thought possible. I've seen the unfettered joy and pride on their faces when they reached their goal weight. I've seen the way that they make everyone around them rise up in their own self-belief. Weight Watchers truly is an incredible and special organization, with one of the most important missions on Earth: helping people get healthy by helping them live healthy. That mission was happening long before I ever got to Weight Watchers, and it will be happening long into the future. And for Weight Watchers, I believe the future is bright indeed."
The most important thing to keep in mind is that losing weight is extremely important to many people. Weight Watchers is all about lifestyle change -- once the company has helped someone achieve their goals, they become an extremely convincing living, breathing advertisement. Furthermore, in videos members make it sound basically as if Weight Watchers is the thing people try when they've tried everything else. A lot of people go once they are, in a word, desperate to try a new, lasting, means. In this way, it captures people ready to make lifestyle change. Those people are extremely valuable.
The system of losing weight in the future will be much the same as it is today -- forming good habits around healthy foods and activities. The company doesn't have to be geniuses -- they just have to continue to help people lose weight and they will have a convinced audience whose word of mouth advertising likely creates truly sticky customers (perhaps more so than their Jessica Simpson advertisements).
Weight Watchers has an exceptionally strong market position -- the stock market appears to have discounted that position in a big way. In a very typical short-sighted way.
Addendum #2 - Growth Plans
If all the above was all I had to say, I would think this company is a buy. But, considering some of their growth projects, there is reason to think they could grow out of their problems. Specifically, they are trying to achieve growth via "healthcare." What this means, of course, is that they are trying to establish partnerships with health plans. In the most recent conference call the new CEO Jim Chambers says:
We are in discussion with a select number of health plans for launch of new or expanded benefit offering to their members for potentially as early as the 2015 benefit season. We're very pleased with the progress of these discussions and are exploring a variety of approaches to leverage the evidence-based and consumer engaging strengths of the Weight Watchers program within a health plan benefit offering. We expect to continue to update you on our progress on this front as we move through the year.
This plan is quite intelligent. I can imagine under the right circumstances health insurers would sign on willingly. Indeed, as pointed out in their recent investor day presentation, the Affordable Care Act required all health benefit plans to offer obesity preventative care, namely, "reasonable management techniques to determine coverage and institute alternative [Intensive Behavioral Therapy or IBT] approach." This is basically what Weight Watchers is doing.
"Weight Watchers," the presentation slide reads, "has been clinically proven to meet the IBT requirements and is the only program available on a national basis" (emphasis added, slide 44).
That is, if health benefit plans begin to institute preventative care for obesity, then Weight Watchers is a clear winner (with no national competition).
I would be remiss if I didn't include this other quote from their conference call. It is speculative, so make of it what you will:
Jim Chambers:

We said at Analyst Day that we were confident that our recruitment trajectory would turn [positive] during 2015 and that we would return to revenue growth in '16 and become $2 billion Company in 2018. We believe that as much as ever and [it is a] single-digit CAGR from the 2014 starting point to get there.
Besides this growth projection, management also stated at investor day that if recruitment trends continue to be negative throughout 2014, the company could post only $1.5 billion in revenue in 2014 (versus $1.724 billion in 2013). However, they believe they can achieve revenue of $2 billion in 2018 by growing their "healthcare segment" to a revenue run rate of $300 million to $500 million.
It is worth noting that this management team does not want to over promise (they said so themselves) -- and therefore, we might have some positive surprises in the future if they under promised in their guidance.
Addendum #3 - Intelligent Contributions via Comments
Eli Hoffman highlighted a study that suggested the SA community was able to predict stock movements. It was the community -- not the contributors -- who created this effect through their contributions in the comment section. I found a number of enlightening comments when I was researching for this article. Try this one -- that commentator's other comments are of interest too. They have an inside view and have thought about the business model and its marketing.
Disclaimer: The opinions expressed in this article are those of the author as of the date the article was published. These opinions have not been updated or supplemented and may not reflect the author's views today. The information provided in the article does not provide information reasonably sufficient upon which to base an investment decision and should not be considered a recommendation to purchase or sell any particular stock or other investment.
Disclosure: I am long WTW. I wrote this article myself, and it expresses my own opinions. I am not receiving compensation for it (other than from Seeking Alpha). I have no business relationship with any company whose stock is mentioned in this article.