In some ways, tobacco stocks are a perfect match for IRAs because they have a tendency to do two things simultaneously: (1) give investors capital appreciation in excess of the S&P 500, setting the stage for large capital gains, and (2) pay out large, growing dividends.
To speak particularly, Reynolds American (NYSE:RAI) has a ten-year rate of growing dividends by 9.5% annually and growing earnings by 9.0% annually. Because Reynolds American typically yields 5.0% at the time of purchase, the high earnings per share growth rate and the high initial dividend often mix well together to deliver superior long-term gains. Check out this chart of what Reynolds has been able to do for shareholders over the past ten years.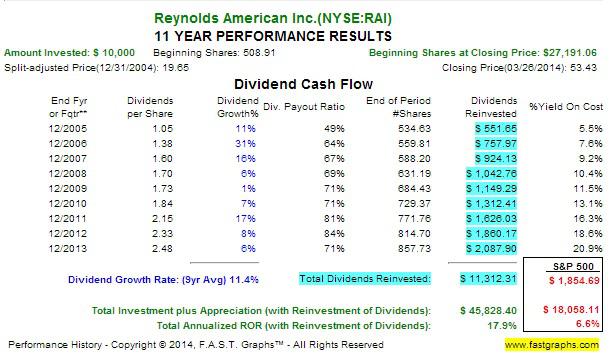 When you look at those 17.8% annual returns, you should notice two things in particular: the $10,000 investment turned into over $45,000 worth of total capital, and the total annual dividends grew to become over $2,000 on that initial $10,000 investment.
Those points are very important to keep in mind if you do significant investing within the tax-advantaged structure of the IRA. With both Roth IRAs and traditional IRAs, you are looking at maximum investment amounts of $5,500 annually (or $6,500 annually if you're 50 or older). With a 401(k), your limit is $17,500 (or $23,000 if you're 50 or older). A Reynolds investment in an IRA or 401(k) therefore is a useful backdoor way to build up capital in an account that limits how much you can actually contribute. That $45,000 is temporarily beyond the veil of the taxman's reach, and this allows you to convert some Reynolds stock into other income-producing securities while preserving tax benefits if you elect to do so.
The other thing is to recognize that dividends are an important component of the total returns that Reynolds generates for shareholders. Reynolds is one of those companies that gives investors a rapidly increasing yield-on-cost with your investment (it took just a decade for Reynolds to start paying out twenty cents annually on every dollar invested), and it can be nice to avoid an annual tax that can be as high as 23.8% of your annual dividend income. The optimal tax strategy of putting Reynolds in something like an IRA or 401(k) can put you in the situation where there aren't any barnacles attached to your financial ship slowing you down; a plain-vanilla taxable brokerage account could have your $10,000 investment paying out almost $500 in annual dividend taxes in the tenth year of your investment, and that is why it makes sense to put a company like Reynolds behind the curtain of a tax-advantaged account.
What makes Reynolds intriguing at this current point is that the company is buying back about 20 million or so shares per year (depending on the prevailing market price). The share count declined from almost 580 million in 2011 to 555 million or so in 2012. By the end of 2013, the share count was down below the 540 mark. At current market prices, Reynolds is set to retire almost 4% of its outstanding stock over the course of 2014.
In other words, for Reynolds' dividend to perform as well for the next ten years as it did for the past ten, it only needs a core earnings per share rate of 5% annually, because the company is already committed to buying back almost 4% worth of the stock.
Personally, I don't think 5% core earnings per share growth is a difficult hurdle for Reynolds American to clear. The Camel brand should experience some reversion to the mean this year (it lost almost 5% of volume last year) as Altria (NYSE:MO) is increasing the prices of some of their brands, particularly Marlboro and Virginia Slims. With Camel receiving better parity, it wouldn't be surprising if the company grabbed a bit more of the total market share against its top domestic competitor.
Secondly, Reynolds is improving efficiencies at its operations; the net profit margin has increased from 15.3% to 20.1% in the past year, and the operating margin has increased from 30.3% to 34.0%. This better performance is enabling Reynolds to do more with less, and these significant efforts to cut costs partially explains why Reynolds was able to grow net profits from $1.2 billion in 2012 to $1.65 billion in 2013.
Furthermore, the Vuse electronic cigarette brand met with extraordinary success during its trial run in Colorado. It accomplished an absurdly high 70% market share throughout its Denver locations in which it sold the product. In the field of investing, the word "catalyst" has become such an overused word that it is almost devoid of meaning. But considering that Reynolds is planning to roll out the Vuse across the country in the next couple of years, it would not be surprising to see Reynolds pick up $200-$400 million in addition profits within the next couple of years, which will quickly translate into higher dividends for shareholders if Reynolds management keeps with its traditional policy of returning 75%-80% of cash profits to shareholders in the form of dividends.
Reynolds is a nice stock to tuck away in a tax-advantaged account because it offers both high capital appreciation (allowing you to maximize tax shelters that feature annual contribution limits) and pays a significant dividend that can be protected if you use optimal tax strategy. To keep with its tradition of giving investors a rapidly increasing dividend yield-on-cost, Reynolds needs to continue growing at around 9% or so. Given that the company is buying back 4% of its stock, it only needs 5% core earnings growth to reach this hurdle. Given expected increases with the Camel brand, increased operational efficiencies, and expected profit growth with the Vuse e-cigarette segment, it seems that Reynolds is capable of repeating its recent past.
Disclosure: I have no positions in any stocks mentioned, and no plans to initiate any positions within the next 72 hours. I wrote this article myself, and it expresses my own opinions. I am not receiving compensation for it (other than from Seeking Alpha). I have no business relationship with any company whose stock is mentioned in this article.