It's no secret that the entire China renminbi "de-peg" issue, as defined by the U.S. White House, Obama, and "Tiny Tim" Geithner, was a complete sideshow to draw attention from domestic financial policy that has carved a handsome crevasse into the foundation of our country, formerly referred to with common adjectives such as "strong", "unwavering", and "solvent". The currency was pegged to our currency and if it were un-pegged it would effectively levy a major tax on all of the American families who have traded down from Whole Foods to Wall Mart as we learn to live on fewer incomes and more humiliating job titles.
Why is that? Well, sports fans, the equation is simple: Cheaper goods = Chinese goods. The single and solitary reason that President Obama and Treasury Secretary Geithner had any stance on the issue was due to European pressure to hard-line China into a gentle revaluation to make German goods more able to compete. And now that the euro is nearing 1 to 1 parity with the USD, it seems that all is well in whoville...
Well not quite, because now that no one cares China has played its middle child syndrome role to a "t" and obeyed the oldest son's sustained pleas. Sure, the yuan will revalue, but apparently it will be capped around +1.5% in 2010, and still managed by central China. So is a managed float really a float? Well, is a bear Catholic? Not really... in fact they don't really belong in the same sentence. Exactly.
So sure the second largest economy in the world suddenly feels the need to float its currency because it runs a major current account surplus and is ending its stimulus fueled domestic spending, which would force its currency higher, or in the case of a pegged currency, keep exports competitive but cause inflation to run rampant as prices increase and wages stay stagnant. Make no mistake, China may be a middle child, but they made the de-peg decision for themselves and it means nothing to the economic recovery there or anywhere in the World. Still, we'll probably see some self proclaimed credit groping out of Washington in the near future by idiots who have no idea how to spell current accoutn surplus, much less the name of the intern who wrote the speech they delivered on the subject. (Of course, that's only after they zip up from railing the heads of global Petroleum giants.) This is why markets rallied early as bulls shot blanks, meant to be live rounds, over the bow of U.S.S. Permabear but ended in negative territory.
This week we're going to see some serious pain from the housing reports on Tuesday and Wednesday where economists expect a rise to 6.2 million and a fall to 400,000 annual units in the Existing and New Home sales reports, respectively.
We're getting towards the middle of 2010, and eventually we're going to have to hear something from Bernanke to prep markets for the inevitable day when the U.S. economy has to sell the xbox, leave the parents' basement, and in the words of a wise man, "get a job sir!" Many of us forget what it means for the large financial institutions that manage our cash to actually pay interest on borrowed money, but the day will soon arrive. The same folks who approved all of the crappy mortgages that you didn't pay, because you didn't actually make what you wrote on the application, are going to have to start paying their own rent as well. Yes, the event I'm so jovially alluding to is the Fed Funds Rate announcement from the Federal Reserve, and we'll hear it on Wednesday.
Otherwise this week is going to be in the hands of the traders. Lucky for you, you're reading this so you'll have a jump on that as well. Check out the chart below for a look at the S&P 500 (SPX)... THE ONE AND ONLY QUINTESSENTIAL CHART NECESSARY FOR ANY EQUITY TRADES UNTIL WE SAY SO!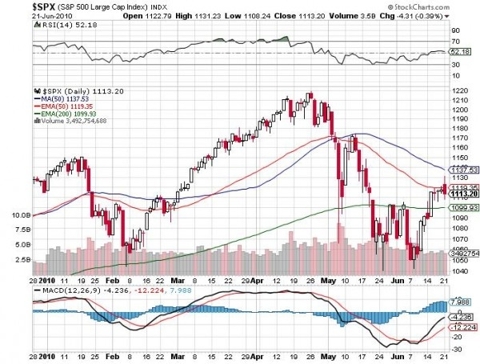 As regular readers know, we endorsed "short" positions relative to the S&P 500 and Crude Oil and a "long" call on the VIX following our proprietary trades to open said positions on Friday, May 28. As you can tell from the chart above, we called the next leg down to new six month lows correctly, but sentiment reversed and we called for investors to exit positions before the next big leg up on June 10.
I'm going back on the line now to call a true and magnanimous move lower on the S&P 500. Sentiment is waning as the truly negative effects of a floating renminbi are becoming realized ahead of two sure to be nasty reports this week on the U.S. housing market. The MACD histogram (blue bar chart below main chart) has peaked, RSI is back above 50 and out of "oversold" territory for the first time since May 1st, and the SPX has followed a string of anemic trading sessions with a hugely volatile Monday session that ultimately ended lower.
Normally, we like to use the "simple moving average" (SMA) to chart trendlines for resistance and support of prices, but due to a drastic sentiment shift we're more comfortable with the "exponential moving average" (EMA) trendlines, as seen in Green (200 day) and Red (50 day) above. The 200 EMA and 50 EMA have both served as resistance and are nearing a bearish cross amid the slew of other red flags facing the U.S. equity market.
Take 5 minutes and look into SDS (UltraShort S&P 500), DTO (UltraShort Crude Oil), and VXX (Short Term VIX). We like using StockCharts.com to chart these vehicles and suggest our readers use it as well. It's free and has a lot of technical indicators for your convenience. (And no we're not even getting a cut for that plug, it's just a solid chart service...)
Stay vigilant and keep stops tight if you want to dabble at these levels... For the record, we are most certainly dabbling in those very names as of today. Be sure to stay current on all of our positions and trading moves with our free Twitter service that tracks DS Lead Analyst Robert Eberenz's trades in real time by clicking on the follow button under the DS_Shoutbox tweets in the right sidebar...
Fingers on the trigger boys!