My Ford (NYSE:F) investment thesis over this winter has had two pieces to it. First, that Ford's growth globally was going to benefit the company. Second, that after the winter was over, U.S. sales would start to thaw out and again impress, sans incentive selling, domestically.
And, the winter weather is likely the culprit for holding Ford's stock in the area where it is. This is despite having a winter of relatively good news internationally, as Ford continues to ramp up its sales efforts in China and Europe. As you can see, the stock, since its drop to the $15's in mid-December, hasn't found its way out of the muck just yet. Despite that, the stock has still been up 16% in the last twelve months.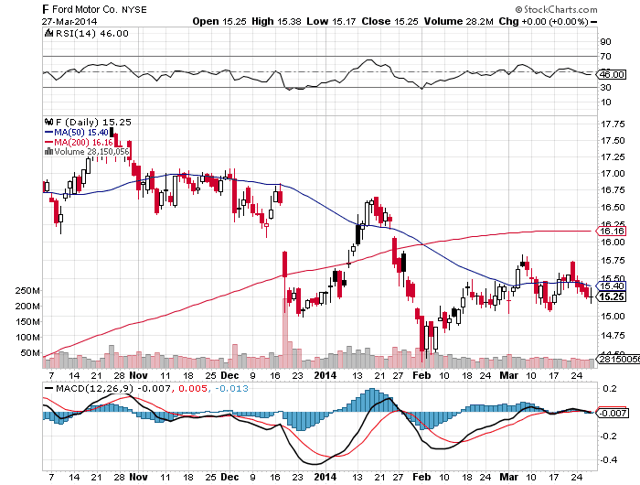 No sooner was I telling people not to necessarily pay attention to some of the very early March auto sales metrics that were coming out, than we got some seemingly good looking data out of a new forecast put forth by Kelley Blue Book..
Seeking Alpha reported:
Auto sales in the U.S. should snap back in March, according to a new forecast from Kelley Blue Book.
The research firm expects sales to rise to 1.475M units, up almost 24% from February.
A modest increase in incentives from automakers will roughly offset gains in average transaction prices, according to KBB.
As I said in my previous article - this domestic good news again comes on the heels of continued good headlines from overseas.

Domestic sales picking up into the summer would mean that my bullish thesis on Ford is in full effect. And, I'd expect the stock to be trading 10-20% higher than the price the market has place on it now. Like GM, Ford trades with a forward P/E of just around 10 - and it's possible that Ford is being punished by the headlines surrounding GM over the last few weeks.
Additionally, Ford has made the announcement that they are going to build a 2.7L EcoBoost engine to go into their F-150 in Lima, OH. Ford's President of the Americas was on CNBC this morning, also citing the weather as an issue. He also noted that they're expecting the auto industry to come around this year, especially as the weather warms up. I like the strategy - keeping things modestly sized in the new F-150, a great looking new truck:
Ford Motor Co will spend $500 million and create 300 jobs to upgrade an Ohio engine plant to make the new 2.7-liter six-cylinder EcoBoost engine for its best-selling F-150 pickup trucks, the company said on Friday.

The 2015 F-150 pickup truck will be the first model to use the new engine that will be built at Ford's Lima, Ohio engine plant.

Ford's F-150 pickup truck is the best-selling vehicle in North America.

Ford's EcoBoost engines are turbocharged and use gasoline direct-injection to provide the power of larger engines.
Ford also pulled a cool move just recently - one that resonates with me, as I'm sure it does with other Americans - when they came out and parodied Cadillac's latest commercial, basically contending that Ford is the working American's vehicle.
Investment thesis: My two part thesis on Ford - international growth and domestic thawing - is starting to head into full effect. I remain long Ford and look forward to holding through this summer, as I'm predicting that sales are going to more than make up for the poor numbers this winter. In turn, I'm expecting Ford's stock to regain a bit higher of a multiple and be trading 10-20% higher by the end of the summer. My Ford holdings are for the long term, however.
Best of luck to all investors.
Disclosure: I am long F. I wrote this article myself, and it expresses my own opinions. I am not receiving compensation for it (other than from Seeking Alpha). I have no business relationship with any company whose stock is mentioned in this article.