Last week we all had a chance to daydream about having $15 million dollars and living virtually risk free. Unfortunately most of us will never come close to having built a massive amount of wealth like that, and have to keep working and doing our saving thing, and slowly build a nice nest egg with prudent dividend income investing.
One day we wake up and find that we have "made it". With focus, discipline and hard work, we have amassed the princely sum of $1,000,000. It might not be the same as it was 30 years ago, but it surely is nothing to sneeze at now either. I would guess that maybe 1/4 of everyone reading this has an amount saved that is close to, or maybe a bit more than the million, and the rest of you have set your goals on coming close to that number, at least.
Well, now that you have it, you want "out". Just like the guy with $15 million, you want a nice steady income every year for the rest of your life without worrying about where the money will come from.
Let Me Paint The Picture First
A couple has reached age 66, and after a solid career have finally decided to leave the rat race. Both are eligible for Social Security and Medicare right now, and have been saving steadily for the past 30 years by investing in a portfolio that produces dividend income which has been reinvested back into their holdings.
The portfolio consisted of the best of the best companies that have increased dividends year after year for at least 25 years or longer. Not one share has ever been sold.
The portfolio is very similar to our BTDP, which currently consists of the following stocks: AT&T (NYSE:T), Exxon Mobil (NYSE:XOM), Johnson & Johnson (NYSE:JNJ), Coca-Cola (NYSE:KO), Procter & Gamble (NYSE:PG), General Electric (NYSE:GE), McDonald's (NYSE:MCD), Chevron (NYSE:CVX), Apple (NASDAQ:AAPL) General Motors (NYSE:GM), Ford (NYSE:F), Microsoft (NASDAQ:MSFT), Wal-Mart (NYSE:WMT), and Pfizer (NYSE:PFE).
Each are eligible to receive a combined yearly benefit from Social Security of $36k, which is slightly above average. Neither have company pensions and have moved their 401ks into their brokerage account. The couple spends like an average couple over 65 years of age, roughly $41k annually, and do not want to change their lifestyle very much aside from have a few extra dollars to take a nice trip every year.
The desire of THIS basically average couple, is to have an income of $50k per year without having to worry about their investments anymore. The goal is for that income to last a lifetime.
It Can Be Done Virtually Risk Free
Remember that safety deposit box that had $15 million stashed away for the wealthy folks? Well, let's put all of this couples money in the box, $1 million, and see how they can achieve their more "normal" goals.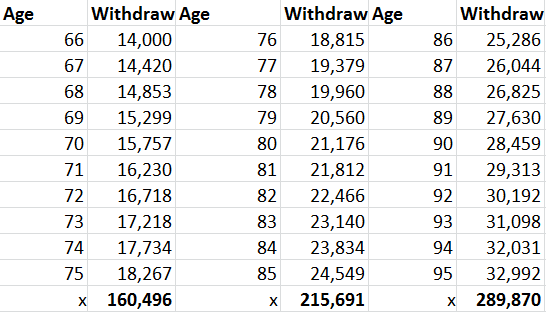 Without investing one penny, or placing any money at any risk, other than the risk of having the safety deposit box stolen or damaged, this couple can withdraw the difference between their Social Security benefits and $50k each and every year, PLUS an increase of 3% for inflation.
Not only that, but they would have $333,943 left over after age 95.
What Can They Do With The Extra Money?
Well, first, they can take $110k at age 66, and invest it in our "Buy The Dips Portfolio" holdings, which would produce dividend income of almost $3,700 per year right off the bat.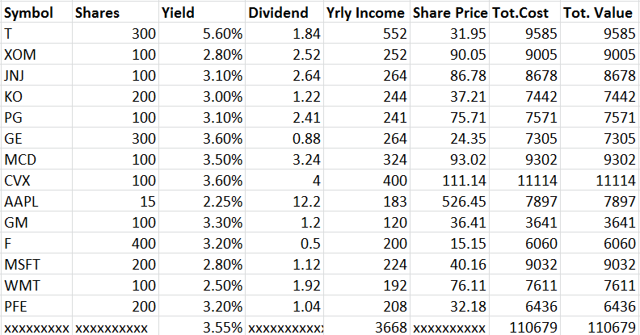 The dividends can be taken as cash or better yet, reinvested to grow even further.
The next step could be to take $100k at age 65 and buy a deferred longevity annuity, which would give them an income of an additional $60k per year at age $85. This could be used for long term care, or to begin gifting their potential heirs. It is also likely that at age 85, spending on other things will be cut back simply due to age, but in any case, this couple would now have at least $110k in come (inflation adjusted) at an advanced age. No need to worry about any money running out, and virtually risk free!
Don't forget the 110k invested in the BTDP which at age 85 is likely to be producing in excess of $7k in dividend income as well at that point.
As for the balance, well why not have the $113k left over as an emergency cash fund for whatever might pop up, or for some of those niceties that they have worked a lifetime to enjoy.
As far as I am concerned, this couple has reached their goal with an ultra low risk retirement "fund" that should meet or exceed their goals. Pretty good stuff for a modestly successful couple who have spent a lifetime planning for this chapter in their lives.
For many folks, this does not have to be a daydream. You can do this! For real! Start out early and keep saving, saving, and save some more, as well as living within your means and never spending more than you have coming in (after savings).
Once you come close to your goal, it is very likely that you WILL be able to put everything on "auto-pilot" and sleep very well at night, indeed!
Disclosure: I am long AAPL, CVX, F, GE, GM, JNJ, KO, MCD, MSFT, PFE, T, XOM. I wrote this article myself, and it expresses my own opinions. I am not receiving compensation for it (other than from Seeking Alpha). I have no business relationship with any company whose stock is mentioned in this article.
Disclaimer: The opinions of the author are not recommendations to either buy or sell any security. Please remember to do your own research prior to making any investment decisions.